We use affiliate links. If you buy something through the links on this page, we may earn a commission at no cost to you. Learn more.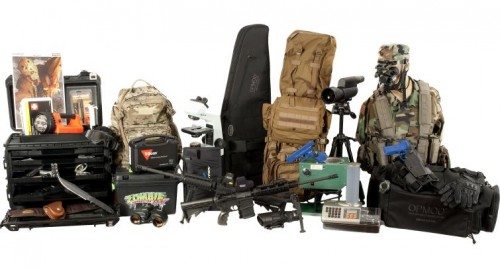 Sure, you have an emergency kit stored away in your car or garage and yeah it may contain some Band-Aids, maybe some food or water rations, and an extra flashlight, but what if your emergency is a swarm of flesh eating zombies?  For times when a fruit roll up and indestructible can of SPAM just won't cut it, there is the Z.E.R.O. Zombie Kit from OpticsPlanet.
For a mere $24,000, your Z.E.R.O. (Zombie Extermination, Research, and Operations) kit will provide all the necessary gear to combat the zombie menace as well as heroically research a cure (yes, really).  The kit includes Kevlar gloves, nightvision and thermal goggles, 400 batteries and a solar charger, an array of scopes, lasers, and lights to attach to your handgun/shotgun/assault rifle (not included), gunsmithing equipment, a Leatherman, knives, and of course a lab set to find that cure for the rest of us.
At $24K for the kit, it's a savings of over $7,000 if you were to put the same supplies together separately.  But really, can you put a price on being prepared?