We use affiliate links. If you buy something through the links on this page, we may earn a commission at no cost to you. Learn more.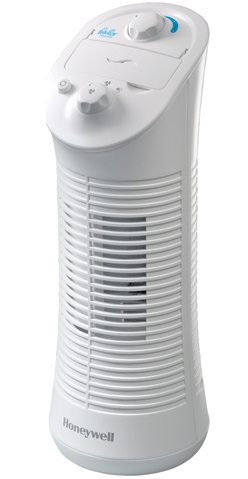 The HY-204 Febreze Freshness™ Cool & Refresh Fan from Honeywell promises to cool, eliminate odors, and freshen for whole-room comfort. Big promises for a small tower fan, so can it deliver?
Physically, it is a pretty compact package:
Dimensions: 7.40 x 7.40 x17.52 in
Color: White or Graphite Gray (mine is white)
Room Size: Small to Medium
Speeds: 2
Other Features: Oscillation, deodorizing level selector
Warranty: 1 Year Limited
Price: $29.99 MSRP
Cartridge Refills: Febreze Set & Refresh™ Refill Cartridge
Cartridge Life: 2-4 weeks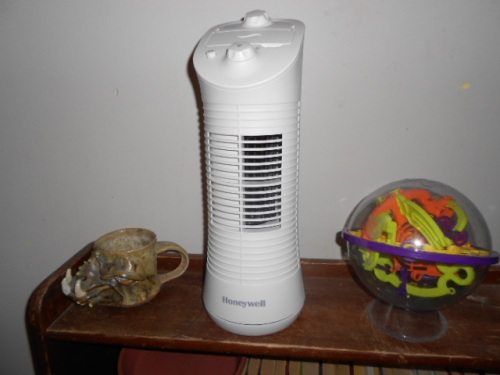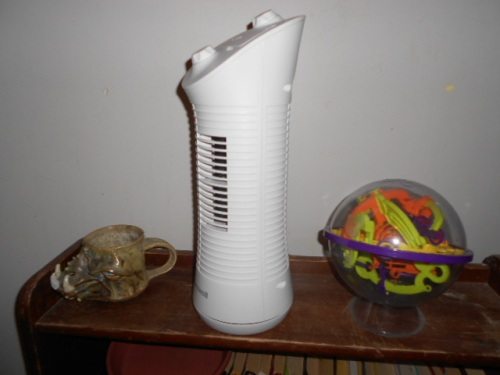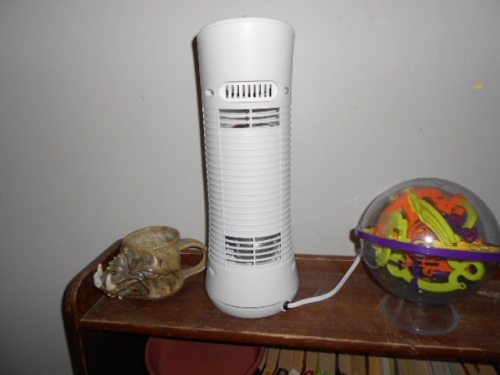 This upright tower fan takes air in through a rather large series of vents and blows it out a tall, narrow window. A controllable amount of the air is re-routed through the Febreze cartridge to deodorize the air. The more air you send through the cartridge, the fresher the air smells and the faster the cartridge is used up.
Simple controls on top include the 'off/high/low' fan speed setting, the oscillations 'on/off' button, and the control knob for the 'freshness' setting. There is also a small trapdoor for the Febreze insert on the top. The cord is about 6′ long and has the fuse in the plug end, like Christmas lights often do. The overall design is pretty sleek, but the top looks a little toy-like to me.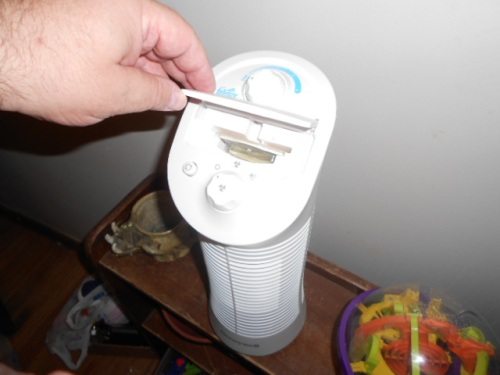 Tower fans generally do not move a lot of air compared to a more traditional bladed fan – on the other hand, the breeze is more gentle. The oscillation covers about 75-80 degrees and moves slowly and steadily. The small stream of air seems more meant to mix up the air in the room rather than moving it around in bulk. The tower design works well in a corner or on a table, but does not work as well in applications like in a window, or pointing upwards. Since it rotates almost 90 degrees, if you place it in a corner it will cover most of the room.
One thing most people want to know about a fan is how noisy it is. It is pretty quiet at the low setting – just a bit of background noise to sleep to. At the high setting there is significantly more noise – I had to crank the TV up a little to hear it over the fan. I thought it was a pretty loud fan at first, but that was because the room was so quiet and I had not heard any of my other fans yet this season to compare to. It is actually a little quieter than most – but it also does not move as much air as the others do either. Also, there is little added noise from the oscillations, which is a very good thing.
There is a Febreze "Set & Refresh™ Advanced Odor Eliminator Cartridge" included. It installs as easily as opening the door and dropping the insert into place – no poking or peeling. As mentioned, the cartridge lasts for 2-4 weeks depending on the settings, and run about $5 for a refill (or as low as $3.50 in packs of 8) from retailers like Amazon.com or Drugstores.com. You can select from odor-controlling or various fragrances (although if you use a fragrance-only packet you will loose the 'refresh' and 'eliminate odors' aspects of the fan.) You can also use it without an insert if you wish.
Febreze as a whole has good reviews for their products, and I certainly like most of them. This cartridge is not one of my favorite scents – a bit sweet and "much". I had trouble with it whenever it was higher than rock bottom – but this is also a very personal thing. (Just for comparison, I am a little bothered by moderate levels of scents and prefer low-odor options.) Once the cartridge is started, it will "leak" fragrance at a low level whether you use the fan or not.
Overall, I don't have any real concerns about this fan. One thing was entirely my fault. When I read the brief description, I thought it filtered and cleaned air somehow. The advertising never uses the word 'clean',  but does use 'refresh' and 'freshens', which got me thinking in the wrong directions. I also prefer fans I can place in a window to either draw or exhaust air.
The biggest thing is more philosophical. Without the 'Set and Refresh' option this is just a plain small tower fan. Using the 'Set and Refresh' option locks you into buying cartridges once or twice a month – roughly $48 to $96 a year. To be quite honest, I feel like I could get the same benefits – if I wanted them – by just sticking an air freshener on one of my existing fans.
Having said all that, this fan really shines where the Febreze option is especially useful. The den we tried it in also houses my tortoise's indoor pen, a cat box, and some other "non-fragrant" things. After just a couple hours, the room smelled noticeably fresher, and has remained smelling fresh even a couple of weeks later.
Product Information
Price:
$29.99 MSRP
Manufacturer:
Honeywell (A division of Kaz)
Retailer:
Kaz Online Store
Requirements:
Pros:

Oscilates
Compact size
Freshens the air with Febreeze 'Set and Refresh' inserts

Cons:

Febreeze inserts last 2-4 weeks
Maybe a little noisy at high speed