We use affiliate links. If you buy something through the links on this page, we may earn a commission at no cost to you. Learn more.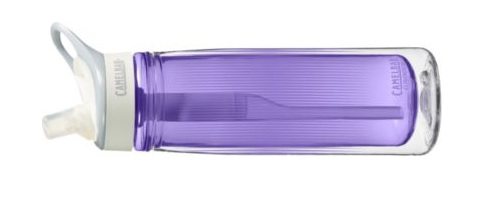 I'm a big believer in using refillable water bottles to stay hydrated, lose weight, be environmentally conscious, and so on, so we usually have half a dozen 32oz. wide-mouth bottles in the fridge. I've been thinking about upgrading my system though.  Our local water is a little hard (but still pretty tasty), but about once a month I need to take a 5.5 hour long trip (each way) along boring Interstate and deal with whatever water I get along the way or at the destination. I decided to look for a travel bottle that would fit the cup holder, be at least a little insulated, have a big enough mouth to allow for flavorings or ice, incorporate a filter, and allow drinking without blocking my view of the road. I figured such a bottle would also be useful for hiking and so on.
The CamelBak Groove Insulated Filtration bottle looks like it would satisfy all of these needs, and recently I was offered the chance to review one!  Let's give it a look.
I was sent a grey Groove Insulated bottle, and a green standard Groove to try. CamelBak made their name with high quality water bladders for outdoorspeople that quickly became a standard of hikers, soldiers, and others who spent time outside and needed to stay hydrated. They've pretty much figured out how to do things right.
The Groove series of bottles are a variation on their popular Eddy bottles (which I believe used to be called the 'Better Bottle'). For the un-initiated, the Eddy's claim to fame is a flip-up silicone 'bite valve' attached to an inner straw. When folded down, the bottle is completely spill-proof. When flipped up, it is still very spill-resistant, but a worn valve may leak a little. The silicon bite valve has a small slit in it – to drink you gently bite the valve to open the slip and suck. You don't need to tilt the bottle, so it does not interfere with your vision – a real bonus when driving (not that you should be drinking or using a cell phone or anything when driving!) The bottle itself is BPA-free, dishwasher-safe (following the directions), tough as nails, uses an O-ring for a secure seal, and has a hanging loop that many of my cohorts think is really handy and others think is annoying in the way it sticks out. Personally, I don't think it is a big deal unless you are trying to stick the bottle in a bag's pocket or something.
What the Groove brings to the party is a plant-based carbon filter to help reduce chlorine, tastes and odors in the water. It is rated to last for about 3 months or 48 gallons of water. Replacements are available and the bottle works perfectly well without it. Please note that with the filter in place you really should not try to use any sorts of flavorings or liquids other than water. Also note that this is a simple filter, not a purification system and it should not be used for questionable or unsafe waters.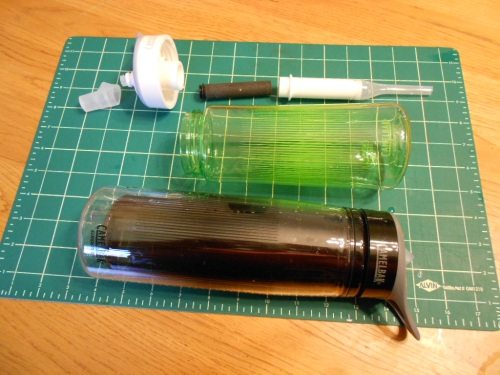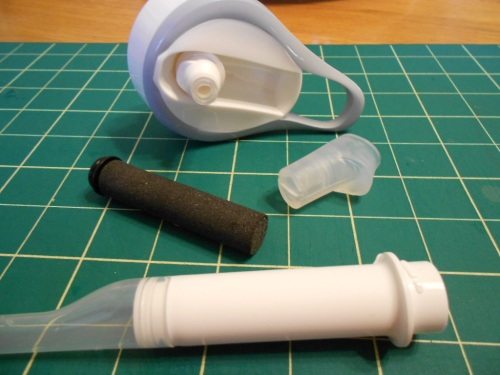 Contrary to the name, the Groove's body is not actually grooved, but does feature a paint job of thin vertical lines that adds a bit of flair and some texture to make the bottle easy to hold. (Considering that real grooves would probably just hold dirt, this is probably a good thing.) The Groove is also available in a stainless steel body.
Of course, the difference between the Groove and the Groove Insulated is that the insulated version helps hold the cold in. It is a double-walled bottle that is a bit taller than the standard Groove, so it can still fit in a cup holder. I do not know if there is a vacuum between the layers or not but it keeps things cold for a couple hours easily.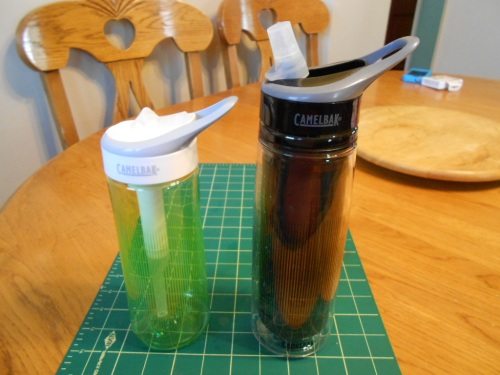 The first thing I noticed in actual use is that it is kind of hard to suck the water up. I am used to just gulping the stuff down from an open bottle, and with the bite valve, it takes a bit of work to get a mouthful. Cracking the seal makes things a bit easier.  Interestingly, the filter does not really make as much difference as I thought it was going to. I've also noticed that I really don't seem to be getting used to the unusual sensations it leaves in my mouth and upper throat. I'm willing to make this trade off for my travel bottle, but not as willing to do so for my everyday bottle. Others I know are not bothered by this at all – a few even like it quite a bit. One of my kids even admits to being mildly addicted to chewing the valve. Fortunately, it is easy to get replacement valves!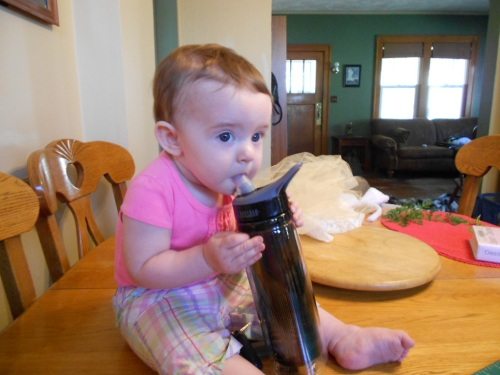 As far as flavor and filtration goes – our water is, as I said, pretty good, so I tried it on water from the garden hose and noticed an improvement. The filter is OK but it is important to remember that the water does not travel inside the filter for long, so it will not do the same job as something like a 'slow drip' filter on a filtering jug would. This filter is the star of the Groove series, and adds about $10 to the cost of the basic Eddy bottle. This is a great investment if you routinely come in contact with bad-tasting water.
The basic Eddy bottle has a MSRP of $14 and comes in six colors, and there are also insulated, stainless steel and insulated stainless steel versions available. The Groove costs $25 and comes in four colors (or a stainless steel version). The Groove Insulated comes in three colors for $30 (there is not a stainless version available.)
So far, we have a perfectly good, functional, and even attractive water bottle… but we can do more with it! We use Eddy bottles quite often at the rehabilitation center I work at to help people with physical challenges stay hydrated more easily. (We use the bottles over the bladders for easier sanitation at a facility level.) Besides fitting in wheelchair-mounted cup holders and keeping water cold, we can do some pretty cool things with some of the available accessories! The options are designed for hikers, bikers, and so on, and may be just what you need to make the perfect hydration system…
Hand's Free Adapter allows you to connect a typical CamelBak-like straw to the bottle, which then lets you use a whole variety of clips, bite valves, one-way flow valves, etc.
Antidote Insulated Tubing Director tube not only keeps the water cool, it also helps hold the tubing in whatever position you bend it thanks to a heavy wire in the cover.
Tubing release clips, a flow meter, sleeves, cleaning supplies, and more.

Product Information
Price:
$30 ($25 for non-insulated version)
Manufacturer:
CamelBak
Pros:

Filters bad tasting water
Keeps water cold
BPA-free
One-handed operation
Dishwasher safe

Cons:

Sucking may be uncomfortable