We use affiliate links. If you buy something through the links on this page, we may earn a commission at no cost to you. Learn more.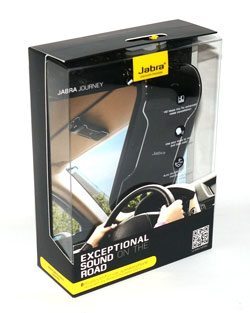 It has been a relatively long time since I have reviewed a Bluetooth hands-free device. Washington State has been really cracking down on drivers talking on their cellphones while going down the road. It is now a primary offense, and you can be pulled over and ticketed for no other reason. As the story goes, I purchased my wife a Journey Bluetooth Car Speaker from Jabra for Christmas. Her old device was dying a quick death and she definitely needed a new one. After seeing the device in operations from both sides of the conversation, I jumped on chance to use/try one myself when Julie offered.
The Journey is one of many Bluetooth enabled in-car speakerphones Jabra currently has on the market. In my opinion, from the pictures on their website, the Journey is the sleekest one of the lot.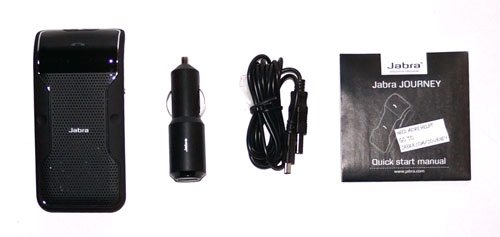 Package Contents:
Journey Bluetooth Speaker
USB Car Charger
USB Cable
Quick Start Guide
Warranty card
Device Setup: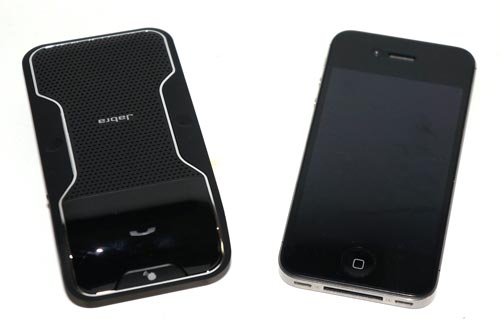 Jabra has made setting up the Journey quick and easy with its step-by-step process. It is a Siri-like experience, where the device talks you through the process….start to finish. Simply turn the device on, and it begins the process to pair with most Bluetooth-enabled smartphones.  Once your phone sees the Jabra Journey, select it and you are good to go.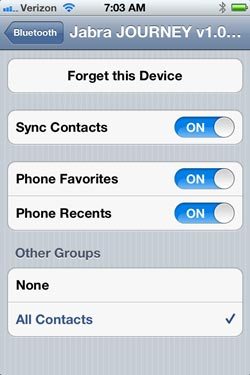 The Journey has the ability to announce incoming calls that match contacts in your device's address book.  Within your smartphone's Bluetooth settings, you can have your smartphone sync your contact info with the Journey. When in vibrate mode, the phone continued to vibrate, but the Journey announced the incoming call by name.  When the ringer is set to on, the ringtone rings normally along with the notification from the Journey.
x
x
Specifications:
Bluetooth compliance Bluetooth® 3.0
Supported Bluetooth profiles Bluetooth® Headset and hands-free, A2DP, PBAP profile
Compatibility Jabra JOURNEY is compatible with other Bluetooth devices with Bluetooth 3.0 (or higher) specifications
Security 56 bit Encryption
Operating range Up to 33 feet (10 meters)
Paired devices Up to 8, one at a time
Talk time Up to 20 hours
Standby time Up to 45 days
Charging time Approximately 2 hours 30 min
Weight 3.24 oz (92 grams)
Dimensions, folded (off) L4.09 X W2.20 X D0.70 in (L119.2mm X W58.7mm X D15.8mm)
Microphones HD Voice Microphone – Directivity Omni-Directional microphone
Sensitivity, Impedance –40 dB +/- 3 dB (1kHz, 0db=1V/Pa), Max 2.2 kΩ
Speaker Size Ø 36±0.5mm x 5.8mm
S.P.L 90 db +/-3 dB (0.1 W / 0.1 M)
Impedance 4Ω +/- 15%
Digital Signal Processing Up to 20 dB noise reduction on transmit signal, Acoustic echo cancellation
Battery Internal rechargeable 1100mA Li-Polymer battery
Operating temperature Charging 32 F to 113 F (0° C to 45° C); Discharging 14 F to 140 F (-10° C to 60° C )
Storage temperature Less than 1 month: -4 F to 113 F (-20° C to 45°); Less than 6 months: -4 F to 95 F (-20° C to 35° C)
CLA power adapter 12-28 V input; 5 V 750mA output
Charging plug dimensions Micro-USB
Pairing passkey or PIN 0000
Warranty 1 year world wide
Features:
Answer calls, End calls, Reject calls
HD Voice Mic.
Voice dialing*
"Answer/Ignore" voice control**
Volume control
Three way calling
Music streaming (A2DP)
Last number redial
Mute
Auto paring
Call transfer
Auto off
Caller name announcement (PBAP)
Status light for battery, call, pairing and connection
Auto On G-sensor, Auto off, Advanced Multiuse
End user upgradeable SW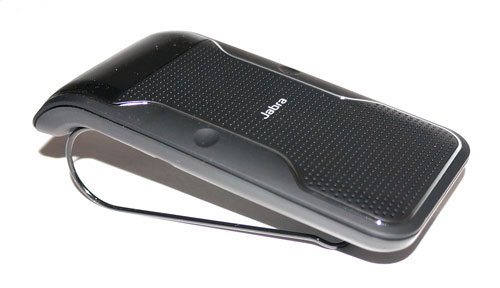 The Journey's design is sleek, slim, and highly professional, as well. It's matte black finish and chrome highlights will look good in any car. The Journey is approximately the size of a smartphone and fits very well on the visor. The Journey takes about 2-1/2 hours to fully charge the battery.  Once fully charged, the battery is good for approximately 20 hours of talk time and up to 45 days of stand by time. For me that is a huge amount time between charges….probably about once a month or so.
To make the Journey even more power-efficient, Jabra engineered it's Standby mode very smartly. It has motion detection. If motion is not detected for 10 minutes the Journey shuts off saving on the battery. Once movement is detected, it turns back on and says "Connected." Very slick.  Saving you from having to turn the device on and off. The Journey is very good at reconnecting as I get into my car.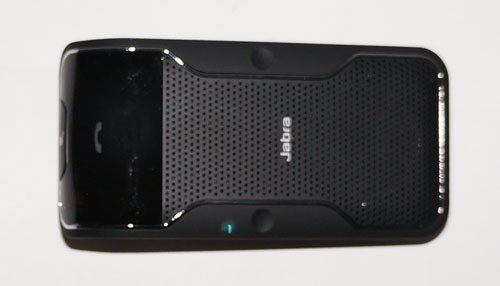 The Journey's buttons are very accessible and well placed.  The speaker is loud and clear. The volume control buttons are located on either side of the device and are easy to use without the need to look away from the roadway. There is a LED indicator light embedded/centered on the large answer/end button on the front of the Journey.  This indicator light shows: pairing mode, battery, mute and call status.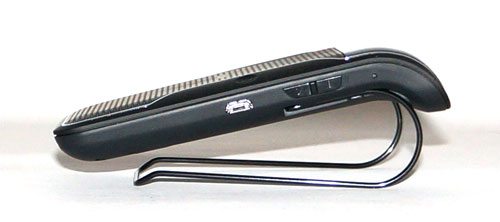 The Journey's right side has it's power switch and microUSB power plug port.

The left side has nothing noteworthy to mention. The visor clip is strong and sturdy enough to keep the Journey in place.
Voice Control:
Tapping the voice button enables you to give commands to the smartphone via the speakerphone. I would say it worked fair, at best. An incoming call can be answered by speaking "Answer" or "Ignore." The call can also be answered or rejected by tapping the answer/end button. Redialing the last number is as easy as a double tap of the answer/end button. There are other control features you can find in the manual.
Call Quality:
The call quality is good, more than adequate for understanding those you are talking with and vice versa. Overall, everyone said they could hear me well.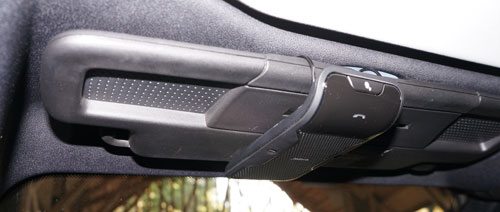 As I said previously, the Jabra Journey looks very sleek and professional – nearly stock. The Journey's MSRP is $79.99 but can be found on the Net for about $60, very reasonable considering it's looks, form, feature set, and overall call quality. I really like the device for its ease of use and allowing me to drive down the road legally.
Product Information
Price:
$79.99
Manufacturer:
Jabra
Requirements:

- Bluetooth enabled cellphone

Pros:

- Well made/good construction
- Good looking
- Sleek and slim design
- Great call quality
- HD Voice Microphone
- Security 56 bit Encryption
- Can be paired with up to 8 devices
- Bluetooth Supported: hands-free, A2DP, PBAP profiles

Cons:

- Voice control could be better