We use affiliate links. If you buy something through the links on this page, we may earn a commission at no cost to you. Learn more.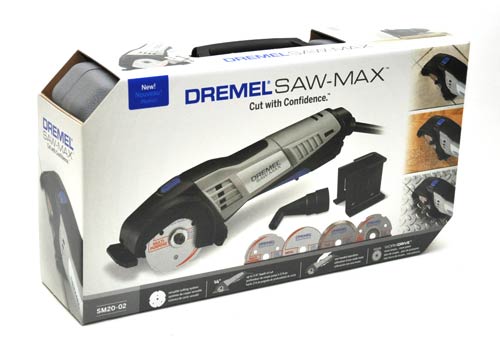 Along with gadgets and tech-toys, I like nice tools. Over the decades I have done countless home-improvement and construction projects,accumulating many very capable tools along the way. I have definitely learned that the 'right tool for the job' can save you huge amounts of time, money, and effort….safer too. Always looking to increase my arsenal of worthy equipment, I jumped at the chance to review Dremel's new mini, handheld cutting tool, the Saw-Max.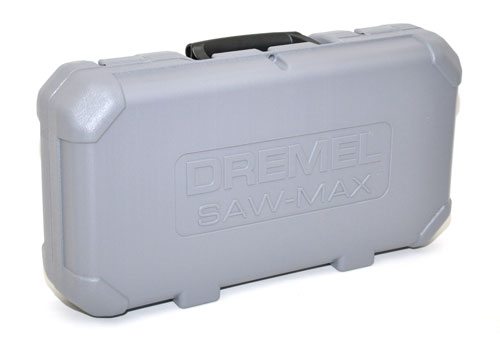 A key component to a good or great tool is a nice, well-organized storage case. It is not an absolute necessity but it certainly is a perk for better storage and transportation. In addition, I find a good case keeps your tools/gear in better condition and running longer.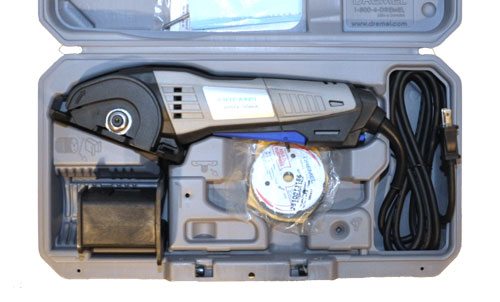 Fortunately the Saw-Max comes in/includes a nicely made, well-organized case. Not only is there a place for the Saw-Max and its power cord but a dozen or so saw blades and a few allen wrenches too.
Package Contents: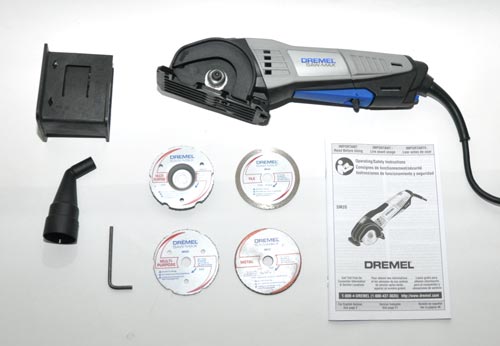 Dremel Saw-Max SM20 tool
TRSM810 Dust Port Adapter
SM500 Multi-Purpose Carbide Wheel
SM510 Metal Cut-Off Wheel
SM540 Tile Diamond Wheel
SM600 Multi-Purpose Flush Cut Carbide Wheel
Allen Wrench
Storage Case
Instruction Manual

The Dremel Saw-Max SM20 is designed for one-handed use and can make straight, plunge, or flush cuts up to 3/4″ deep. It has the ability/horsepower to cut wood, plastic, laminates, drywall, sheet metal, and tile. This compact handsaw uses 3"-diameter blades embedded with abrasives (carbide, diamond, aluminum oxide) for cutting edges rather than cutting teeth like a typical skilsaw blade. The Saw-Max is powered by a 6 amp motor generating approximately 17,000 rpms.
Changing the cutting wheel is quick and easy, just depress the lock button on the top, front of the tool and use the included allen wrench to loosen the nut clockwise. Remove the bolt and pressure plate, swap the blade wheel, then replace the plate and tighten the bolt.


Features:
Powerful 6 amp motor
Versatile Cutting System – for cutting a variety of materials including wood, plastic, metal, tile and masonry
Worm Drive gearing – for durability and power
Excellent line of sight for precise, confident cuts
Depth guide for precise plunge cuts
Lock-on button for comfort during extended use
On board dust extraction port to maintain a clean workplace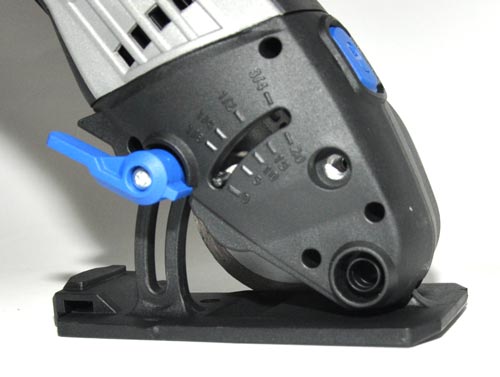 As stated above, the Saw-Max has the ability to adjust its cutting depth, down to three quarters of an inch. While the Saw-Max cannot replace your skilsaw or tablesaw, it can definitely do the more fine, precision construction/cutting efforts.
Even though it is not included with the Saw-Max, there is a hard-point for attaching a perpendicular handle for better, more precise control.

Like a majority of/all modern day hand tools, the Saw-Max not only has an activation trigger but an additional switch that must be held down for the saw to work. This safety latch is simple and easy to actuate but does help keep the saw from accidentally being turned on.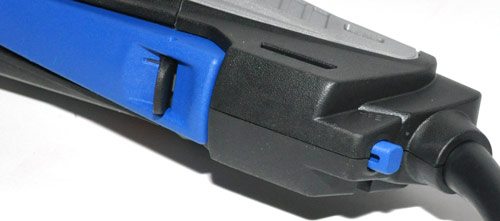 Also engineered into the handle, Dremel has included a lock-on button for comfort/convenience during extended use. It is well placed, out of the way so it does not get accidentally activated.
In my testing, I have used it to cut through wood, tile and metal. Overall, the Saw-Max did a good, if not great job, considering its size and all-purpose nature. When I first saw pictures of the Saw-Max, my initial impression was that it was too small and not rugged enough to withstand years of construction projects. That said, I have to admit that I was totally wrong. The Saw-Max is very well constructed and nicely sized, with a good overall design.  It is built to get the small to medium cutting jobs done.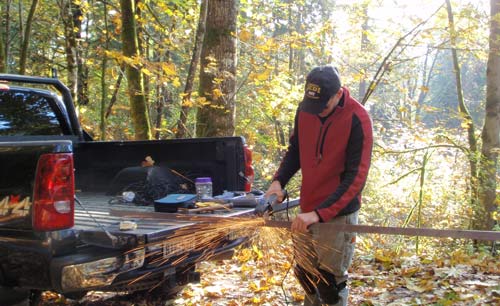 For this review, I wanted to use the Saw-Max on one of my actual home-improvement projects. To give you a bit of background info, I have procrastinated all year on installing a metal roof on our pump house.  Since the skies have turned gray and stormy here in Seattle (fortunately I picked the one day in the next six months the clouds parted and did not rain), it was past the time to get it done. Typically I use a sawzall and metal cutters to cut metal roofing. But thought this the perfect trial for the Saw-Max and the included metal cutting blade.
As the video illustrates, the Saw-Max did a great job cutting through the thick gauge roofing. From a cutting perspective, it did very well…..stellar in fact. The Saw-Max enabled me to cut a perfect, relatively smooth line with little effort (definitely something a sawzall can not do). In the video above, not only am I cutting through the metal but a bit of the rock it is sitting on as well (nothing like a little operator error to prove a point 😉 ).
This type of abrasive cutting does cause you to use up quite a few blades during the course of a project (rate depends on the thickness/density of the material you are cutting). A fair trade considering the comparative easy and greater precision the Saw-Max gives you.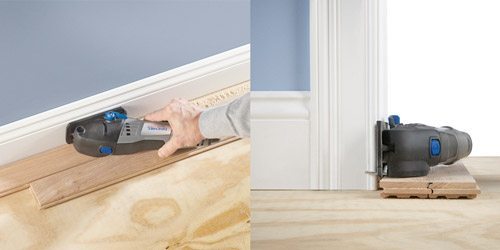 With the SM600 Multi-Purpose Flush Cut Carbide Wheel, the Saw-Max can do the sometimes difficult flush cuts needed for trim, flooring, doorways, and the like.
It's handling characteristics were equally as surprising. The Saw-Max has a good heft/weight to it for its size and handles extremely well. There was little kickback or error caused by the torque of the saw's operation. I have other small saws that I constantly have to be aware of them kicking back at me when cutting. While the Saw-Max did occasionally come back at me, it was rare and controlled.
The Dremel Saw-Max is a great little saw that can do many things a large saw cannot. With its excellent build quality, two year warranty, and reasonable price of $130, I would recommend this to anyone who needs a small, yet strong and versatile mini saw. I am very glad it has joined my army of tools ;).
Product Information
Price:
$129.99
Manufacturer:
Dremel
Pros:

- Excellent build quality
- Strong, quiet motor
- Can cut tile, wood, and metal
- Can flush-cut
- Two year warranty

Cons:

- In some applications, uses many abrasive blades