We use affiliate links. If you buy something through the links on this page, we may earn a commission at no cost to you. Learn more.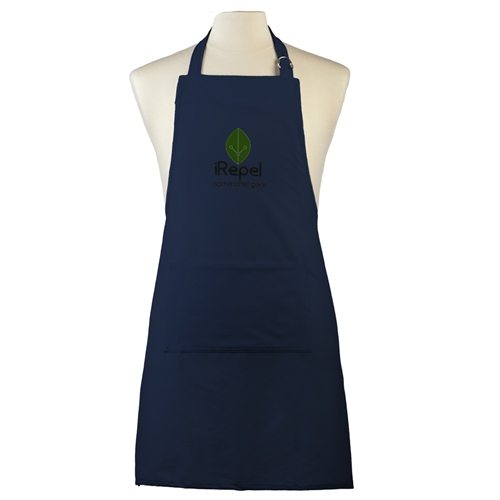 When the opportunity to review the high-tech Home Chef Apron by iRepel came around, I volunteered immediately. Before I was foolish enough to go to law school and join the computer/online industry, I worked as a chef for a few restaurants. This meant I spent a great deal of time turning kitchen whites and my clothes underneath into greasy, stained rags. I was all ready to put my superior skills as a kitchen slob to work and show the folks at iRepel it was time to head back to the drawing board.iRepel states they use a bonding process to incorporate nano-particles into a fabric that is virtually non-stick, and liquid repellant. While their fabric is "breathable" and feels as soft as a standard cotton apron, they claim that it will not allow wine, ketchup, water, and many stain-inducing liquids to stick to it or, more importantly, bleed through to your clothing.
iRepel uses the fabric for a line of home chef's gear that includes male and female chef's shirts and aprons.  I chose the male apron which I was going to wear while preparing our family's Thanksgiving dinner. Unfortunately, I was stricken with a nasty cold. Fortunately, my wife volunteered to step in for not only the testing, but dinner prep as well. She worked the apron hard through a 20-pound turkey, sausage stuffing, sweet potato casserole, gravy, and pumpkin and apple pies.
The dinner was fantastic and so was the iRepel apron.
The apron not only protected my wife's clothing through the entire Thanksgiving dinner preparation, but she has been wearing it ever since. After almost three weeks of solid use the apron still proves to be impervious to liquids and stains. If you get a smudge on it, you can wipe it off quickly, and the whole thing can be tossed into the washer (just don't use fabric softener according to iRepel).
Before finalizing this review I just had to replicate some of those old TV infomercials and try my own stain tests. First I poured Hershey's Chocolate Syrup on the apron and wiped it off with a damp rag. Then I did the same with Kikkoman Soy Sauce. In both cases there was no stain, no wet spot, and absolutely no bleed-through.
So, I was left with one final test. This one is horribly unfair and I'll understand if the people at iRepel lodge a protest, but it had to be done. I fitted the iRepel apron to my three-year-old son, Matthew (aka Mashie) and let him eat dinner. Check out the before, during and after pictures and you be the judge.
The apron is nicely sized so that it doesn't leave gaps or uncovered areas where the front of your clothing could be stained and has an adjustable neck strap so it can be used by people of various heights. It's light, comfortable and claims to be fire retardant and to filter UV light, making it a solid choice for backyard grill-masters as well.
It lists for $49 which isn't inexpensive for an apron, but if it saves just one piece of clothing, it would have more than paid for itself. I would recommend the iRepel apron as a nice gift for any serious home chef.
Product Information
Price:
$49
Manufacturer:
iRepel
Pros:

Soft & Comfortable
Stain and Liquid resistant
Adjustable neck strap

Cons: