We use affiliate links. If you buy something through the links on this page, we may earn a commission at no cost to you. Learn more.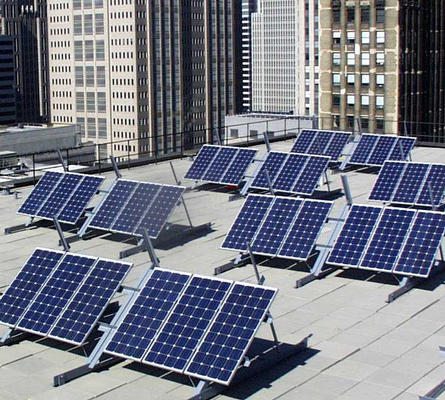 Everyone knows that electricity bills are getting higher and higher, and often we're burning up precious fossil fuels to create this power.  Now Solar Panels are becoming a viable solution even for the average consumer these days but tend to be expensive, delicate, require specialised installation and look pretty ugly up there on the roof,
Well at CEATAC, 3M demonstrated it's new special film developed to coat ordinary, existing windows and convert them into solar panels. Made from an organic photovoltaic material the film not only  generates energy from sunlight but also absorbs over 90% of infrared light, resulting in a cooling effect as well.
The film's narrow, translucent green strips have gaps between them and are glued onto the window in large patches.  Unlike solar paneling, the film is easy to install and according to 3M senior manager Ashuiro Aoyagi can be installed by the average person.  It's worth noting though that the film only generates about 20 percent of the power generated by a regular solar panel so a 1m square only generates roughly enough power to charge a smartphone under direct  sunlight.
Pricing and availability are not yet available.
See 3M's Solar Energy Site for more information on their currently available solutions.