We use affiliate links. If you buy something through the links on this page, we may earn a commission at no cost to you. Learn more.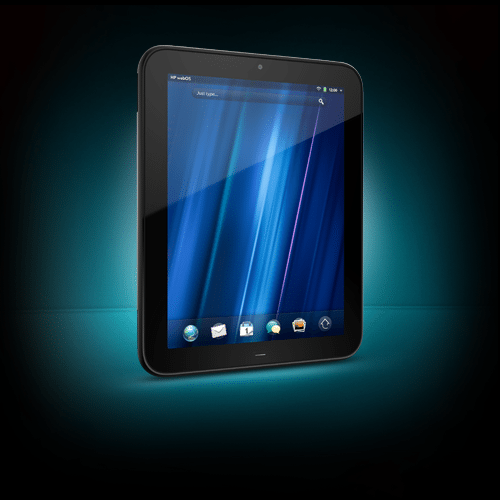 As I finish this article I learned that Hewlett-Packard, Inc. has decided to discontinue operations for webOS devices specifically the TouchPad and webOS phones. What this means for current owners has yet to be announced. It's a shame that yet another nice operating system is going to end up in the tech graveyard, but while the timing of death is a bit of a shock the event isn't. Yes, there's some talk of HP licensing webOS to another company, but I don't see that happening.
All that being said…here's what I was working on prior to the announcement. It's possible that HP will try to sell out its existing inventory at very low prices and for some it may not be a bad purchase.
I'm going to attempt to give you my thoughts on the TouchPad's chance of success and a bit of a review along the way. I'll probably not get anywhere close to the detail provided by the team of great reviewers that grace the-gadgeteer.com.  At the very least, reading this may save you your nightly dose of Ambien.
When Palm, Inc. belatedly realized that their PalmOS operating system was long past due for an overhaul they created a team to build the next generation of mobile operating system.  They were looking for something that would vault them back ahead of RIM's Blackberry in the enterprise marketplace and also compete on the consumer side with Apple's iOS powered iPhone.
In mid-2009, amid much fanfare, the Palm "Pre" smartphone was launched on Sprint and we all got our first look at webOS. Unfortunately, the hardware wrapped around webOS 1.x was underpowered and flawed, the OS also had more than a few bugs and the consumer experience wasn't great. By the time the financially strained Palm released a hardware upgrade (Pre Plus) the phone had lost momentum and their new partner Verizon was focusing on Google's Android OS-based Motorola Droid. While webOS generally got positive reviews the Pre/Pre Plus faded to the background of the smartphone market.
Palm continued to struggle and was purchased by HP for $1.2 billion in mid-2010. A few announcements, press releases and rumors later and in HP released a tiny webOS 2.1-based smartphone named "Veer" and a few months later a webOS 3.0 powered TouchPad. Priced and sized to compete with the market-leading Apple iPad 2 that had been released a few months earlier. webOS fans rejoiced, but thus far the Veer and TouchPad have met with so-so 3rd party developer support, sales and mediocre reviews.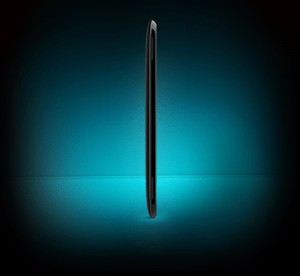 The TouchPad is roughly the same length and width as the iPad 2, but it's thicker, and weighs more. The back is a plastic or polymer of some sort, gently curved.  It has a solid feel (doesn't creak) and is easier and more comfortable than the original iPad and much more comfortable to hold than the Asus eee Transformer. It is noticeably heavier and thicker than the iPad 2.
Tablets seem to be coming with two screen types lately, the leading Android tablets like the Motorola Xoom, Asus Eee Pad Transformer and Acer's Iconia  use the HD-style aspect ratio, 16:10, while the TouchPad has a 4:3 aspect ratio the same as the iPad. While, at first glance, you wouldn't think that it would make that much of a difference it really does. The 16:10 tablets are much better used in landscape mode while the 4:3 aspect devices are better in portrait. I find it easier to hold a tablet in portrait mode for most functions…and tend to shift to holding it in landscape for watching videos or websites that are very wide.
The TouchPad is also much like the iPad when it comes to expansion ports…there are none other than the power/sync micro-USB port on the bottom. While, like the iPad, it won't really charge when plugged into a computer  I will give HP credit for using a standard USB 2.0 cable rather than forcing their customers to carry a proprietary cable. The rest of the device has a power button, volume rocker, headphone jack and a microphone. There's also a rear facing camera for use during video calls or staring at oneself. In my case, I've found it best to cover the camera with masking or electrical tape to prevent a nasty scare.
The processor (Qualcomm Snapdragon 1.2 ghz dual core) seems adequate, but it's not lightning fast. It's more like the original iPad speed wise. Battery life is good, but not quite up to that of the iPad. Still recent tests provided at tomshardware.com have shown that you'll get at least 5 ½ hours when continuously playing full-screen video at max brightness.  The iPad 2 is the category leader clocking in with close to 9 hours. Our personal results with normal to heavy usage including video playback, music playback, browsing the internet, email, facebook, twitter, etc. with brightness set to "auto" showed no problem in making it a full day on a charge with plenty to spare. Watching video on the TouchPad is a pleasure as like its competitors the screen, an IPS display, is quite nice.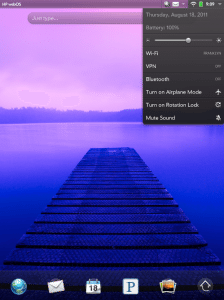 While there is nothing in the TouchPad's hardware to really differentiate it (positively or negatively) from its competitors the interface and operating system are a different story. WebOS is the nicest mobile operating system I've used since Apple's NewtonOS. The user interface is very easy to learn and just makes sense. There are a few gestures, but none that will require some of the cartilage and ligament stretching exercises that are becoming the norm for Apple devices. Basically, if you can touch, tap, pinch, and swipe up and to the side you're good to go. When you touch the screen and lift your finger you'll also see an effect similar to what would occur if you gently touched a placid pool of water…although the "ripple" is contained to about the size of your fingertip.
When you start the device you're faced with a pretty standard lock-screen. WebOS allows you to opt to have calendar alerts, current song, and other notifications to appear on this screen. You open the lock by sliding a "padlock" icon a short distance in any direction away from its' home point. You may also apply a numeric pin or more complex alpha-numeric password if you wish.
The desktop is clean with a digital clock and various notification icons in the top-right section of the menu bar. Tapping a small arrow next to the clock drops down a menu with many of the basic settings available like brightness, WiFi, Bluetooth, VPN, airplane mode, rotation lock and muting. This is similar to Android's 3.x interface, and far less annoying than Apple's iOS that requires the user to find and launch the General Settings app and then find the proper setting menu to make a change. The top middle of the screen has a single line text entry field that's labeled "Just type…" . This feature is very similar to iOS' Spotlight search allowing the user to search apps and data on the device and throughout a number of internet-based services. You may select the default search engine and then add other areas to search very easily as you come across them while browsing or installing apps.
Along the bottom of the screen sits an App Dock with five-user selectable apps and a fixed arrow which works similarly to Android's "App Drawer" button taking you to a "launcher" screen with a tabbed interface. The tabs are All, Downloads, Favorites and Settings. All is all of your apps, Settings is the control panel, Downloads is all of the Apps that have been installed by the user through the HP App Catalog (App Store) or a home brew app store called "Preware". Favorites are just that. The icons may be moved around with the now-standard hold, wait and drag method.  Sadly, there doesn't appear to be a way to easily set up additional tabs or folders within each tab. I really don't like having to scroll or page through what can become hundreds of icons to find the program I want.  Of course, I could put my favorites on the Favorites page and use "Just Type" which is the HP version of Spotlight Search, but I guess I'm just a folder-liking kind of guy.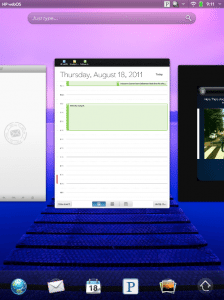 So, what makes webOS special? To me it's the way it handles multitasking. Working with multiple apps is easy and natural. You don't close one app and then have to fish through a bar filled with icons to find the other app you want to re-launch. Rather, a simple swipe up from just off the bottom of the screen or a press of the physical home button shrinks your current app to a smaller, but actual, version of the app's screen. You can then swipe left and right through your other running applications, simply tapping the card you want brings it to the front and full screen. Apps like Pandora continue to play while in the background. If you want to close an app you just swipe it up and off the screen. During my use I've had a fairly large number of apps open at once without noticing any performance problems, but if I was playing a video and had a lot of apps open it would trigger a warning that directed me to close some cards before initiating a new app. If an app has related items, say a picture in an email, those cards will be grouped together.
While an app is open immediate commands are generally along the bottom and, if there's a menu necessary, it appears in the top left-hand corner of the screen. All of the apps I've used followed this convention. I wish Google and Apple would have enforced some sort of a standard in their environments as just trying to find navigation functions  in different apps can be a bit too much hide and seek for my liking.
I should note that some apps that were designed for the Pre or Veer will not display in full screen, but rather in a replica of the phone's screen.  Thus far I haven't found that to be a hindrance.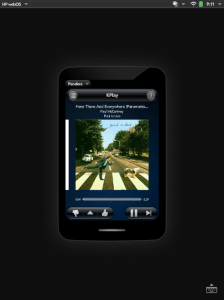 Another of the truly unique and positive features  of webOS is "Synergy". Basically, when you setup your TouchPad you can enter your account information for many of the more popular web services (facebook, Dropbox, Google, LinkedIn, MobileMe, Skype, etc.) and then have the option to enable access to those services in many of the apps. For instance, entering your Google Apps, Drop Box or Box.net account will make documents on those services available in Quick Office; pictures from those sources as well as facebook will be available in the gallery. The calendar will include events from your Google, facebook or other connected calendar.  Contacts and Messaging are nicely integrated giving the user the option of centralizing communication with contacts from facebook, Yahoo, LinkedIn, Microsoft Exchange, AIM and Google among others. In iOS or Android integration between web services and apps is handled on an app by app basis at the discretion of the developer.
Entering your Skype account will enable you to make phone or video calls from the TouchPad's phone app. I was a bit disappointed that it didn't enable calling by tapping on a phone number in a web page
Speaking of apps, the TouchPad comes with the now standard set of built-in functions – Email, calendar, contacts, music player, gallery, maps (Bing), QuickOffice (display only – no editing or document creation), video player, calculator, facebook, memos, instant messenger client and a web browser. Adobe Reader is included and the browser runs Adobe Flash content. The built-in apps are all pretty solid and have the features you'd expect.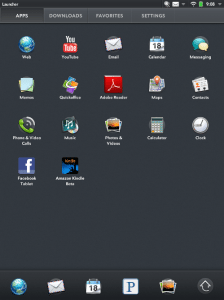 Oh, and since the TouchPad is made by HP printing is available to just about any HP printer you may have on your network. It had no problem auto discovering or working with our Color LaserJet 2025, but wanted nothing to do with a Dell printer on the same network. There may be an option to use printers from other manufacturers, but I was unable to find it. Printing worked as you would expect it to. Printing with the iPad natively requires either a very small number of specially equipped printers or 3rd party apps. Android also relies on 3rd party apps for printing capabilities.As I mentioned earlier the TouchPad has three methods available for installing apps. The first is a standard app store which HP calls the "App Catalog". When you first open the Catalog you're presented with a monthly online publication called "Pivot" which highlights apps and features on the device. Other than that it's pretty much the same Top List, categories, Free and Paid functionality that you'll find in Apple's App Store and Android's Market. A minor annoyance of the App Catalog is that they only accept Mastercard and Visa for payment.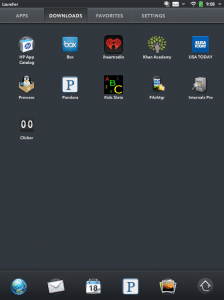 The bigger problem with the App Catalog and the TouchPad in general involves the number of available webOS apps. The webOS catalog is dwarfed by the selection available on iOS or Android. Certainly, most of the basics are covered, but you're not going to find Netflix or a lot of apps from specific news sources, banks, retail stores or restaurants. In many cases the web browser is good enough to make up for this, but not always. Yes, there appear to be a slew of Angry Birds versions available although beyond that I wouldn't purchase the TouchPad as a gaming machine.
The other two methods of acquiring apps involve loading them onto the machine from a PC through "Developer Mode" and then subsequently installing an app catalog called Preware on your device. While the procedure to enable Preware is not the same as "Jailbreaking" an iPad it's a similar sort of process. Rather than attempt to shut down the PreWare marketplace, HP is actively supporting these unofficial app developers with free hardware and other forms of support.  The Preware catalog includes about 500 different apps and numerous tweaks that can make using the TouchPad all the more pleasant. Detailed instructions on how to install Preware are available on the major webOS forums like precentral.net. While using these "homebrew" apps could void your warranty there is a utility available that should restore your TouchPad back to stock condition. I give HP credit for embracing their most ardent supporters.
The more adventurous can also use this capability to install new kernel's (core operating system) and change items like CPU speed. My general recommendation is that if you never considered overclocking your PC you'll probably not want to attempt this with your TouchPad.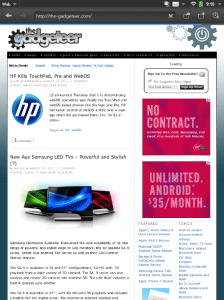 To me the most important app on any tablet is the web browser. Apps are nice and really important on a smaller-screened device like a smartphone, but if I'm carrying a 10"-inch screen with WiFi or 4G speeds I want as close to the desktop web browser experience as possible.  I'd rate the webOS browser on par with that of Android's 3.x browser and far better than Apple's Mobile Safari. Hate it or not, Adobe Flash is necessary today for a complete web experience and HP has done a solid job of incorporating the technology.  However, there are still pages that don't display properly. For instance, I can't get the desktop version of Gmail to work. Hulu sort of runs (although I haven't attempted to watch an entire show or movie) and after a long delay HBO Go started playing for me. None of the three available stock mobile browsers (or the 3rdparty options) come close to Firefox 6.0, IE 9, Chrome or even Safari. This is an area that really needs some focus in the coming generations of tablets if they're going to flourish.
HP has positioned the TouchPad as a productivity tool, perhaps a bit more "serious" than its rivals' devices. That might be partly true. Certainly the stock on-screen keyboard is a best of breed. The Touchpad's keyboard presents a five-row keyboard that includes numbers and many commonly used symbols. This is superior to Android and iOS that have four-row keyboard and require all sorts of key shifts and the like to type in something as basic as a phone number.  The Touchpad's spell checking function is not quite as good as Android's, but far less annoying than the overzealous iPad functionality. Android's market has a great many third party keyboard replacements (Apple doesn't allow any). Some of them like "Thumb Keyboard" greatly improve on key placement and word correction.
For me though…typing more than a few words on screen-based keyboard just isn't much fun. My experience with tablets has been made far better by the purchase of Bluetooth keyboard. I use the Apple Wireless model, but HP sells a very similar device. Either would work with any Bluetooth enabled tablet and both sell for around $70. There are less expensive models available, but Apple and HP are genuinely nice keyboards. One warning when purchasing the Apple keyboard, it was meant for their desktops not the iPad or TouchPad so several of the function keys don't apply and the initial pairing isn't as easy as it could be. After that first time though the connection is almost immediate and the response to key presses is very good.
Strangely, after spending the time to get their on-screen keyboard right HP failed to provide an application that allows users to edit "Office" type documents. QuickOffice comes pre-installed and it does a fine job of displaying Microsoft Word and Microsoft Excel documents, but there's no option to edit them. This is a bit strange for a device that was billed as being for professionals.
So, after slogging through all of this and in light of today's announcement would it make sense to buy a Touchpad? I'd suggest that if the price came down to under $200 it's a good deal. Reports as of Saturday August 20 show that HP may be liquidating the TouchPads at $99 for the 16GB model and $150. The webOS hackers are going to continue to provide some new apps and the device will provide some solid utility. It's not going to stop working just because it's not being sold any longer.
It's a shame that Palm was financially struggling by the time webOS was more or less ready and couldn't come up with better hardware and better marketing. This was their baby and Palm was probably the only company that had the people invested enough in the product to make is a success. When you're in a marketplace battling Apple and Google it's not just money, but a solidly dedicated team that is necessary to be successful.
HP has never been comfortable in the consumer marketplace. The bulk of their revenue comes from enterprise products and services. I'm sure some executives at HP looked at their chief opponent in the corporate space, IBM, and saw that they had sold off their computer division, their laptop division and even their printer line to focus on their core products.
There's also a relatively simple explanation for what happened. Mark Hurd was the Chief Executive Officer of HP when they purchased Palm, Inc. He left HP and Léo Apotheker eventually took over as CEO. WebOS was not Apotheker's project or his vision for the company, it was costing HP a lot of money and they had a bad quarter…so he killed it. It's not like this hasn't happened many times before.
Ahh well, my guess is 20 years from now a few of us will be chatting in some forum and we'll talk about the great OS's that never quite got their chance. AmigaOS, BeOS, GEOS, NewtonOS and now, webOS.
Farewell, webOS we hardly knew ya…
Product Information
Price:
$399 16GB $499 32GB
Manufacturer:
HP
Pros:

WebOS' ease of use and multitasking
"Synergy" with many web-based services
Solidly built and comfortable to hold

Cons:

Discontinued Product
Lack of 3rd party developer support
Still a few bugs
No method for creating or editing documents