We use affiliate links. If you buy something through the links on this page, we may earn a commission at no cost to you. Learn more.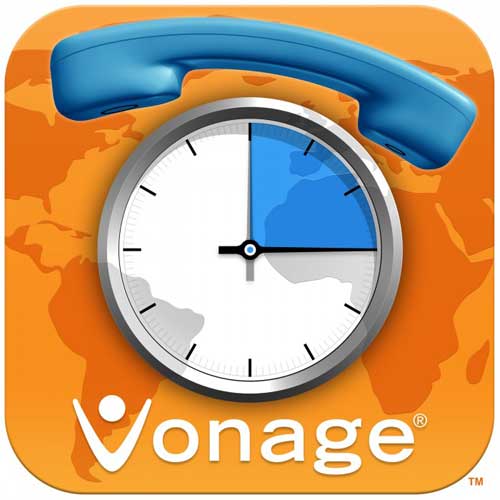 Vonage has just introduced their free Time To Call iOS app that makes VOIP international calling faster and easier by charging your calls directly to your existing iTunes account. You won't have to enter your credit card info, create a new account or commit to a monthly subscription. Prices are pretty reasonable as they offer a flat rate on 15 minute international calls to 190 countries. 100 of those countries have a 15 minute per call cost of $0.99 – $1.99 and the other 90 countries run between $2.99 – $9.99 per 15 minute call.
Right now you can download the app for free, which includes a FREE international call up to 15 minutes to landlines and mobile phones in any of 100 countries.
If a free app and a free 15 minute call isn't enough to make you smile, how about a chance to win a 32GB WiFi iPad 2 and a $15 iTunes gift card? Vonage is giving 75 websites the opportunity to give this prize to their readers and The Gadgeteer is one of those lucky sites. That means you can be one of the lucky winners! Our contest starts tomorrow, but 3 other sites started theirs today. More info about the app and contests after the jump.
I did a quick test of the Time To Call app on my iPad and can recommend it for ease of use.
All you have to do is download the Time to Call app and install it on a wifi enabled iPhone, iPod Touch or iPad. You can also use it with a high-quality 3G connection.
Then follow these steps:
• Select the country you want to call
• Tap the Buy button on your screen and dial the number you want to call – no service plan is required and your call is billed directly to your iTunes account
• Call mobile or landline numbers and talk for up to 15 minutes
Contest Info
Starting today, 75 different websites will be announcing their individual contests to giveaway an Apple gift card worth $700 for a 32GB WiFi Apple iPad 2 and a iTunes gift card worth $15. The prize will be distributed to each contest winner in the form of an Apple gift card. If there is no access to Apple in the country from which each winner would like to purchase the iPad2; a cash-equivalent prize will be distributed via PayPal. In total, there will be 75 participating sites, each one one will be giving away a 32GB WiFi iPad2 and a $15 iTunes giftcard to use to place calls with Time to Call.
Here is a list of the first group of sites and their contest start and end dates:
1 | 10-Aug | 14-Aug
http://geekdad.daddyforever.com/
http://www.geekzone.co.nz/
http://smallbiztrends.com/
2 | 11-Aug | 15-Aug
https://the-gadgeteer.com/ (Don't forget to come back here tomorrow to enter our contest!!!)
http://www.mouthyhousewives.com/
http://www.mobilityminded.com/
3 | 12-Aug | 16-Aug
http://www.gearlive.com/
http://www.mobilitysite.com/
http://collegecandy.com/
4 | 13-Aug | 17-Aug
http://www.neowin.net/
http://www.geekinheels.com/
http://www.whatthetech.com/
5 | 14-Aug | 18-Aug
http://www.chipchick.com/
http://boardingarea.com/blogs/viewfromthewing/
http://www.geardiary.com/
6 | 15-Aug | 19-Aug
http://www.digitalhomethoughts.com/
http://dailysocial.net/en/
http://smallbiztechnology.com
7 | 16-Aug | 20-Aug
http://www.autechheads.com/
http://thestudyabroadblog.com/
http://iphonenewzealand.co.nz
8 | 17-Aug | 21-Aug
http://HerCampus.com
http://www.busymom.net/
http://www.ben.geek.nz
9 | 18-Aug | 22-Aug
http://www.soldiersperspective.us
http://eliax.com/
http://www.hackcollege.com/
http://geeksroom.com
More info about the participating sites and their giveaways can be found here.
Special thanks to Vonage for putting on this great promotion and allowing The Gadgeteer to be part of it.