We use affiliate links. If you buy something through the links on this page, we may earn a commission at no cost to you. Learn more.
I had previously reviewed another label maker by Dymo which is plugged into the USB port of your computer. Using built-in software, you could create and print labels from your PC.
I also made a snarky comment about handheld labelers and needing to be an expert texter.  The P-touch 1290 label maker from Brother is one such label maker and I take back my comment about being an expert texter.
This label maker takes tape labeling to an entirely new level and that level kinda rocks.  I really do like the Dymo labeler.  I can sit at my laptop and make all the labels I want.  But, surprisingly, I can't always take my laptop and Dymo device where I want or it wouldn't be prudent to take my gear into certain mobile areas.  There are limitations.  The PT-1290 solves those mobile on site limitations.   This label maker is handheld, uses a QWERTY keyboard and is extremely lightweight.  It can be stowed away anywhere, taken from room to room or garage or basement and pretty much can label anything you want to label.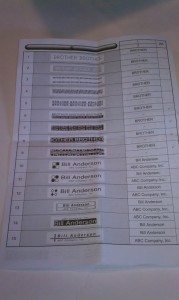 The keyboard, for those of us who aren't the best texters in the world but can type 55 WPM on any manual typewriter, a QWERTY keyboard is what we learned on, is what we've memorized and simply works the best for us.  Brother knows this and has implemented this.  Nothing is worse than a keyboard that is frustrating to use.
Where this labeler falls short is the complicated features.  The features such as customized font and icons and sizes are all very cool.  But the instruction sheet is complex, takes a little studying and quite frankly, I still haven't figured out how to add in accented characters which you can do and for which you have to refer to yet another chart.
But, you can save the labels into files if you design a font and character that you like and that fits with whatever you are doing and I have the utmost respect for you for your patience.
This model is what I would call "souped up" version of your usual labelers and there is no doubt a market for its versatility.
Here's What You Get: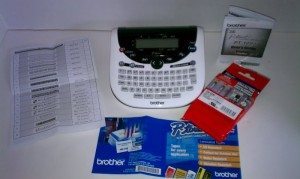 PT 1290 Label Maker
Free Cartridge of tape
Second Cartridge of Extra Strength Adhesive tape.  This tape is for labeling the switches in the fuse box (so you know which switch cuts off what lights) gas lines, etc.  It's actually a very cool perk.
One set of instructions
One chart of various designs to refer to later (so keep it)
Warranty card
two different pamphlets to reorder supplies
A chance to win $1,000 if you register your machine.
You won't pay a tremendous amount of money for this label maker despite all that it can do.  Best price so far is Amazon.com for $35.95 and for what you get and for what it does and can do, it's well worth the price.
But always remember: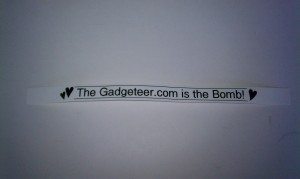 Product Information
Price:
$35.95 on Amazon.com
Manufacturer:
Brother
Requirements:

six AAA alkaline batteries

Pros:

Lightweight
Easy to use keyboard
Versatile
Portable
Good price

Cons:

Fancier labels and extra images, accents and icons can get a little tricky to produce
Comes with instruction sheet that takes a little time to digest