We use affiliate links. If you buy something through the links on this page, we may earn a commission at no cost to you. Learn more.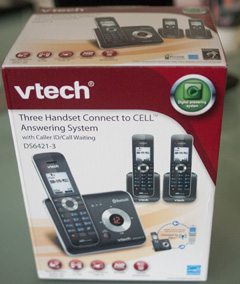 Is their anything more exciting than a cordless phone system? OK, I can think of a few things, but this new DS6421-3 system from VTech offers up some very cool additions to this old product segment. Even if you have cut the cord, and no longer have a land-line, you can use this system. It covers the classic bases:
Digital Answering Machine
3 DECT 6.0 Handsets
Caller ID
Speakerphone capability
Expandable system (add up to 12 handsets and headsets)
But adds some potential surprises:
Voice Announce Caller ID
HD Audio (including EQ settings)
Bluetooth headset support
Bluetooth phone support
That last option opens a whole new world of possibilities. You can download your directory from your mobile phone to the phone system, and even use your Bluetooth-connected mobile phone to make and receive calls with the system. They call this their "Connect to Cell™" feature. But the real question is how does it all work?
What's in the Box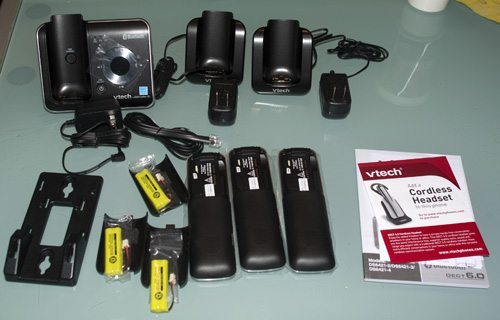 This phone should win some sort of award for packing efficiency. It was like unloading a clown car, I kept thinking, this has to be it. The box contains:
1 Telephone Answering Base
2 Charging Bases
3 AC Adapters
1 telephone cord
1 Wall Mount
3 replaceable batteries
3 battery covers
3 Handsets
Assorted reading material
General Impressions
I like the feel of the system. The phones seem solid and not too heavy or light. It manages the squeeze test quite well, and they fit in their bases very easily. The sound quality is quite good, and it had no issues in our 3-story Italianate house. It is also an attractive system, all dressed in black.
Installation and Setup
You need to assemble the handests. It was nice to notice right of the bat that when (not if) I need to replace a battery, they are very user-serviceable. I had a fit issue with one of the handsets, but generally this was a simple process.
If you are going to use a land-line (and you don't need to) you plug the telephone base into a phone jack, and plug in the AC adapter to get it up and running. Alternatively (or additionally) you can pair your mobile phone with the system, and suddenly you have 3 handsets that can use your mobile phone to call and answer phone calls. More on this latter.
There is one wall mounting bracket included in the box. This can be used to mount either the telephone or a charging base to a wall jack. It is designed to fit easily over the standard mounting points in a wall jack. If you have an existing phone on the wall, this will fit there.
Using the System
Due the nature of this web site I feel comfortable explaining it this way: The Telephone Base is the brains, and each handset is basically a dumb terminal. What is really nice about this setup is that you can listen to your messages right on the base, or you can use any handset to listen to messages. It is a little easier to do from the base (no menus to use) but you can do it from anywhere in the house. Are you a call screener? Well, if the base is 2 floors down, and you get a call, you can select "Screen" from the handset to listen to someone leaving the message.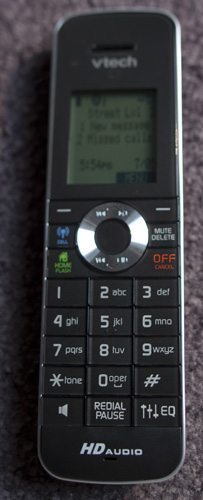 The handset is pretty standard. You have your phone keypad. Along the bottom you have a speaker icon to turn on and off the speakerphone feature, a redial/pause key and an EQ key that includes settings for Natural, Treble 1, Treble 2, and Bass. I found these settings very helpful depending on the caller.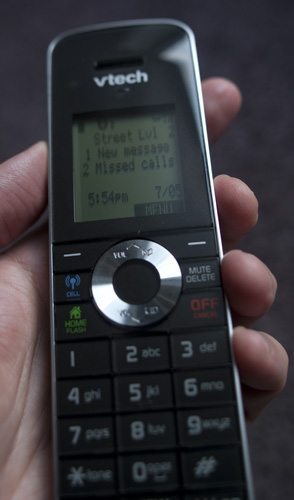 Above the keypad, and below the display you have white dashes that activate any "soft buttons" on the LCD display (Menu on this pic). The Green and Red buttons serve as call and end buttons along with other duty, and there is a Mute button that also serves as delete when listening to a recorded message. The one you may not be familiar with is the blue cell button. This is used to answer or make calls with your cell (when it is paired with the system). The silver ring only functions at the top (volume up/Directory) and the bottom (volume down/Caller ID Log). It is also used to scroll up and down. I really wanted that center circle to be select, but it is not a button. Select is the right soft key on most screens. As silly as it sounds, if I could change one thing, I would make the center button function as select.
You can name each remote, which I liked. They come already numbered 1, 2, 3. You can't change that, but you can change the name from the standard "Handset" to whatever you choose. In the pic you see that I named it "Street Lvl". It also displays if you currently have any new messages, or missed calls. It can be a little odd on the missed calls. The number is the total missed calls for the land-line and any connected mobile phone.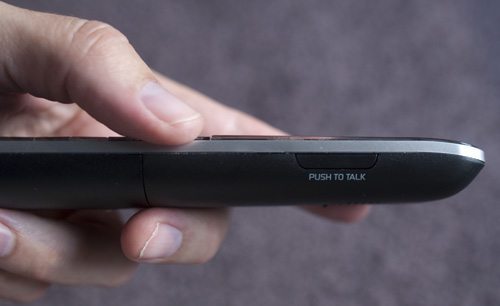 The Push to Talk feature is nice. You can make handset-handset calls on the system. This is where naming your handsets can be nice. You don't have to remember which floor has which handset number, you can select by name (or have it ring all). You can set a different ringtone for land-line, Cell, and PTT (push-to-talk). Another subtle thing, but I was disappointed that you can only mute all. I wish I could mute incoming calls, but still have the handset ring for intercom. This would be nice for a bedroom phone you don't want to ring, but still want to be able to contact via intercom. Again, subtle issue, I cannot even bring myself to add it to the cons.
The speaker for the phone is on the back of the headset. There is a small bump to prevent it from resting flat, but I found this not to be an ideal setup. To add to that, the handsets do not function while in their bases. As soon as you drop it in a cradle the handset goes to idle, hanging up the call or ending whatever function it was performing. That is a shame, it would be nice to keep in the cradle while using the speakerphone.
The Bluetooth Connection
The Bluetooth feature is really nice. You can pair up headsets or phones. You can have multiple devices listed, but only two can be ready for connection at a time. I was able to pair multiple Android phones (even two at once) and Bluetooth headsets. It is important to remember that the Bluetooth is in the telephone base, not the handsets, so you have to be near the base to pair up. Also, you cannot mute a Bluetooth headset from any of the handsets. Since my Bluetooth headset does not include a mute button (I always mute on my phone) this seriously limited my ability to use this feature.
When connected to a mobile phone, this system basically becomes a big Bluetooth headset for your mobile phone. You can even dial from the handsets to your mobile phone. If you have ever heard your mobile ringing on another floor in the house you will appreciate this feature. I paired my Droid X with the phone system, and my dock is next to the telephone base, so whenever I return to the house, I drop it in the dock, and can answer calls to my mobile phone from anywhere in the house. They do suggest you plug in your mobile phone, since the live Bluetooth connection could run down your battery.
Once connected to your mobile phone, you can also use that connection to download your contacts. Once downloaded, they appear in a separate directory on your handsets. This isn't any kind of sync, it's just a copy, but is an excellent way to get your contacts on your home phone.
Conclusions
As mentioned, you can add up to 12 handsets to the system, so it can grow to meet your needs. There is a $50 DECT headset you can add and additional handsets ar $22.
I really like this system. I would recommend this to anyone who needs a cordless system, whether they still have a land-line or not. The beauty of this is that if you do cut the cord, you can still use it with your mobile phone.

Product Information
Price:
99.95
Manufacturer:
VTech
Pros:

Can use landline and/or bluetooth-connected mobile phone
Integrated Answering Machine
Can pair bluetooth headset to the telephone base

Cons:

Cannot mute bluetooth headset from the system
Cannot use handset in dock