We use affiliate links. If you buy something through the links on this page, we may earn a commission at no cost to you. Learn more.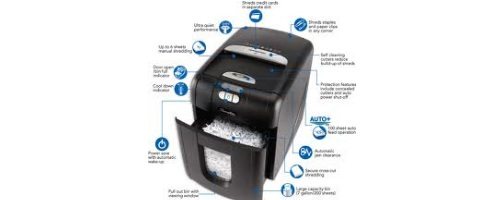 Most people and offices nowadays need some sort of shredder or other method of dealing with the large amount of potentially sensitive stuff we get every day. While a simple cheap 'wastebasket-topper' unit works for many of us, some of us need more.
The Swingline EX100-07 Stack and Shred Automatic Shredder may be your answer. The most interesting feature of this unit is that you can pre-load it with up to 100 sheets of standard paper, even with paper clips or staples, and it will cross-cut shred them as you get back to work. (Besides the main site listed, there is also an amusing interactive site for this product.)
This is a large unit if you are used to the little home versions- 17″ high, 12″ wide, and 17″ deep, 25lbs, with a 7 gallon hopper. The other specs are equally impressive-
Runs at 60dB, claimed to be the quietest of its class
Shreds to 'Security Level 3/6' in Swingline's terms (based on size of shreds. Level 1 seems to be no shredding, and 6 seems to be total disintegration)
Self-cleaning blades that do not require oiling (even though there is a link to the oil on the item's page)
'Non-stop Jam-free' technology clears jams on the fly
Can handle paper clips, staples, and credit cards, but not CDs
9″ wide cutting throat
Power-saving auto-sleep mode when not in use
Pull-out bin with viewing window and full indicator
Auto-feed hopper can handle up to 100 sheets without pre-arranging them
Manual feed slot can handle up to 6 standard sheets, heavier paper, credit cards, etc.
Can run for 10 minutes before automatically shutting down for about 30 minutes to cool off
5 year warranty on the cutters, 2 years on the rest of the mechanism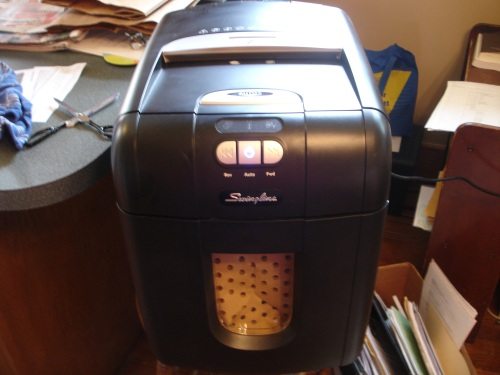 The MSRP for this shredder is $500, but it is widely available for under $225- not a bad price if you have a lot of stuff to shred and don't want people just standing there shoving papers in a machine all day!
Opening the large box the shredder comes in shows that it was packed neatly and efficiently without a lot of excess padding. The thin instruction manual walks you nicely through the few things you need to know, so it is pretty much an 'unbox, plug in and go' operation. The upper part of the shredder, with the machinery, seems solid and well built. The bottom portion, basically just a plastic box inside another plastic box, seems less durable but adequate for its purpose.
You really don't need the manual much, although it is helpful in knowing where staples and paper clips should be located for best results (within an inch of a corner) or when to use the auto hopper or the manual slot. Otherwise the controls and lights are well-labeled and intuitive.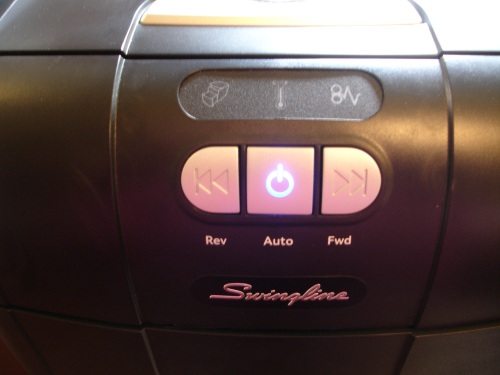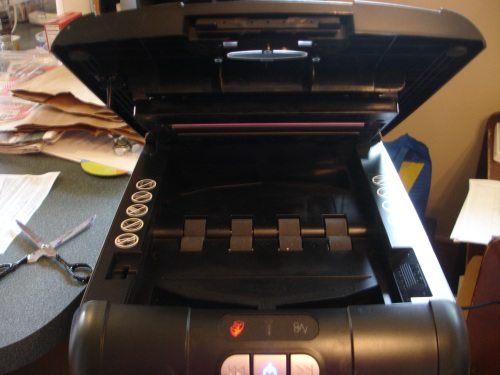 The shredder came with an interesting brown paper liner bag. Bag number 1765026 is recyclable and seal-able. Because of vent holes, it is even compressible! It also has sticky tabs that hold it securely in the hopper. Oddly, the website links you to a bag that does not list this unit for compatibility, and this stock number does not show up on the site, or anywhere else I looked. Fortunately, you can just empty it and reuse it several times, or a plain brown paper bag, trimmed for height and taped to the sides, would probably work assuming you feel you need a bag at all.
On a related note- the 7 gallon hopper does seem to fill up quickly, seeing as how this is a 100 page shredder.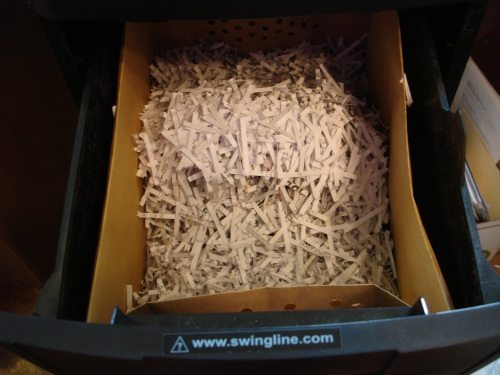 I am not a shredder junkie. We have some big units at work that I rarely use, and have had a succession of cheapo small shredders at home, so I have little to compare this unit to. It is much quieter than our 'under $30' basket-topper unit even though it is much more powerful. My wife and I have been using it enough to have filled the hopper three times now and only had one glitch.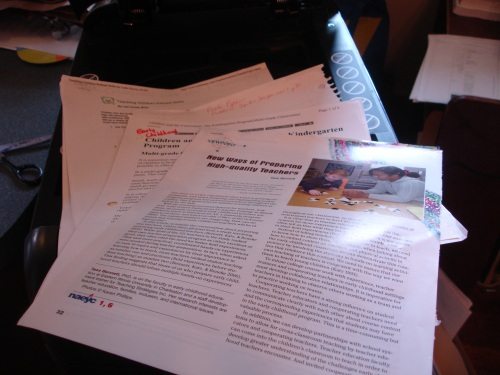 The shredder tried valiantly to eat this stack, but it pulls the bottom page in from the middle, and the topmost stapled bundle got sucked in all at once, choking it. It tried to autoclear and may have succeeded on its own but I intervened and hit the reverse button until it came out. It had gotten about 1/2 of that last bundle, and probably would have gotten it all if I had broken it up first. The instructions state to not shred stapled or clipped bundles of over 25 sheets. but considering the mixed composition of this bundle- magazine pages, heavy stock, notebook paper- the pages probably did not slide the way they were supposed to.
Overall- this seems like a good, reliable shredder. Even when I intentionally tried to jam it, it cleared easily. If you shred enough to justify the cost, and do not need a higher level of security, it should take care of you very nicely.
Product Information
Price:
MSRP- $500, usually available for under $250
Manufacturer:
Swingline
Retailer:
Several stores and sites, such as Amazon.com
Requirements:
Pros:

Automatically shreds up to 100 sheets
Quiet operation
Simple, intuitive controls
Good safety interlocks

Cons:

Expensive
Cannot seem to find liner bags
Smallish bin