We use affiliate links. If you buy something through the links on this page, we may earn a commission at no cost to you. Learn more.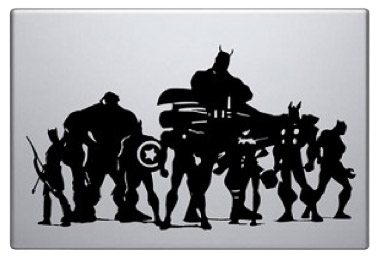 With the announcement of the new Avenger movie due out in 2012, the folks at StuckOff.com have created a new superhero inspired cling sticker to decorate your laptop lid, Avengers Assemble. While I do not know the Avengers like I know the Justice League, I am aware of who the Hulk, Ironman, and Captain America are and their various life stories. With the Ironman movies already created and Thor and Captain America movies due out this Summer….the 2012 release of the Avengers could be pretty epic.
As a bit of background: this past summer I reviewed StuckOff's Justice League sticker. And while I had issue with how it fit my MacBook Air and some of the finer details falling off, I still have it proudly displayed on my laptop to this day. I continue to get smiles, positive comments, and folks asking where I got it. It is great to see StuckOff continuing to create fun cling stickers to help individualize your laptop/MacBooks from Cinderella to the Joker to the TMNT…..the list is just too long to mention them all.