The Gadgeteer is supported by readers like you! If you buy something through links on our site, we may earn an affiliate commission. Thank you! Learn more.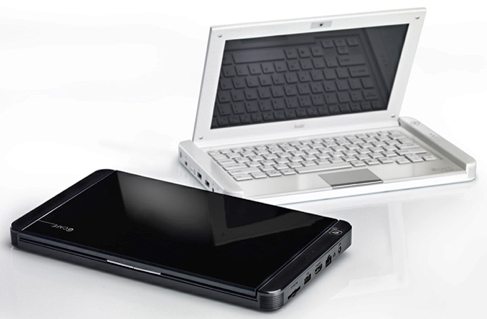 The newest generation of the 10″ eCAFE netbooks from Hercules are very thin and light, but they aren't light on features.  Both the Slim HD and the EX HD can playback 720p HD video, and both allow you to surf, check email, shop, and more.  They have 10″ screens, 3 USB ports, an Ethernet port, headphone and microphone connectors, and a card reader. The Slim HD is the thinnest and lightest netbook in its category – 1.9 pounds and 0.8″ thick!  The EX HD has an HDMI port and multimedia touch controls so you can output video to a TV.  The EX HD is only 2.4 pounds and 1.1″ thick, and its battery delivers 13 hours of power in real-life situations.  The Hercules eCAFE netbooks will be released later this month.  List price for the Slim HD is $229; the EX HD is $269.
Read the full press release after the jump.
 

Hercules Sets a New Standard with its
Latest Generation of eCAFÉ™ Netbooks


 

 

 

 

 

Hercules brings a new spirit of mobility and connection to the market with slim, light designs and longer battery life options




New York, NY

– (March 30th, 2011)

– Hercules, a specialist in IT devices including multimedia speaker sets, webcams, DJing solutions and consumer-friendly WiFi products, demonstrates its creative talents with smarter designed netbooks that will boost your connected experience. This spring, Hercules will release two new 10-inch eCAFÉ™ models that are all about mobility. Hercules is pleased to announced the eCAFÉ™ Slim HD: the slimmest and lightest model in its category; and the eCAFÉ™ EX HD: which boasts the best battery life on the market. 

Today, new mobile devices are part of everyday life and users have come to appreciate the advantages they offer: smartphones for their small size and immediacy, pocket multimedia players for their entertainment value, and netbooks for their comfort of use. With its two new eCAFÉ models, Hercules has incorporated all of these features, and even taken things a step further…

More than just a standard netbook, eCAFÉ™ is proud to be different >>
The Slim HD model offers a 10-inch screen and all the essential connectors (3 USB ports, an Ethernet port, headphone and microphone connectors and a card reader), but weighs in at just 1.9 lbs. Plus, it is extremely slim – only .8" thick.

 

 

 

 

 

 

 

 

 

The EX HD model features 13 hours of battery life in real use conditions* and makes it simple for users to watch videos on their television thanks to the HDMI port and multimedia touch controls. It is also incredibly compact: at 1.1" thick and 2.4 lbs., it is one of the slimmest models on the market. 

The eCAFÉ™ Slim HD and EX HD are ultra-mobile entertainment devices that smoothly play 720p HD videos, while allowing users to enjoy all of their favorite Internet activities as well email, web surfing, social networks, online shopping, and more.

 

 

 

 

 

 

 

---

 

Designed for

everyday use >>


Both new eCAFÉ™ models offer instant readiness, eCAFÉ™ wakes up from standby mode in just 4 seconds, giving more flexibility of use – even on short trips or breaks. 

The eCAFÉ™ is highly intuitive: applications are grouped by theme (Internet, multimedia, games, office software etc.).

 

 

 

 

 

 

 

 

 

It comes bundled with essential applications such as a full office suite (compatible with Microsoft® Office), an audio player and music management, a video player compatible with most formats (avi, divx, mpeg2, xvid, h264, mkv, mov, and more), and even an instant messaging system (compatible with Windows® Live, Yahoo®, AIM®, Google® Talk, etc.).


 

 

 

 

 

Managing social networking accounts,

including Facebook®, Twitter® and Flickr® (among others) is now easier than ever, thanks to an application which groups them all together so that you don't miss any of the latest news. 

The exclusive eCAFÉ™ Sync application lets you connect your eCAFÉ™ to your main computer (Windows®, Linux or Mac OS X) via the included mini-USB cable, allowing you to transfer files quickly and easily when needed.

 

 

 

 

 

 

 

---

 

 

A strong identity:

that's eCAFÉ™ >>


Hercules has broken with tradition and introduced its own design statement. The screen folds into the body, providing even greater protection for your netbook. The compact, super-slender design makes it easy to slip into bags of all shapes and sizes. The LEDs and backlit multimedia touch controls are located on the edges of the device, as are all ports and connectors, making them easily accessible. The chiclet keyboard with flat, separated keys and 10-inch, high-brightness LED screen make the eCAFÉ™ comfortable to use, even for long periods of time. 

The eCAFÉ's™ identity is also reflected in terms of the technology it employs: its optimized and low power consumption processor allows it to combine energy management with efficient everyday use. It doesn't heat up and because it has no fan, it is especially quiet. Flash storage makes it perfectly suited to mobile use, thanks to fast and efficient data access and greater shock resistance.

 

 

 

 

 

 

 

 

---

 

The eCAFÉ™ Slim HD and eCAFÉ™ EX HD will be available starting April 2011, at suggested retail prices of $229 and $269. Boost your connection >> 

Discover the entire Hercules eCAFÉ™ range at www.ecafe.hercules.com

 

 

 

 

 

 

 

---

 

Technical

specifications >>


ARM Cortex-A8 processor / Hercules eCAFÉ™ Netbook Edition Operating System (Linux) / RAM: 512MB DDR2 / Storage capacity: 8GB Flash iNand (for eCAFÉ™ Slim HD) or 16GB (8GB Flash iNand + 8GB SDHC memory extension card included – for eCAFÉ™ EX HD) – extendible up to 72GB ), + additional 50GB available online** / 10.1'' (25.7cm) backlit LED screen (1024 x 600) / WiFi 802.11b-g-n / Ethernet RJ-45 port / 3 USB 2.0 ports and 1 mini-USB port / Webcam with built-in microphone / External card reader (SD, MMC, SDHC) and internal card reader / Weight starting at 880g / Battery life: up to 13 hours of use* / Mini-USB cable included / Dimensions starting at 300mm x 171mm x 21mm / Colors and models may vary from one country to another. 

* Battery life achieved in a real-life test situation, in which the following were used simultaneously or in succession: word processing (1 hour), Internet surfing via WiFi (2 hours), games (1 hour), audio playback (3 hours), standard-quality video playback (1.5 hours) and HD-quality video playback (3 hours), video display via HDMI port (1.5 hours).
** Please see terms and conditions on our website.

About Guillemot Corporation:
Guillemot Corporation is a designer and manufacturer of interactive entertainment hardware and accessories. The Group offers a diverse range of products under its Hercules and Thrustmaster brand names. Active in this market since 1984, the Guillemot Corporation Group is currently represented in 11 countries, including France, Germany, the United Kingdom, the United States, Canada, Belgium, Holland, Hong-Kong, Romania and Italy, and distributes its products in over 30 countries worldwide. The group's mission is to design high-performance and user-friendly products to improve the satisfaction of users of interactive digital entertainment solutions.  www.guillemot.com

 

 

 

 

 

 

 
Support The Gadgeteer
:
The Gadgeteer is supported by readers like you! If you buy something through the links on our site, we may earn a small affiliate commission. Thank you! Learn more.