We use affiliate links. If you buy something through the links on this page, we may earn a commission at no cost to you. Learn more.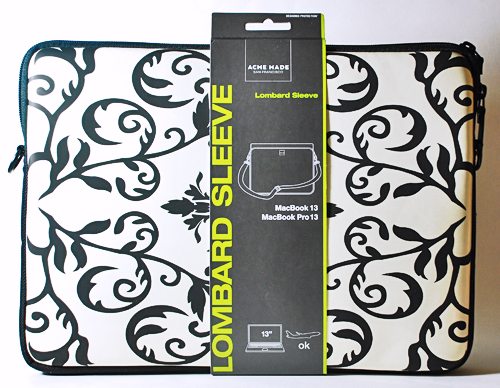 Have I ever mentioned that I love cases and bags? Well, I do. For years I had big, heavy, business-like laptop bags for my Windows laptops. When I switched to my 13" MacBook Pro, I decided it was a good opportunity to get a smaller, less business-like bag to carry it in. Acme Made has a line of nice-looking bags and sleeves for MacBooks. When they offered, I was happy to give their pretty Lombard Sleeve for the 13" MacBook and MacBook Pro a try.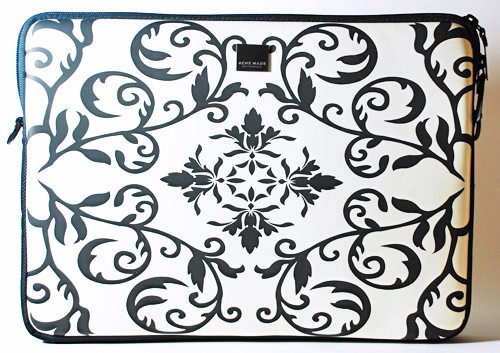 I requested and received the White Antik design. The front and back of the bag are covered in a black-on-white jacquard-type design. The bag is also available in Black Antik, with the same pattern done in silvery gray-on-black.
The bag is 10.5" X 14.1" X 1.3" with interior dimensions of 9" X 13.75" X 1". It weighs about 11 ounces.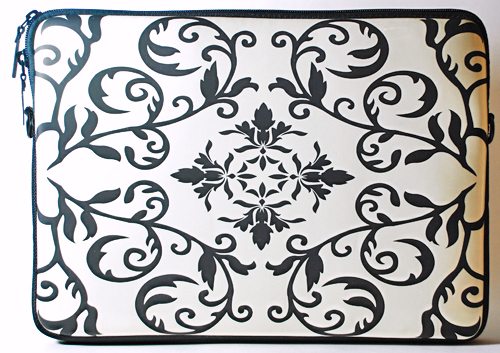 The outside front and back panels are made of a pearlescent white vinyl. The black design seems to have been printed on with a matte ink or paint. The only branding is a small gray square on the front with the Acme Made name on it. There are no pockets on the exterior.  Acme Made says the Lombard Sleeve is highly water-resistant.

The bag has a zipper closure that runs across the top of the sleeve and down about 2.5" on each side. The zipper has plastic teeth and double pull-tabs with black rubbery pulls. The rest of the sides and the bottom are made of black ballistic nylon.
At each end of the zipper, you'll find black metal D-rings to attach the included shoulder strap. The strap is made of black nylon belting material. It has sturdy metal clips and a metal length adjustment buckle. The strap is about 1.38" wide. It adjusts from 31-7/8" to 57-1/2" long, including the clips. There is no strap pad, but the strap is soft and flexible enough that it is not uncomfortable to wear.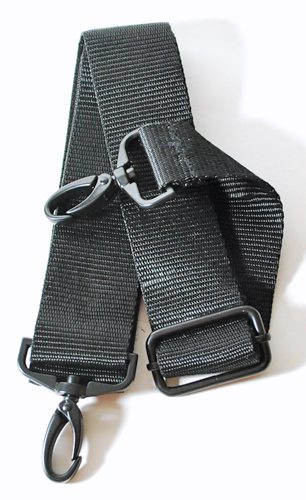 Of course, you can remove the strap and use the Lombard as a simple sleeve, either alone or inside another bag.
The interior of the Lombard sleeve is lined with a dark purple tricot fabric with a velvety surface. Closed-cell foam padding is sandwiched between the interior and exterior fabrics to provide extra protection for your laptop.

This bag is designed to carry your 13" MacBook or MacBook Pro. There are no interior or exterior pockets or pouches for other gear. My MacBook Pro fills the bag. I think I might be able to squeeze my power brick in there with the MacBook and still zip the bag – if I didn't care about getting things scratched. I do care about scratches, so I would use the Lombard only as a sleeve inside another bag. Or I would use it with the shoulder strap to carry my iPad to meetings where I could use the MacBook on battery power.
The Lombard Sleeve is a pretty, feminine bag/sleeve for a 13" MacBook/Pro. It's lightweight protection for your MacBook when you don't need to carry anything other than your laptop.
Product Information
Price:
$49.95
Manufacturer:
Acme Made
Retailer:
Acme Made and Apple online and Apple retail stores
Pros:

Pretty, protective, water-resistant sleeve
Can be used alone with or without a shoulder strap
Can be used as a laptop sleeve inside a larger bag

Cons:

When used alone, there is no room for accessories or the power brick