We use affiliate links. If you buy something through the links on this page, we may earn a commission at no cost to you. Learn more.

The Eton Aluminator series flashlights are bright 'Cree Q2 LED' style lights in a tough waterproof aluminum housing. Eton has also co-branded with the American Red Cross and donates part of each purchase.
The Eton Aluminator AFL200 is the 3-AAA entry in the line-up which also includes a 2-AA (AFL100, $20), 2-C (AFL300, $30), and 2-D  (AFL400, $40) versions, all with similar proportions and overall shape. The technical specifications for most of the line are…
120 lumens (The 2-AA version is only 100 lumens)
Visible for up to 2.2 miles
Illuminating distance up to 275 ft (83.8m)
Cree™ Q2 LED 3W
IPX-4  Splash-proof from all angles (which means it can take rain, for example, but not submersion)
Impact-resistant aluminum
Wrist strap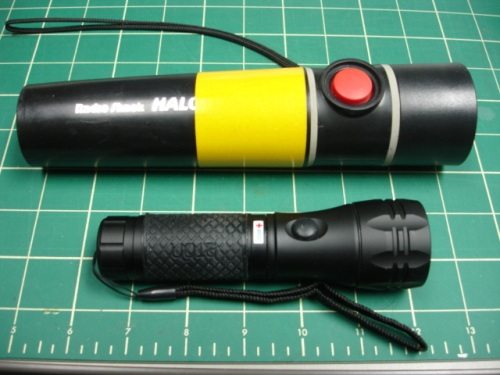 The AFL200 is 5.5″ long and weighs 1.92 ounces. It will fit in a pocket, but it is not really designed for pocket carry. It has a great heft and sneers at The Gadgeteer Creak Test. It is the sort of all black quasi-military styled flashlight you often see in dramatic TV cop shows flashing all over the place.
The actual light is a bright center with a large, dimmer 'halo'.  The combination lights up details nicely, while the dimmer light does a decent job of illuminating a fairly large area.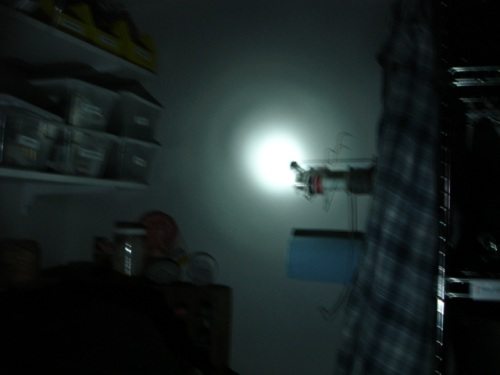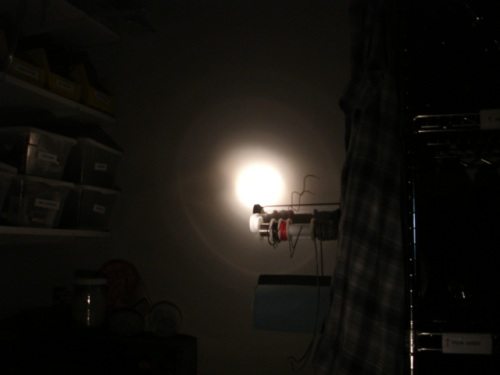 The main body is a machined piece of aluminum with a rubberized sleeve for better grip. The side-mounted on/off button is stiff and has a rubber cover but is easy to access and work even through gloves. There is no branding other than a small Red Cross logo. Rubber O-rings seal each end (but as per the specs, it should not be submersed).
The head comes off, but does not allow the beam to be adjusted. With the head off, the flat Cree Q2 LED 'bulb' is exposed. You can turn it on with the headpiece off and the incredibly bright LEDs will illuminate a large area nicely- just don't look into the light. The other end comes off to access the removable 3-AAA battery pack that is clearly labeled for battery orientation. I do love those little touches!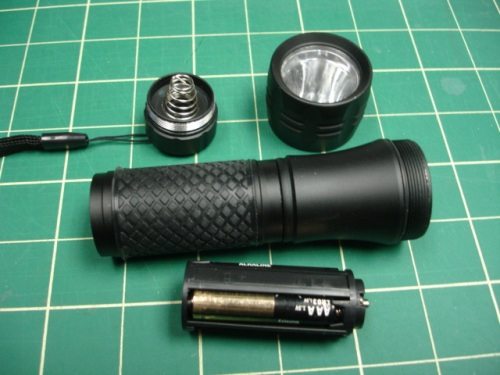 The housing is pretty tough! I threw mine across the shop onto the concrete floor and it barely smudged it. Tapping it with a 24oz hammer just makes it bounce. I even held it by the end of the lanyard and swung it pretty hard at my workbench a few times without any visible injury other than a slight coming apart at a seam and a slight loosening of the head- both quickly corrected.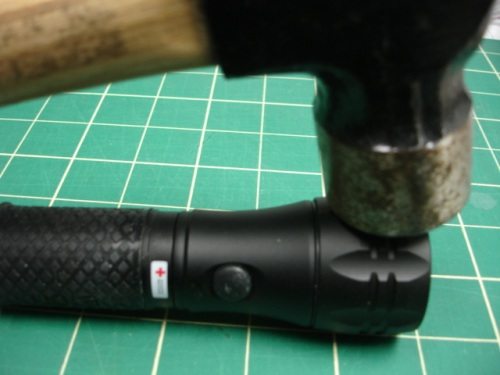 Eton has a long relationship with the American Red Cross and produces several items that could help in an emergency, a disaster, or just a fun camping trip. A portion of each purchase supports the organization. I work part-time for the Red Cross as an instructor and would like to repeat the basic preparedness message- "Get a kit, make a plan, be informed. (Just a quick note: It can be hard to find dark colored tools, like flashlights, in the dark or an emergency. Consider wrapping some brightly colored tape on them to make them easier to locate when you really need them really fast.)
There are probably flashlights out there that do some of the jobs better- some are tougher, have a better beam, are lighter, are better priced, etc. but the Eton Alluminator does a good job of combining most of the things we look for in one convenient package, and it looks nice to boot!