We use affiliate links. If you buy something through the links on this page, we may earn a commission at no cost to you. Learn more.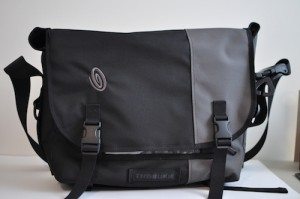 Unless you've been living under a rock, you've probably heard it said that the number one way to make yourself a robbery target while on vacation is to walk around with very obvious expensive camera gear.  That neck strap that has the brand name of your camera emblazoned across it in bright colors, and the camera bag that likewise bears brand names and could be mistaken for nothing other than a camera bag, are like painted targets for would-be thieves.  As a result, a common piece of advice given to new DSLR owners is, "buy a camera bag that doesn't look like a camera bag."  More and more options in this category are becoming available, and now Timbuk2, maker of ridiculously sturdy messenger bags, has finally thrown their hat in the ring with the introduction of their Snoop Camera Messenger Bag.  Is their new offering enough to satisfy true photo gear hounds?  Timbuk2 sent me a review sample of their new bag so that I could find out.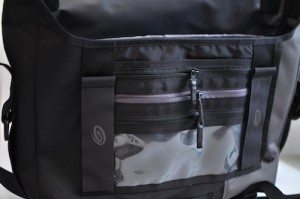 If you've ever owned or spent a lot of time around Timbuk2 messenger bags, you'll notice that the Snoop looks practically identical to their other offerings, differing only in the number of color panels present on the outside.  The sample bag I received is made of the same tough-as-nails ballistic nylon that my other Timbuk2 messenger bags are composed of, and it uses the same reliable buckles and shoulder strap cam system that are featured on all other current-model Timbuk2 messenger bags.  Lifting up the front flap reveals three horizontally-zippered pockets (one containing a tether for your keys, and one featuring a see-through vinyl window), and one hidden "napoleon" pocket that measures at approximately ten inches deep.  Timbuk2 now also includes two fabric strips that can be used to cover the Velcro closure on the front of the bag, in case you feel that the buckles are enough to keep the flap closed, or simply don't like dealing with the sound of Velcro every time you open the bag.  Really, the only external feature on this bag that isn't found on other Timbuk2 messenger bags is a pair of straps on the bottom of the bag which can be used to secure a tripod.  Very handy.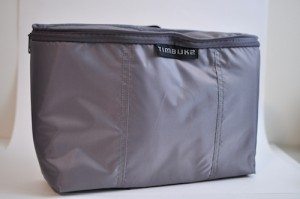 It's not until you get inside the bag that it becomes clear how it differs from Timbuk2's other bags.  The main compartment is dominated by a large, removable sleeve for holding, compartmentalizing, and protecting your camera equipment.  The shell adheres to the inside of the bag with Velcro, and when installed, doesn't seem to run any risk of coming loose.  Once removed, a top flap is revealed, and the entire deal can be zipped closed and carried about with the handle of nylon webbing that is attached to the back.  The inside of the camera compartment is soft enough to provide a safe ride for one's equipment, and features four dividers which attach to the walls of the camera compartment with Velcro, allowing them to be configured or removed as needed.  A permanently-attached fabric divider separates the larger section of the bag from a smaller section that is the ideal size for a laptop or an iPad.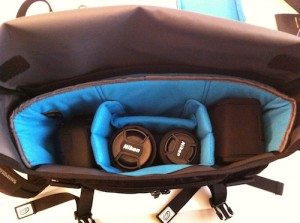 The Snoop Camera Messenger bag is available in two sizes, small (which I was sent for the purposes of this review), and medium.  I found the small to be a bit too — well, small — for my needs.  Once I put my Nikon D90 body (no lens mounted), two lenses, and a flash into the bag, I had basically filled the compartment.  There was still room for a few smaller items — a camera strap, perhaps a couple of lens filters — but not for anything heavy or delicate.  Likewise, the laptop compartment was just too small for my 15″ MacBook Pro.  I imagine that the extra three inches of width and depth offered by the medium-sized bag probably would have fit my needs to a T.
In terms of wear, I have to say that this is probably the most comfortable camera bag I've ever worn.  Like all Timbuk2 bags, the shoulder straps are nice and wide, shoulder strap pads are available (and, in my opinion, very much worth the added expense), and the bag is well-balanced and rests easily against my body, regardless of whether I have it against my front, back, or side.
So, what don't I like?  I don't like the fact that, with only four dividers (two narrow and tall, two wide and short), one is pretty limited in how one can configure the inside of the camera compartment.  Ideally, the bag would come with a few additional dividers so that it could be configured in a number of other ways (for example, I really want a couple of short, narrow dividers so that I can better support my camera when it's in the bag with a lens mounted), but I'd even be satisfied if Timbuk2 simply sold additional dividers in varying sizes and shapes on their website.  I also don't like the fact that the permanent rear-wall compartment is not padded at all.  While it isn't explicitly a "laptop compartment", even the Timbuk2 website does mention using it for "e-readers or laptops".  As it is, I wouldn't dare put my iPad in there without a protective case or sleeve of some sort.  Finally, it could use more pockets.  To be fair, I would likely have had this complaint no matter how many pockets were on the bag… I always want more pockets.  In this case, I'd love to have a side pocket for a water bottle and/or an external pocket on the back for easy access to plane tickets, etc.  Finally, I'd really like to see a top handle on this bag, like the ones found on Timbuk2's laptop messenger bags.  Gear bags are things that often find themselves being swung around the body and lifted up onto a work surface, and a top handle really makes that easy to do.  Without the handle, there's nothing to grab onto other than the shoulder strap, and it's a little awkward.
As first forays into camera-bag-making go, Timbuk2's is an overall successful one.  I can definitely see this bag replacing standard camera bags for a lot of people, and given how much punishment Timbuk2's bags seem to be able to take, I can see those same people still using them years and years from now.
Product Information
| | |
| --- | --- |
| Price: | $130 (small) - $150 (medium) |
| Manufacturer: | Timbuk2 |
| Pros: | Removable camera gear sleeve, space for a laptop or tablet, all of the best features of a regular Timbuk2 messenger bag |
| Cons: | Could use more divider options for configuring camera sleeve, the Small size is probably too small for anyone who wants to carry more than just a few pieces of equipment, could definitely use a top handle |