We use affiliate links. If you buy something through the links on this page, we may earn a commission at no cost to you. Learn more.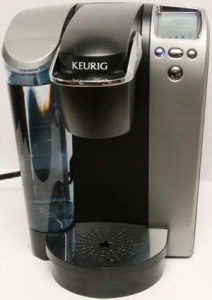 Quite simply, the Keurig Platinum Single Cup brewer is the last coffee brewer you're ever going to need.   In my household, we're coffee and tea drinkers…iced tea, hot tea, hot chocolate, lattes, hot apple cider….we drink it all. We just don't drink the same thing at the same time.
Every morning, I make coffee. I have performed this ritual for years.  And I've used just about every kind of coffee brewer from percolators, automatic drip, espresso machines, special coffee brewers with attached grinders…all kinds.  I also threw out half the pot too because we didn't drink it all.  Which is a waste.   Then there are holidays and special dinners where our guests would like coffee with their dessert but they want decaf. Personally…I've never understood decaf.  What's the point?  But people like it and when I have guests for special events, they ask for it so I buy it.  So we're left with a dilemma: drink the decaf, make a separate pot of whatever kind of coffee I want, or dirty another pot making hot cocoa.
Then there is my husband who swears I make tea and call it coffee.  This is a man who likes his deep, bold roast.   If that wasn't bad enough, Starbucks comes out with their yearly "Christmas Blend" which is fabulous stuff.  As much as a pound of that coffee costs and as good as it is, the LAST think I want to do is throw any of it out because I didn't drink it all.  Trying to measure out half pots is a pain in the neck.
Enter Keurig Single Cup Coffee Brewer:  now everyone can have whatever they want and I don't have to dirty up my entire kitchen doing it.   Keurig brewers utilize 'K-Cup" system which is a single preparation of coffee/tea/cocoa/cider/beverage in a plastic cup that fits into the machine, hit the button and wait for a few seconds for the machine to brew  and pour it into the cup. With Keurig you have no coffee pot to wash, no paper filters.  When you're done, pop out the K Cup and toss it away.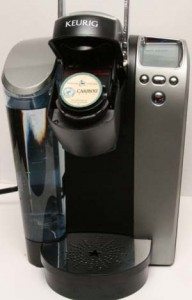 I can have tea if I want it and make something separate for my husband.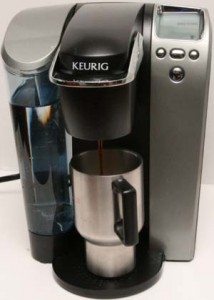 Now that cold weather is here, I'm all about my hot apple cider.  Keurig's got a K-Cup for that as well.  Now, no more worrying about expiration dates of apple cider in the fridge or that tasteless watery instant stuff in envelopes.   The Keurig even makes iced tea and has a special setting for that although I wish that there were more unsweetened varieties as I am not a sweet tea fan.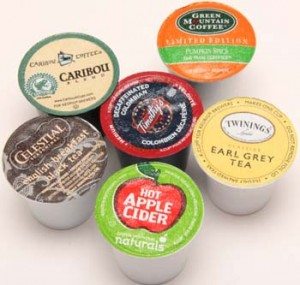 I LOVE this machine.  You can choose any size of cup you want to brew from small (5.25 oz) to travel mug size (11.25 oz).  Unlike Tassimo coffee pods,  K Cups come in all varieties and brews of coffee, tea and hot chocolate.  And you can get K Cups anywhere which is a bonus.  Even WalMart sells K Cups although your best bets are Costco for price and Bed, Bath and Beyond for variety. Can't find what you want, head online and order there.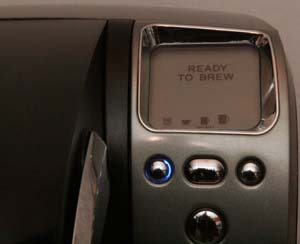 Also unlike Tassimo, you can use your favorite coffee grounds if there isn't a K Cup variety you like.  Keurig has a "My K Cup" reusable filter for brewing your favorite blends.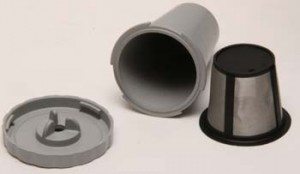 This type of brewer is also excellent for offices as well.  It's an old complaint/cliche about making a pot of coffee, walking away to let it brew only to come back and find most of it gone except for some putz who left one inch of coffee in the bottom of the pot without making any more.  With a one cup coffee brewer, you get your choice without having to wait for an entire pot to brew.
I really have no cons about this product other than I wish there were more unsweetened varieties of tea.  We waste less coffee, I have less mess in my kitchen, and everyone gets what they want.  Seriously, it's the best coffee brewer I've ever bought.  It's a bit pricey at $169.00 (Costco price for the Keurig Platinum Bundle that includes 80 K Cups) but it's well worth the price and comes with none of the fuss and mess of other coffee brewers.