We use affiliate links. If you buy something through the links on this page, we may earn a commission at no cost to you. Learn more.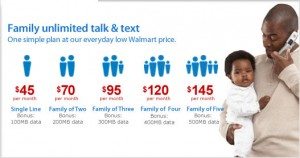 When I first heard this bit of news, I thought, "Please, not another Straight Talk …" Thankfully it is not.  Walmart Family Mobile, Powered by T-Mobile has just thrown its hat into the race with a pretty competitive price point for service. Will it be a deal budget-junkies can't resist? Or will the handsets being offered slow the number of adapters?
When we first heard of reports of Walmart jumping into the phone biz, the prices rumored for monthly service with data seemed to be a bit… ridiculous. Initial reports claimed that $45.00 per month for the first line and $25.00 for each additional line would get you unlimited talk and text. However, it was also said that data would cost $40.00 for 1G, shared. The internet community scoffed at that notion.  But Walmart has come to the rescue with a official press release clearing up the rumors.
"Walmart Family Mobile was designed with families in mind, and offers the easiest, most affordable way to enjoy high-quality post-paid service. Every line has Unlimited Talk & Text, so customers can be assured of no surprise overages when they receive their bill each month. The first line of service is just $45 per month, and each additional line is only $25 per month. In addition, Walmart Family Mobile has phones for the whole family from Samsung, Motorola and Nokia, including phones with the Android Operating System, QWERTY keyboard, touch screens and other features. Since there is no annual contract, customers can upgrade anytime by purchasing a new handset with no extra fees or contract commitment…"

"Data plans are also easy and affordable with Walmart Family Mobile. Activated accounts come with a free preloaded 100MB WebPakTM – which provides access to the internet – for every line of service. The WebPakTM is shared among all lines on an account and unused data never expires. Additional WebPakTM refill cards are purchased upfront in stores or online at www.walmart.com/familymobile, ensuring there are no overage fees or monthly data fees. The WebPakTM can also be used to make international calls to several countries for as low as 5¢ per minute**, as well as download ringtones, games and other apps."
Walmart will be going ala carte with its data Packs, which can be a great option for those who won't be streaming Pandora in the background while downloading a video of something funny your friend sent you in a email. That is, if the phone you bought could even do that. What are the phones you can choose from anyway? So far, there are only 5 handsets to choose from, the two most notable phones are the Motorola CliqXT, and the Samsung Highlight.
Walmart's Family Mobile will be available starting September 20th.