We use affiliate links. If you buy something through the links on this page, we may earn a commission at no cost to you. Learn more.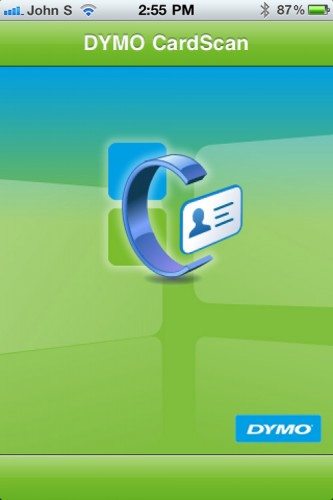 DYMO is known as the business card scanning company. Their CardScan App for the iPhone brings this capability to the iPhone, at least for those in the United States. I put the product through its paces on some real and sample business cards, and overall was very pleased with the results.
The CardScan App installs via the App Store. It has a clean and consistent iOS interface. It launches into a view that shows all existing cards, with the option to capture a new card, select a photo from the camera roll, or Edit (really just delete) a scan: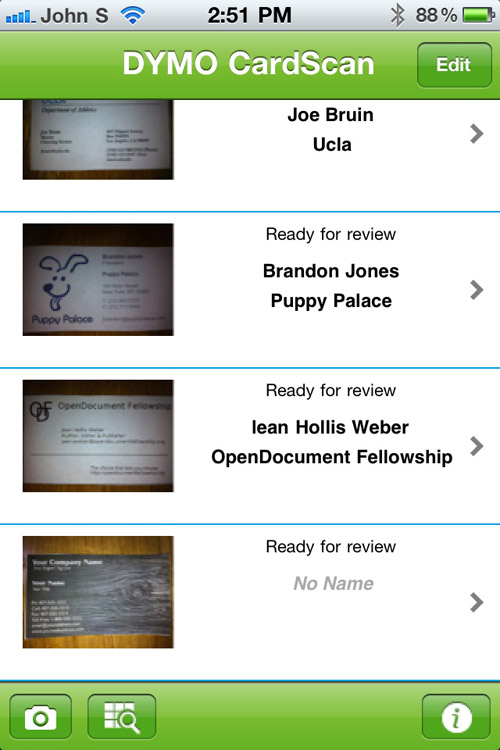 Capture Flow
If you're like me, after a meeting you too will have a hand-full of business cards that you should enter into your contacts, but probably never quite get around to doing. With CardScan, just spread them out and start snapping away. After you shoot a photo, with or without flash if you need it, CardScan shows you the shot. You can retake it, or process the card. Processing adds the image to the list, and starts transmitting it to DYNO for recognition: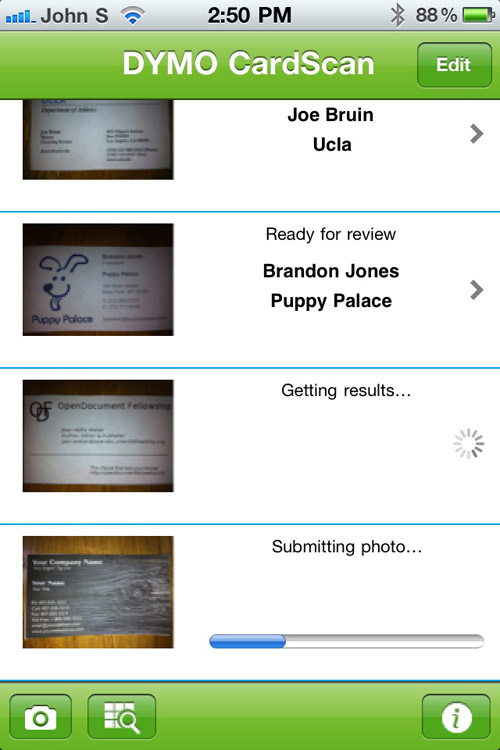 You don't need to wait, you can just tap the camera icon and start working on your next card. The shot above shows that one card's being recognized while another is being uploaded.
Tapping any card that is "ready for review" will give you a chance to make any edits to fix recognition errors, or add additional notes not on the card, and then to save the data to Contacts: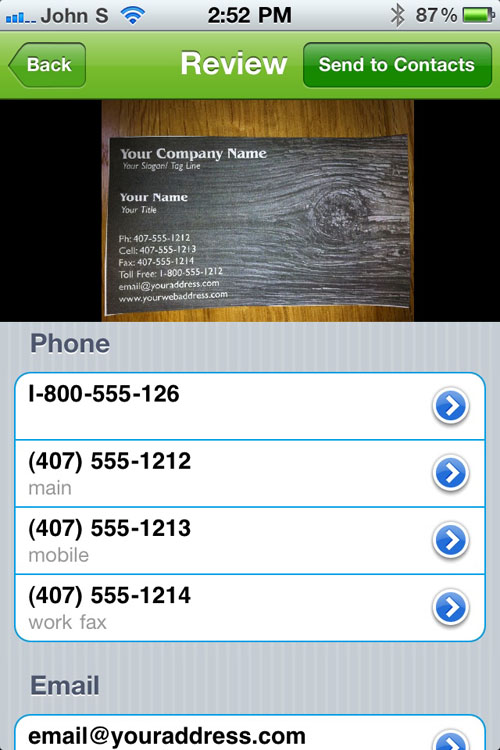 Tapping any recognized element's detail arrow brings up an editable field, keyboard, and the zoomed in image from the card photograph that was used for the data.
Once you've got the information the way you like it, tapping "Send to Contacts" makes a new contact with the data. The card remains in CardScan as well, until you choose to delete it.
Recognition Success Rate
The usefulness of any Business Card Scanner is dependent on its ability to not only recognize text accurately, but also to parse out where the bits of text on the card belong in the contact data record.
If you're primarily dealing with standard business layout cards, then CardScan will be very successful at not only recognizing, but also correctly identifying what bits go where in a contact record. If, however, you deal with artists, graphics designers, or anyone else who feels compelled to have a card that's hard for a human to read, let alone a computer, you might not get much help from CardScan. In my samples it recognized almost every card except the one that was filled with tiny, fancy fonts over logos and images, using a multitude of colors. Even when it does fail, you at least have a photo of the card you're likely to lose on the plane ride home.
Final Thoughts
Keep in mind that CardScan sends the image of each card to DYMO's servers to be recognized. This means you'll incur some data usage (unless you're on WiFi) for each card – about the same as posting an image to a social networking site. Also, it means that card data is going to be sent over the air, and also exist for a time at DYMO. I didn't see a privacy policy anywhere on the App, but I expect they don't intentionally keep any of that data.
Even with that minor concern, this is a very useful App for anyone who regularly receives business cards, and manually types them in. You can quickly snap photos of cards, and whenever it's convenient review them and add the information to your contacts.
Product Information
Price:
$9.99
Manufacturer:
DYMO
Requirements:

- Apple iPhone 3GS 3.0 OS
- 3.0 MP digital camera with autofocus
(works with iPhone 4/iOS 4.x)

Pros:

Quick entry of business cards, no additional hardware needed, inexpensive, batches requests so many cards can be scanned quickly

Cons:

Uses network data, recognition of complex layouts somewhat variable, only works in the US