We use affiliate links. If you buy something through the links on this page, we may earn a commission at no cost to you. Learn more.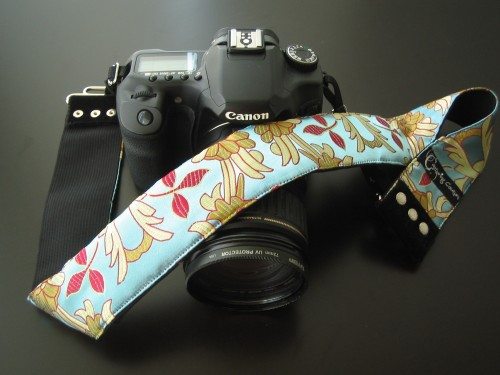 Camera straps are accessories you usually do not think about, but Capturing Couture certainly did.  They have created several lines of unique camera straps that can give your DSLR or point and shoot camera character and personality to match. Their fabrics and designs are beautiful and eye catching.  These straps combine beauty with function.  Most cameras come with a camera strap that screams the brand name in big bold letters across the length of the strap. Capturing Couture offers a wide selection of designs to suit your style without having to be a walking billboard for your camera maker.
Capturing Couture carries several different lines including Organza, Orchid, Sofia, Lotus, Boho, Hibiscus, Vintage, Urban and Animal.  Vintage and Urban are the most male friendly lines.   Most of the other collections focus on rich floral prints and designs with bright complimentary colors. The Organza collections gets three-dimensional with rose shaped flowerets (made of organza) lining the entire length of the strap.

Not to leave out the point and shoot cameras, Capturing Couture has also created a collection of wristlets for point and shoot digital cameras in Organza and Hibiscus.  Each wristlet includes a quick release clip to detach/attach the camera.  The wristlets measure 1.5" thick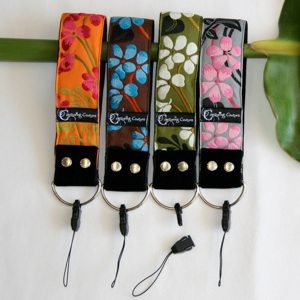 I chose the Orchid Bliss camera strap for my DSLR for its beautiful blue and gold.  I opened the packaging to find a black gift box with a blue tulle bow. This was an added surprise.  It's gift ready! My packaging box also included a free promotional CD for Laura Mulderrig and promotional brochures and business cards.
Now for the mechanics:
There are many types of camera straps. Some are more functional for professional photographers than others. While this line of straps is nice to look at it is not lacking in functionality.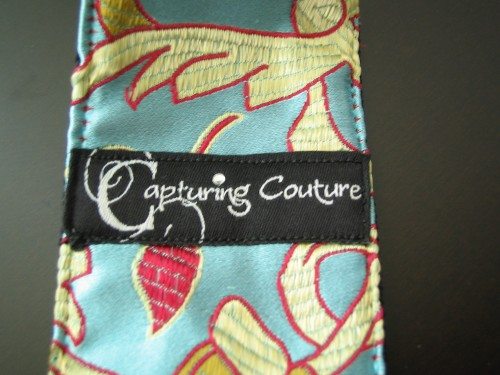 The DSLR strap measures 2 inches in width and 30-32 inches long excluding the adjustable portions, which can provide an additional 6-8 inches.  The width of the strap provides extra stability. My original Canon camera strap was 1.5 inches wide, so the extra half-inch gave me noticeable stability.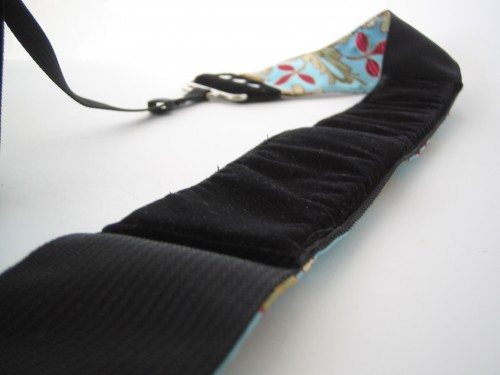 The strap puts the weight of the camera onto the back of the neck. Therefore, the neck portion of the strap is slightly padded and lined in soft velvet fabric to make it more comfortable.  Neck strain is an inherent issue with any camera strap designed for carrying the weight of the camera around the neck.   My DSLR weighs about 3 pounds and can vary based on lens. My original strap had no padding and started to dig into the back of my neck almost immediately.  The Capturing Couture strap gives me some added comfort with its soft padding. However, carrying 3 pounds around your neck for long period of time, no matter how padded, can become a strain.
When not in use, I prefer to carry the weight of the camera on my shoulder and across my chest.  Some professional camera straps are designed specifically for this configuration.  Others also come with the quick draw capability when used in this configuration.  Capturing Couture is not designed specifically for this type of use, but I still found it reasonably comfortably to wear across my chest when not in use.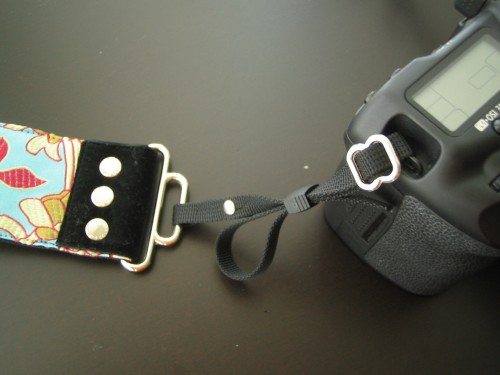 The adjustable portions of the strap attach to both sides of the camera.  Other unique touches include customized "Capturing Couture" metal rivets that line each side to reinforce the ends with more than just stitching.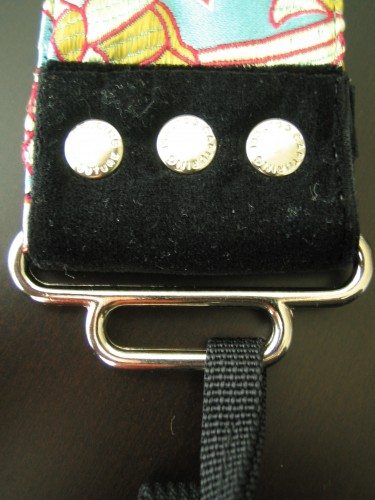 What I like about these straps is the added personality they give your camera. You cannot help but notice it, in a good way.  It's a simple way to dress up your camera for formal events. If you're a wedding photographer, get it! There is no other way to dress up your camera for the occasion! I would go for the organza in red.
Also, you no longer have to be a walking ad for your camera company.
I wish they had more unisex patters and fabrics.  And for future updates I would love to see straps that accommodate shooting in an across the chest configuration.