We use affiliate links. If you buy something through the links on this page, we may earn a commission at no cost to you. Learn more.
Forget the X-Files…the Coolness Factor is the Truth that's Out There…
While most people like to read the Gadgeteer to find out the latest in cool, new electronic gadgetry, it's important to remember that gadgets aren't ALWAYS electronic.  Sometimes they just have to be cool.  Something you can't help but look at.  Something you can't help but think:  "I totally know someone who would love that,".
Fred & Friends, a company recently profiled in Country Living magazine (yeah, yeah, yeah….but just stay with me here) is touting their latest in cool ice cube trays.   I know, I know… we've all seen the fruit slice or berry shaped ice cube trays.  Big deal.  But how would you like to float the Titanic and it's fate inducing iceberg in your drink?  What's a wedding without a cloud of icy diamonds cooling the punch bowl.  Or better yet.  Got a bunch of sci fi friends?   How about Edvard Munch's Screaming Man?  Gives a whole new definition to the term "cool" doesn't it.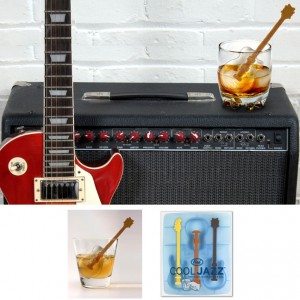 Fred & Friends, home of the Ninja Bread gingerbread cookie cutters (hey the list of cool stuff goes on) has a nice line of just off the wall gadgets guaranteed to assist the most creative minds.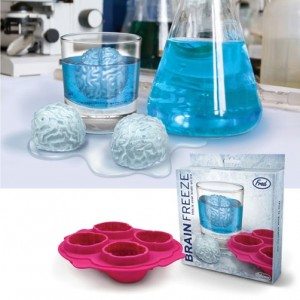 My personal fave is the Gin and Titonic ice cube tray.  A replica of the sinking Titanic ocean liner accompanied by the iceberg ice cube that rendered the "unsinkable" ship to the bottom of the sea.  Another fave, especially if you're living in Indiana this summer is the Chill Pill ice cube tray.  Yes, Gadget fans, an ice cube tray in the shape of an oblong scored pill with the words Chill and Pill appropriately engraved.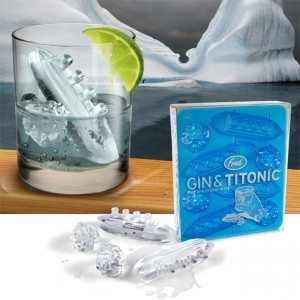 Fred & Friends' trays are made of silicone which I personally love.  I use silicone trays for baking muffins and cakes.  I do not have anywhere near the sticking problems I have with rigid pans and while I haven't tried the ice cube trays, I can stand up for silicone trays for their utility and ease.  I can't see why this wouldn't work for ice cubes.  Anyone who has ever handled one of those outdated ice cube trays knows that the key to release is flexibility and most ice cube trays have all the flexibility of a redwood picnic bench.    Fred & Friends also packages their trays in recyclable packaging so that's another plus in my corner. Oh and they're also dishwasher safe.  I'll admit it though… I'm attracted to the Coolness Factor that these trays provide.  Everyone needs ice for party drinks…why not jazz it up a bit and show your more warped side?  The possibilities are endless.
You can find them for $9.07 on Amazon for the Cool Jewels tray…$7.40 for the Cool Jazz guitar tray.  If you're making a lot of ice for a party, it could get pricey.  If you're giving them as a unique gift, the cost is very reasonable.