We use affiliate links. If you buy something through the links on this page, we may earn a commission at no cost to you. Learn more.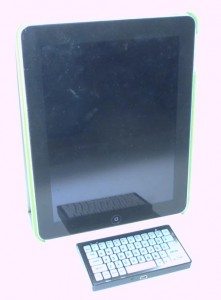 New smart-devices are coming to market almost daily, many without physical keyboards.  Manufactures have begun creating handheld sized or folding Bluetooth keyboards to help expedite text input.
I travel a great deal and love to walk through the various airports observing what the huge variety of tech people have and how they use it. I find it humorous when I see someone pull out a tablet computer or iPad followed by a full-sized wireless keyboard. From a weight and volume stand point, they might as well have brought/bought a laptop.
To alleviate this disconnect in logic, folks like Brando have begun selling small lightweight, highly portable bluetooth keyboards, like the Slim Bluetooth Keyboard.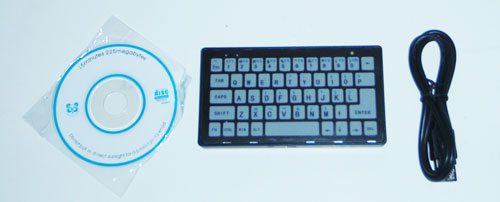 Package Contents:
Slim Bluetooth Keyboard
USB Cable
CD Driver
Features:
52 keys
On/Off button
Built-in rechargeable battery
Wireless Bluetooth transfer
Works with the iPad/Touch/iPhone
Compatible with Symbian S60, Mac OS, Windows Mobile, Window 7 / Vista / XP / 2000
Dimension: 112 x 61 x 13 (approx.)
Weight: 70g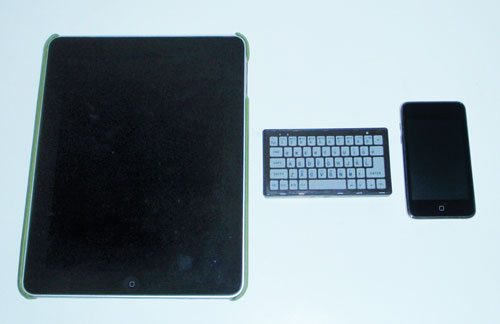 The Slim Bluetooth Keyboard is approximately the same footprint and weight of the iPod Touch.

However, it is nearly twice as thick as the Touch.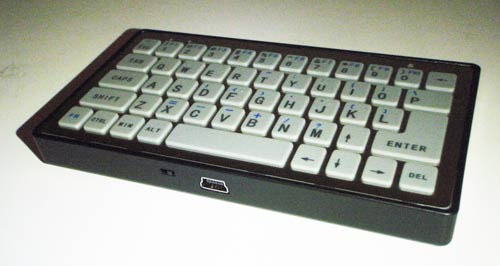 There really is not much to the keyboard or design.  The bottom side of the keyboard has a tiny slider on/off switch and USB port for charging. The on/off switch is small and nearly flush with the case. You definitely need a fingernail to move it.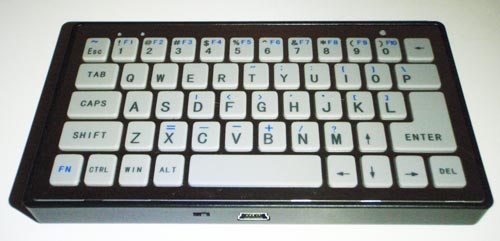 The keys themselves are rubbery and nicely sized for clicking away. The upper right corner (above the F10 key) is where the recessed pairing button is. I had to actually check the directions to figure out how to initially pair the keyboard with my devices. The upper left of the keyboard has the power indicator/Bluetooth pairing light.

The USB port is for charging the keyboards internal, rechargeable battery.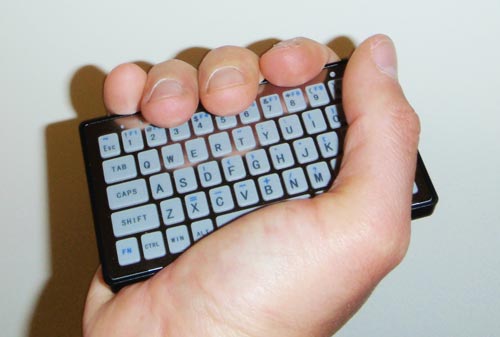 The build quality of this tiny keyboard is not the greatest. There is NO WAY it would survive Julie's Gadgeteer squeeze test….. I am confident that I could destroy the thing in a single closing of my hand, crushing it beyond repair. The black, base case is made of a relatively soft plastic. The top plate is a thin metal from which the the keys themselves protrude. As an aside, my dream device like this would be a thin all aluminum wireless keyboard….imagine an Apple keyboard but 20% in size.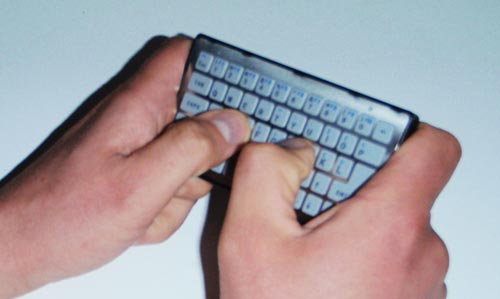 That said, the build quality does not distract from the keyboards functionality; inputting text is easy and the keys themselves are reasonably responsive. My accuracy on it is about the same as when I use the iPad's virtual keyboard and more accurate than the small keyboard's of my Touch and Storm. Although, it did miss a letter or two occasionally if I was typing too fast. For me, I will use the Brando Slim Keyboard for when I am inputting greater amounts of text (aka like this review) but for short blurbs it is not worth the hassle of digging out of my bag and turning it on.
Overall, I like the Slim Bluetooth Keyboard from Brando well enough. While it is not the best made gadget I have ever seen, at $37 it is reasonably priced and fulfills its function. It is nicely sized and is very similar to clicking away on a (larger) Blackberry physical keyboard, like a Bold or Curve. It will be interesting to see how well it stands up to the test of time and the rigors of travel.
Product Information
Price:
$37.00
Manufacturer:
Brando
Pros:

Small and lightweight
Very transportable
Bluetooth connectivity
Pairs with many devices
Simple and easy to use

Cons:

Mediocre materials and build quality
Might not stand the test of time or rigors of travel