We use affiliate links. If you buy something through the links on this page, we may earn a commission at no cost to you. Learn more.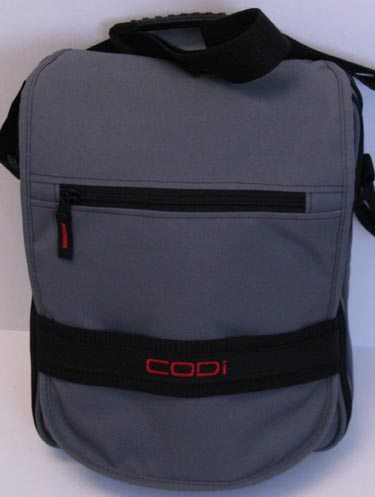 And so, the Gadgeteer Bag Lady falls in love again.    The CODi Dispatch Vertical Messenger Laptop bag is yet another move in the right direction towards forward thinking accessories manufacturers who recognize that not everyone carries around a full sized laptop.
And CODi makes this one travel-friendly. The outside flap that tucks in behind the CODi band has what ALL laptop bags vertical or otherwise should have:  an outside pocket.  Seriously.  An outside pocket to hold keys, cell phone, Mp3 player….whatever… outside pockets on bags are a must.  There is nothing clumsier that having to lift up the flap of a messenger back because some designer didn't think an outside pocket was a good idea.  CODi does.  And it gets better.
Carry pens, notebooks, cords, ear buds, sunglasses etc in Dispatch's three roomy pockets.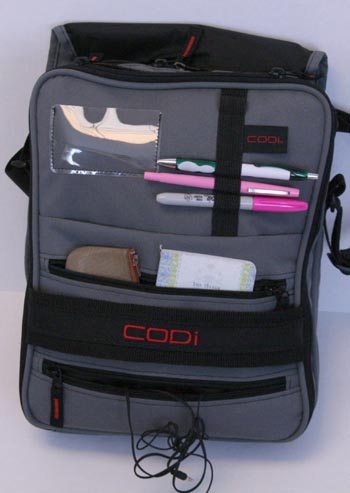 Flip open the flap and you are greeted with a series of three smaller pockets and an elastic pen/pencil holder.  There is also a plastic pocket that could hold owner's ID but I almost never use those. The three smaller pockets can hold a variety of objects:  power cords, CDs, notebooks, more pens and pencils, ear buds, etc.   Easy to store, easy to access.
Once you zip that down , you come to the area that I call Travel Light.   Ten mesh pockets of various sizes line the entire length of the bag.  You can pretty much hold anything in these mesh pockets and God knows I've tried.  I even tucked in a travel lint roller and my book light just to prove a point. The padded case, of course, holds your computer.   14.1" laptops to be specific.  In my case, I was able to fit my Nook, a book and my netbook.  No shoving, no stuffing, everything fit nicely.  In fact, I could have fit even more into the padded pocket as well as the mesh divided pockets.
Ten mesh pockets in the Dispatch allow you to hold a myriad of necessary equipment safely.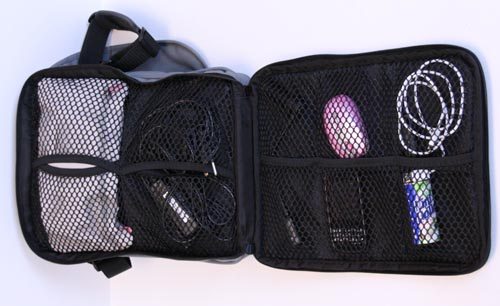 The shoulder strap is made from good solid nylon web, fits well and expands easily and is stitched in very well.   There is also a rubber and nylon handle stitched into the top of the Dispatch but I wasn't too happy about the stitch work on this handle.  Given how well everything else was made on this bag, I have to think this was just an isolated incident on my bag.   This bag is the perfect size and construction to take on airplanes and any other mode of travel.  With airline baggage restrictions the way they are these days, it behooves travelers to pack light which could be difficult even with today's technology.  If schools ever opt to put textbooks on Nook readers, this is pretty much the future of backpacks.  You get a lot in a little space.
A book, a Nook and a NetBook computer safely stored in Dispatch's padded pocket.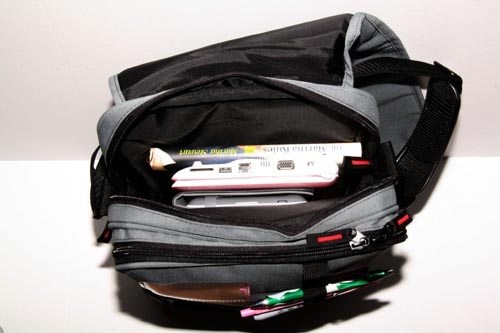 What I especially like about this bag is that it can easily double as a good hiking or backpacking bag.   If you are going on day trips, shopping trips, hikes, Race for the Cure Walks, this bag will easily carry water bottles, power snacks, Mp3 players, sweat towels, etc.  I like bags that can multitask and your average laptop bag simply doesn't do that.  In this day and economy, I love bags that can double as something else because you never know what that something else could be.  My only gripe about this bag is that there is no external pocket on the back of the bag.  I'm  a pocket girl which is more of an excuse for me to put keys, sunglasses, receipts et al (and then forget about them later of course).  But that's really my only real "con".  At the online price of $53.99, the price beats most laptop bag prices on the market today. On a the Coolness Factor, this bag rates a solid 9.
Product Information
| | |
| --- | --- |
| Price: | $53.99 |
| Manufacturer: | CODi |
| Pros: | roomy, good construction, solid zippers, several pockets |
| Cons: | No exterior pocket on the backside of bag. |