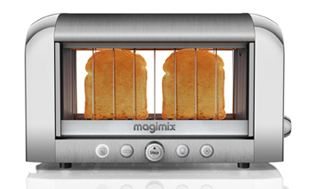 Well I think this is legit.  While most postings for a see-through toaster make note that the designs are just concepts, I found the Magimix Vision see-through toaster ("coming to Williams Sonoma stores in Spring 2010") on actual web sites, for sale as of right now.  JohnLewis.com claims it has "more than 10 in stock" and Williams Sonoma's web site is also listing them now.  So it must be available.
Its street price has been touted at 300 dollars (US) and JohnLewis' web site lists it as 190 pounds (UK).
Some of our links in posts like this one are affiliate links, which means that we may receive a small commission on purchases at no cost to you.