We use affiliate links. If you buy something through the links on this page, we may earn a commission at no cost to you. Learn more.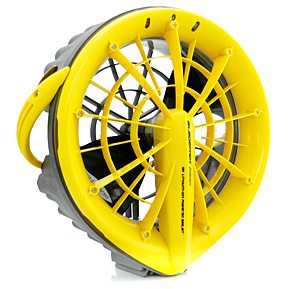 If you're lucky enough to be jetting off to a hot country this year for your holiday and you enjoy snorkelling or scuba diving, then you'll need one of these.
UK company Bladefish have come up with the SeaJet, a powerful, compact, lightweight and very manoeuvrable sea scooter.  They're easy to operate and weigh just 4.7kg.  There are two flavours of the SeaJet currently available, the entry-level BF1000 and the more expensive BF3000.   
Both models are powered by lithium-ion batteries and will zip you effortlessly through the water between 3.25 km/h and 4.2km/h for around 40 minutes!  They can be used to depths of up to 30m (100ft) so you can spend some time trying to find Nemo!
The Bladefish SeaJet is available from Firebox with prices starting from £299.99