We use affiliate links. If you buy something through the links on this page, we may earn a commission at no cost to you. Learn more.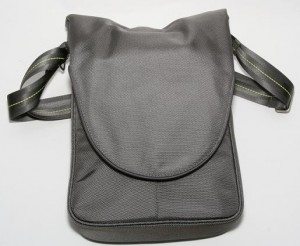 Ok.  Anyone who has read the Gadgeteer knows that I love laptop bags.  I have no idea why…some people collect stamps… I collect laptop bags.   I have two sizes of computers… my large Dell and my 10.2 inch Acer Aspire One Netbook.    I'm a writer so I lug my laptops around with me everywhere and when I mean everywhere….I'm serious…they go where I go.   When I am out and about and there's a chance I'll sit for a moment, I drag the netbook with me because it's smaller, lighter and more portable.   Until now, I thought I had a decent netbook bag but honestly…it's a little small for all the schtuff I carry.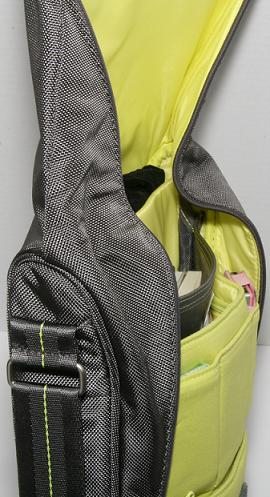 Be.ez has solved my dilemma with a fabulous netbook messenger bag that fits my 10.2 and will also accommodate a MacBook 13.3.   Measuring ten inches across and a little over 14 inches long, the "LE Vertigo 13 Lime Art" is a lot slimmer and much more compact than your average laptop bag made for full sized laptops.
It has the padded section for your smaller machine, sectioned compartments for Mp3 player, cell phone, pens, pencils and larger sections for power cords, notebooks, plus a zippered pocket for whatever.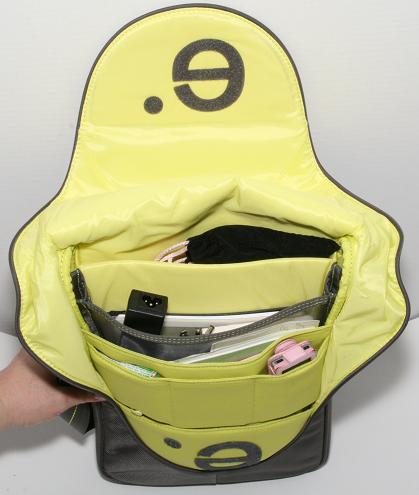 I like the unisex charcoal gray woven exterior which is water repellent and the cool chartreuse lining with the "e" in be.ez  stitched into the Velcro closure…nice touch.   And here's an extra bonus for this bag, there is NO WAY any airline will deny you this bag on the flight.  It's large enough to carry your MacBook 13.3 or your 10.2 Netbook along with  cords, boarding pass…whatever and will stow neatly under your seat.  It has an attached extendable webbed strap so you can hang the bag from your shoulder or across your body like a messenger bag.
I LOVE the construction of this bag.  It's tough, very well made, well stitched and compact.  This bag will handle all the abuse I give (unintentionally) to my bags and it will last.  At $59.90, you will be able to find less expensive netbook bags, but  you will get what you pay for.  This bag is well worth the price.  I've seen bags for at least ninety dollars or more that are nowhere near as well made.
One complaint that I have about this bag is that there are no external pockets.  I love my external pockets for storing sunglasses, car keys, tissues, Chapstick… the small things I need that I don't want to have to go digging in my bag for.  But otherwise, this is a fabulous bag, terrifically made, good price and built to last.
Product Information
Price:
$59.90
Manufacturer:
be.ez
Pros:

Slimmer in width
Compact
Well made
Strong stitching and construction
Unisex colors
Water repellent
Easy to store on buses, airplanes, etc.

Cons: