We use affiliate links. If you buy something through the links on this page, we may earn a commission at no cost to you. Learn more.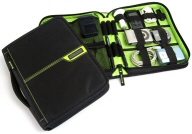 Show of hands of road warriors among use who carry a lot of gadgetry.  That's what I thought.  And that's what Skooba Design thought too, so they've released some new gear-hauling goodies.  The Cable Stable DLX is like a mini-suitcase that can hold multiple gadgets (even a netbook) and accessories in near-limitless combinations.
The SkoobaWrap is a protective wrap that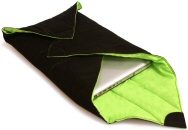 allows you to cover your tech gear of all shapes and sizes in a protective layer.  Like a tech taco.   Cable Stable DLX is $39.95, the SkoobaWrap is available in small for $12.95, medium for $14.95 and large for  $17.95.