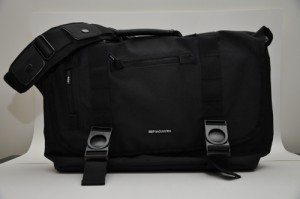 About six years ago, my employer presented me with a laptop to use as my primary work computer.  It was handed to me along with an ugly little basic black laptop bag, and soon I was carrying this bag with me to and from work every day.  It wasn't long before I abandoned that bag for a much more attractive and reliable laptop messenger bag from Timbuk2, and I've been using that bag ever since.  For over six years, that bag has traveled with me to and from work every day, and during some weeks, it also travels with me everywhere else that I go.  The bag has held up surprisingly well for as much use and abuse it has taken, but it's starting to show its age just a bit.  Naturally, I jumped at the chance to review one of the newest products from BBP Bags, the Industries High-Back Messenger.  I've carried this bag exclusively for the past week, and here is what I've come away with.
Features
Industrial stylo, meant to be worn across the chest on the opposite shoulder and high on the back

Pockets galore
Oversized shoulder pad for lefties or righties
Pleather wrapped top grab handle (that's right, pleather)
Breathable backside pad
Luggage handle pass-through
No snag and low noise hook/loop for the front flap
Tough exteriors with eco-friendly TPE or PU backing
Bonus removable 15-16″ padded laptop sleeve included
Additional sleeve sizes (10″, 13-14″, 17″) available

Limited lifetime warranty
BBP Bags has been around for about five years now, making backpacks and messenger-style bags with a focus on ergonomics.  The Industries High-Back Messenger bag is a break from their standard messenger bags in that — as the name suggests — it is designed to ride higher on the wearer's back, resting above the waist rather than at or below the waist.  In order to make the bag ride higher, the shoulder strap is shorter (though the length can be adjusted).  To be perfectly honest, I found this quite awkward at first… I'm accustomed to just slipping the strap of my bag over my shoulder and going.  With a shorter strap, putting the bag on is a process that has to be more carefully calculated.  If you wear glasses or sunglasses you may find yourself knocking them off of your head or face the first several times you try to put this bag on or take it off.
However, once you get the strap over your shoulder and the bag settled into place, the benefits of the high-back design become apparent.  The bag rests comfortably and securely, without even requiring an additional strap across the chest.  With my old bag, bending over to pick something up off of the floor or even a low table meant either holding the bag in place with one hand or risking having the bag slip off of my back and swing around in front of me.  Nothing quite like reaching down to grab a cup of coffee off of a coffee table only to have your bag come swinging down to knock it out of your hand.  Riding high on the back, the Industries messenger bag stays put.  I could bend down to perpendicular with the floor, and the bag wouldn't shift a bit.
The bag also has pockets aplenty:  two zip pockets on the front flap that are just the right size for a smartphone or a portable USB hard drive, two more zip pockets on the front of the bag itself, a large zip pocket on the back, two open pockets inside the bag, and a zippered pocket on the laptop sleeve itself.  The laptop sleeve features a hook-and-loop closure tab to keep your computer in place, and the sleeve itself is removable, securing to the inside of the bag via small hook-and-loop closure patches.  This is a great feature especially if you might need to carry books or other items instead of your laptop… you just remove the sleeve, and now you have more room for other things.  BBP also sells additional sleeves in different sizes, so if you might be upgrading from a smaller laptop to a larger one at some point, you won't have to replace the entire bag, you can just get a new sleeve.  Likewise, if you have a couple of laptops that you have to swap between, you could store them each in a sleeve even when they aren't in the bag.  The zippered pocket on the sleeve itself is a great addition, as you can place your AC adapter in the pocket, and easily swap that out along with the laptop.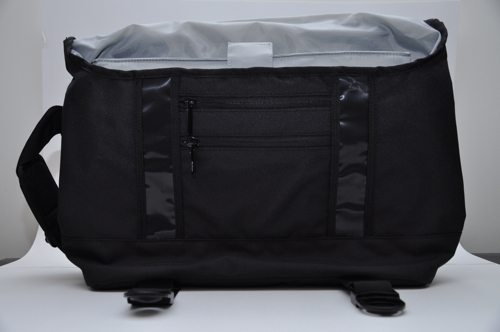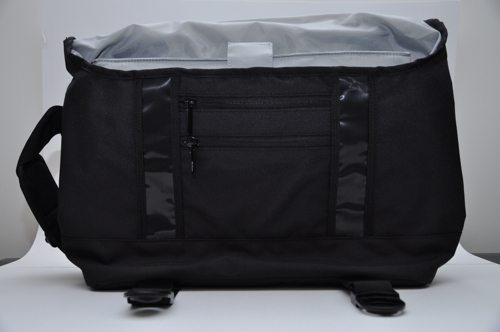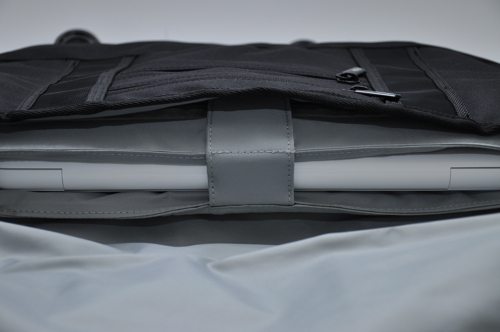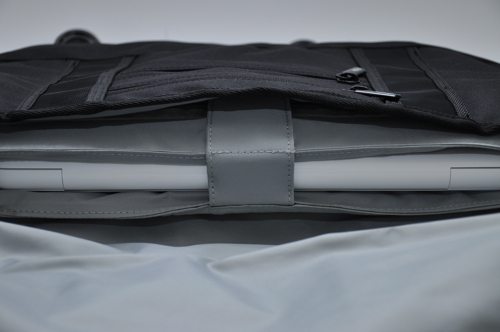 The back of the bag is heavily padded, which is great for comfort.  In addition, there is a channel behind the back padding, allowing it to be used as a luggage handle strap.  I don't do air travel with my laptop often, but based on the few times that I've had to, I can absolutely see how this would be a must for a frequent flier.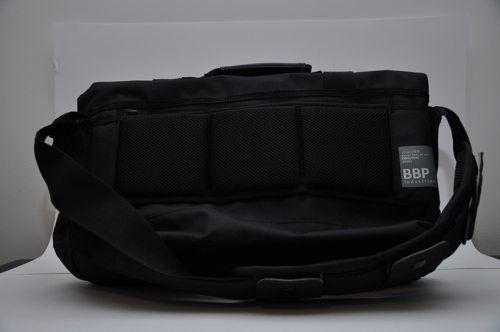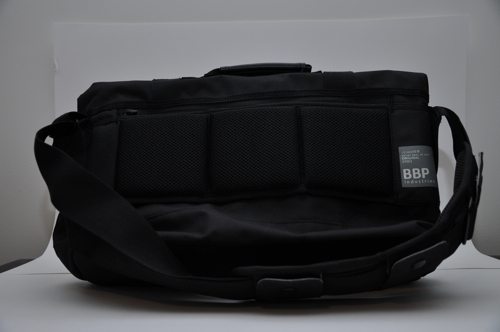 As much as I'd like that to be all that I have to say about this bag, there are some issues that I have found with the bag that I can't leave unaddressed.  First of all, while I'll admit that I can never have enough pockets on a bag, placement can be an issue.  Specifically, I dislike that there are pockets in the front flap of this bag.  I'm accustomed to just flopping the front flap of my bag over onto the table, and I've done that a few times already with the Industries messenger, remembering that I had my iPhone or a hard drive in the front flap pockets only after I heard them whomp down onto the table.  I'm sure that this is one of those things that you just get used to in the course of owning the bag, but it's triggered the panic response in me enough times in a week that I think I'd have to make a point of putting nothing in those pockets that can't take a beating.  Cables, perhaps.  Or gum.
Second, the closure system for the front flap concerns me.  Like many bags, the Industries High-Back Messenger utilizes a sort of redundant closure system, one that keeps the flap down when simply laid in place, such as a Velcro closure, and then one that ensures that the bag doesn't come open unless you want it to, usually a clasp system of some sort.  BBP utilizes two strips of low-noise, no-snag hook-and-loop closure under the flap, and then an odd plastic clasp system that I've not seen before.  The problems here are two-fold.  The hook-and-loop closure is not terribly strong, so while it might keep the flap down in a stiff breeze, that's about it.  Any serious pressure seems to cause this closure system to give way.  Granted, I didn't go to the effort of manually pressing the closure strips closed, I just laid them on top of each other, but the point is that I shouldn't have to do that.  The hook-and-loop closure system on my old bag, when closed with the same amount of effort (that is to say, none), would keep the contents inside even when the bag was turned upside down.  I could forgive the weak hook-and-loop closure on this BBP bag but only if it weren't for the fact that I have little confidence in the clasp system as well.  This bag has a strange domed clasp, and while it seems to hold well when latched, it is fairly easy to think you've closed the clasp, when in fact it hasn't fully latched.  This is bad news, when you consider that the hook-and-loop closure isn't going to do much of anything to back it up.
The third issue with the bag is actually somewhat related to the previous one.  The pleather handle, while comfortable, is badly-placed.  Instead of attaching at the back of the bag or just where the front flap meets the bag, it is placed more on the front flap itself.  This means that when you lift the bag by the handle, the weight of the bag is being transferred to the flap closure system, which as I've already pointed out, isn't exactly foolproof.  Any time you lift the bag by the handle when it has any significant weight in it (in my case, a laptop and AC adapter only), the stress on the front flap is enough to separate the hook-and-loop fastener strips.  You can hear them give way, and then the weight of the bag shifts as the flap attempts to come free.  Fortunately, the plastic clasps are there to catch the weight and keep the bag from opening completely, but imagine what would happen if one or more of the clasps hadn't latched all the way?  This exact thing happened to me on the third day of carrying the bag, and needless to say, I wasn't thrilled with the moment of panic that ensued as I could feel the weight shifting towards the front of the bag, and see the front flap flying open.  Fortunately, one of the plastic clasps was fully latched, but that experience was enough to get me to swear off the handle completely.  The handle either needs to be further back on the bag, or it shouldn't be there at all.
In a nutshell, the BBP Industries High-Back Messenger bag is a nice, comfortable, subtly stylish, convenient bag with a highly-questionable closure system and a handle that you might as well cut off entirely.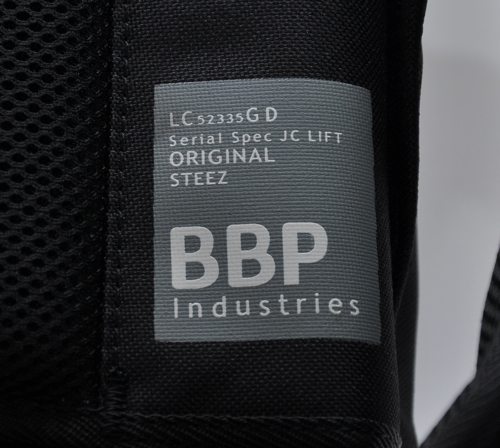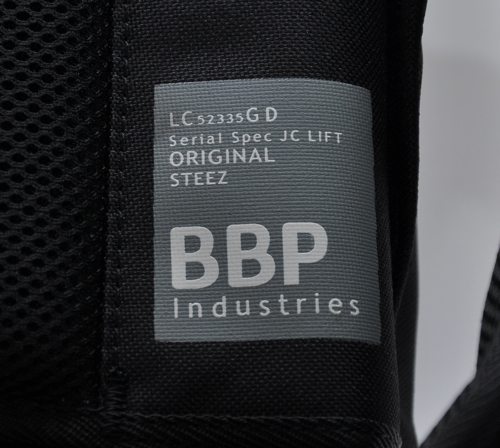 Just a note, BBP: I'm not in the habit of wearing anything bearing the word "steez", and I'd prefer to keep it that way.
Some of our links in posts like this one are affiliate links, which means that we may receive a small commission on purchases at no cost to you.
Product Information
| | |
| --- | --- |
| Price: | USD 84.95 |
| Manufacturer: | BBP Bags |
| Pros: | Comfortable, exchangeable laptop sleeves, stylish |
| Cons: | Closure system isn't terribly reliable, handle is misplaced |