We use affiliate links. If you buy something through the links on this page, we may earn a commission at no cost to you. Learn more.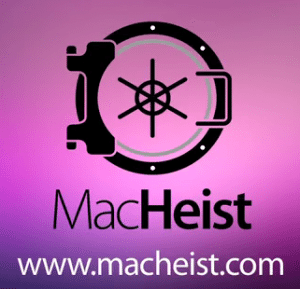 MacHeist is a great opportunity to buy a number of Mac applications and donate to charity at the same time. For $19.95 you get 7+ applications.
From their website:
25% of your purchase will be donated to a charity of your choice from our list of partnering organizations. To date the MacHeist community has raised nearly $2,000,000 for these charitable causes, helping change the world for the better.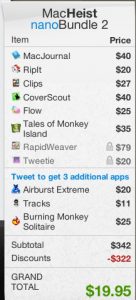 Right now, they are promoting the Nano Bundle. It currently includes 8 primary apps (just added Tweetie) and three bounus if you tweet about the offer after purchasing.
This is the last day, so go to the web site and see if there are enough interesting applications to make it worth your $20.
Please note that some applications are not unlocked until they have sold enough bundles. For example, RapidWeaver will not be unlocked until they hit50k sold (currently at 45.5k). Once unlocked everyone gets it (you don't have to wait to 50k, but I guess there is always the risk they won't hit 50k.
I have participated in the past and have acquired a number of great applications. So go, buy, and tweet for your bonuses.