We use affiliate links. If you buy something through the links on this page, we may earn a commission at no cost to you. Learn more.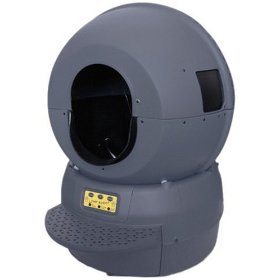 I own two cats, Wylie (who behaves as though he's the Pharaoh of Egypt) and Hammy (given to me by a homeless person) who is a spaz.  I love cats.  I also like dogs and I have two of those as well. But one thing I hate is cleaning up after my cats.  I have indoor cats; I'm not one of these pet owners who let their cats out into the neighborhood to do what it is cats do in my neighbor's yard.  For years, I've used clumping litter because it was easier to clean out than the clay stuff.  Then came Litter Maid. Litter Maid is an electronic, automatic litter box cleaning system that sweeps clumps after sensing that a cat has been there.   The problem with Litter Maid and automatic litter box cleaning systems like it is that they're too noisy, bulky and even messy.   I ended up giving away my Litter Maid and was resigned to scooping up the messes of my felines.  I have researched other automatic litter cleaning systems but they had little more to offer than the original Litter Maid.
Now comes the Litter Robot Automatic Self Cleaning Cat Litter Box from Automated Pet Care Products Inc.
This device stands heads and shoulders above every other automatic litter box or any system that dares to call itself an automatic self cleaning litter box.  This device redefines the basic design of the litter box itself.  Dome shaped, the litter box sits on top of the waste drawer.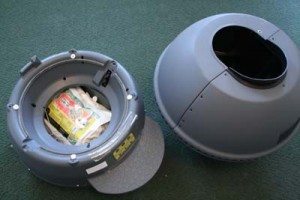 Once your cat enters the dome, does what it is supposed to do and then steps out, the dome rotates after seven minutes, sifts the waste out into the drawer beneath the dome and then returns the cleaned litter and rotates upright.   Absolutely no mess, seriously no fuss and next to no noise.  This device makes little or no noise and, unlike the Litter Maid and its counterparts, there is very little overspill of litter. The only litter you should see is what your cat tracks out.
In addition to the cleanliness and convenience of this device, for dog owners, there is an added bonus.  Anyone who has ever had cats and dogs together in the same home knows that dogs favor this thing I like to call "kitty roca".  I think we all know what I mean by that.  With a traditional litter box, hooded or not, there's really no  way to keep your pooch from sampling the kitty roca.  Up until now, we've had to use baby gates to gate off the "cat area"; the area where they eat, drink and have their litter box.  Since the holding area of Litter Robot sits up on top of the waste drawer platform and the opening is large enough for a cat, the angle to get at the litter is very difficult for all but the most determined dog.  We have Corgis and they're not fond of Litter Robot.  Also by the time they can possibly figure out how to even poke their heads through the opening, the seven minutes are up and Litter Robot begins its cycle. The slight noise and movement should be enough to scare off any dog from wanting to stick their face in the area.  I love it.  My dogs hate Litter Robot.
Cats have reputations for being finicky animals and it's never a smart undertaking to move or change their litter box.  My cats are creatures of habit and heartily dislike having their routine of eat, drink, groom, go to the litter box and 18 hours of beauty sleep interrupted.  They want what they want, when they want it.  Even if it means getting their paws underneath my bedroom door and rattling the door against the frame (I have a historical house with old wood floors) at the unseasonable hour of 5:25 am to wake me up so that I might nobly serve them their breakfast.  Messing around with their litter box prompts them to show their displeasure by using my bathtub for their nefarious schemes.  I think we all know what I am talking about.  Litter Robot is prepared with a handy instruction manual filled with tips for the event that your cat might sniff around the new Litter Robot but not necessarily accept it as their new "Place of Business".
When it happened that my cats would sniff around Litter Robot but not venture forth, I read up on the handy tips, utilized their suggestions and my cats are now happy Litter Robot users…although Hammy bolted from the room when the Robot begans its rotation cycle.
One of my favorite features is the waste removal drawer.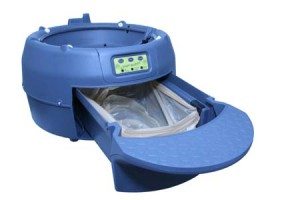 This drawer is easily removed and comes with special notches that you pull the edges of plastic trash bag liners through to hold it taut.  When it comes time to empty the box, you just pull up the plastic liner and toss.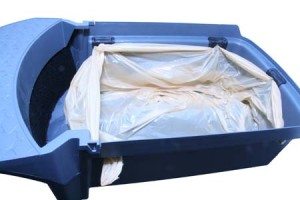 Another added benefit of Litter Robot is that there are no "special exclusive liners" to purchase… you can use small bathroom trash bags; I use the plastic bags I get from the grocery store (make sure there are no holes).  Litter Robot also works with almost any clumping litter although the wheat based litters like Swheat Flushable Cat Litter and pellet type litters do not work well with Litter Robot.  The unit comes with a complimentary bag of clumping litter but the instruction manual encourages you not to use it if your cats are already familiar with a particular type of clumping litter.
The website (http://www.litter-robot.com/) details how Litter Robot (which we affectionately nicknamed Robo-Kitty) works including a very cool animated bit.  You can adjust the sensitivity based on your cat(s) weight or just manually cycle the Robot yourself.   Adjusting the sensitivity of your cat is one area that I have discovered is a little hit or miss with Litter Robot.   If the sensor does not register that a cat has entered and done its thing, the Robot will not cycle and you will be required to manually cycle the Robot yourself.  Owners of kittens and cats that are typically lighter weight or smaller framed are not candidates for Litter Robot.  Kittens and small sized adult cats are too light in weight to trip the sensor.  If you have a medium or larger cat and a kitten and the larger cat has recently used the Robot, you run the risk of the Litter Robot activating its rotation cycle with a kitten still in the dome as the kitten's weight will not register.
As with everything pro there have to be some cons.  Litter Robot has some cons.  The first con is the Customer Service number of Automated Pet Care Products, Inc. which sells Litter Robot.  There is a toll free number on the instruction manual and on the website but no one actually answered the phone the two different times that I called.  I was prompted by an automated answering voice to leave my name and phone number with assurances that someone would get back to me.  In an economy where most people hit the "Forget It" button when presented with a situation where they have to rely on a customer service individual to get back to them, this is just bad business in my book.  Nine times out of ten, the CSR calls back at an inopportune time.  My Litter Robot unit did not cycle automatically despite my adjusting the sensor to the highest mode of sensitivity.  I have to manually cycle the unit each time I go into the room to feed my cats.  This is twice a day.  This is no real big deal to me.  It's no extra effort to manually cycle the machine.  All I do is press a button and off it goes.  But the unit is advertised to be automatic and either our cats are under the 5lb weight mark needed to trip the sensors (not the case with Hammy) or the sensor isn't tripping properly. Some individuals MIGHT have an issue with the sensor having a glitch, I didn't.  I press a button, it does all my dirty work.  I'm not complaining.  But to give Litter Robot a fair shake, I plan to keep on contacting the Customer Service Department to work out the sensor glitch and will report on that in a follow up review.  They even provide an email addresses for various customer issues.
Another con could be the price. At $349.00 for the Expanded unit which I have and $329.00 for the Original unit           ( $289.00 and $269.00 for reconditioned units), Litter Robot is pricey compared to other automatic self cleaning litter boxes that are on the market.  But the company promises a 90 day money back guarantee if you just can't get Mr. Kitty to use it and an 18 month warranty.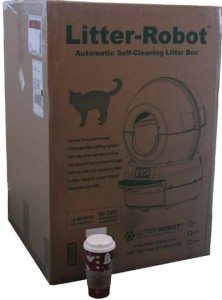 In my book, the benefits of Litter Robot far outweigh the high price.  Litter Robot eliminates the smell, the mess, the inconvenience and the trouble of a clumping litter box and the trouble of cleaning a cat box period.  You save money on litter, you save time by not having to scoop so often, the waste removal is a breeze, and you can recycle plastic grocery bags to use in the waste removal drawer. You can't beat the stink elimination either.  No one coming to your house would ever guess that you have cats.  Compared to its noisy counterparts, Litter Robot does make a quiet noise when cycling but you'd have to be in the room to hear it.  It's nowhere near as loud, raucous and obnoxious as the less expensive and clumsy self cleaning boxes on the market.  Sensor lights on the front panel also let you know when the Robot is full, cycling or ready to go.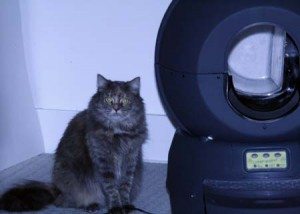 I cannot say enough great things about Litter Robot.  I would like to criticize the price, but it's more than worth it.  My only wish now is that the Litter Robot company would make a unit for dogs.  Then I'd be set!
Product Information
Price:
$329.00 New Original Unit-$269.00 Refinished Original Unit $349.00 New Expanded Unit-$289.00 Refinished Expanded Unit $349.00 New Unit $289.00 Refinished Unit
Manufacturer:
Automated Pet Care Products Inc.
Pros:

Quiet
Clean
Saves litter
Easy waste removal
Easy to assemble
Free shipping back if necessary
Easy to understand instructions
Comprehensive website
Handy Tips and Tricks for encouraging cats to use new device.
No exclusive parts or special bags to buy
Discourages canines from nosing through litter box
You do NOT ever have to scoop litter again!

Cons:

Price is a little high
Customer Service did not answer the two times that I called. Because my question was specific and I needed to be near the unit, having them call back at their convenience is not always convenient for the customer.