We use affiliate links. If you buy something through the links on this page, we may earn a commission at no cost to you. Learn more.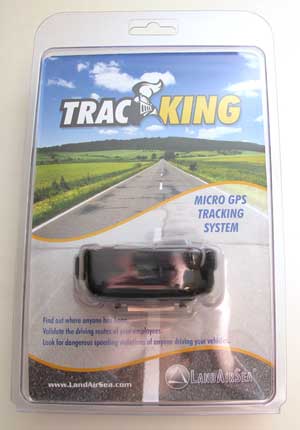 Vehicle tracking is no longer just for large businesses and private detectives. Now anyone can check up on their kids, spouse and employees with the easy to use Tracking Key Pro from LandAirSea. The Tracking Key Pro is a passive GPS device that can be hidden in a vehicle to automatically log trip information for up to 30 days.
What is a passive GPS tracking device?
"GPS tracking receivers of all kinds capture signals from satellites orbiting the planet and determine the location of the receiver based on those readings. The user follows the object's movements on a personal computer or smartphone. Real-time, also known as active, GPS tracking systems tell where a vehicle is, in real time. Passive vehicle tracking devices such as the GPS Tracking Key Pro vehicle tracking system record travel history and the user can later download the data and analyze it at a time when it is convenient to them." – LandAirSea
Hardware Specs
Maximum Number of Satellites: 16
Horizontal Accuracy: 2.5 meters
Communication Protocol: NMEA
Data Output: USB
Memory Type: Flash Memory ( non-volatile )
Storage Capacity: 100 hours Driving Time
Power: 2 AA batteries
Battery Life: 6wks at 1hr per day driving, 4wks at 2hrs per day driving, 2 wks at 4hrs per day driving
Power Draw: Track Mode: 49mA, Sleep Mode: 0.072mA
Sleep Mode Entry: 2 Minutes of no movement
GPS Acquisition Time: 39 secs cold start, 30 secs warm start, < 2.5 secs hot start
Dimensions: 3.01 x 1.95 x 1.40 inches (includes magnet)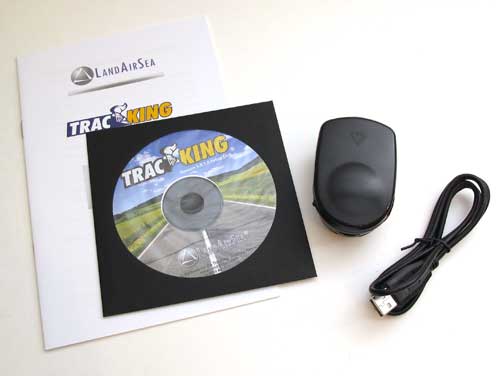 Package Contents
GPS Tracking Key Pro
Software CD
USB Cable
2 AA batteries
Quick Start Guide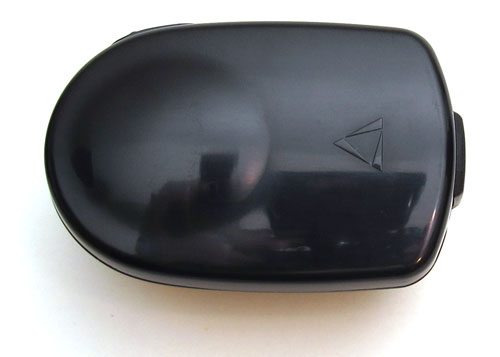 The Tracking Key Pro has a Black ABS plastic housing and no real markings to let you know what it is. There's no display, branding, etc.
The bottom surface has a strong magnet that can be used to attach the module to top of a car's roof or other metal surfaces.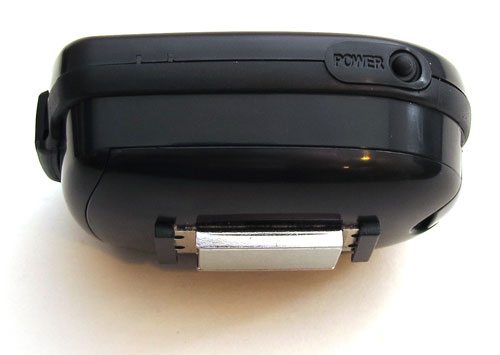 The only button on the module is the power button. On the same side as the power button are two very small LEDs (hard to see in this image because they are not lit up). One is for the power status and one is for the GPS status. When the module is powered on, the Leftmost LED will glow Green. When the battery starts to get low, that LED will change to Red. The LED next to it will blink Green when there is a lock on a satellite.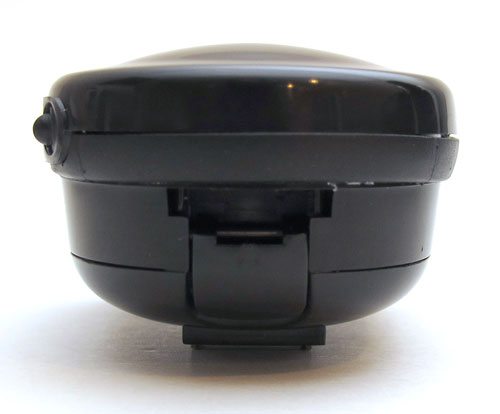 On one end is the battery latch. The module is powered by 2 AA batteries. There's an optional 12V power cable that can be purchased, but I have yet to find for sale it on any site.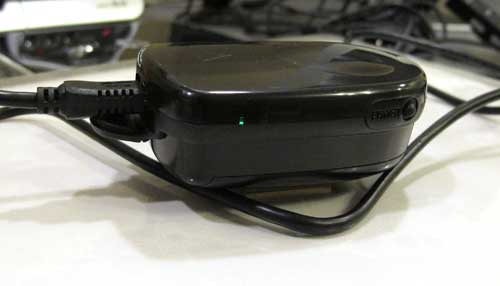 On the opposite end is a mini USB connector that is protected by a rubber cover.
Using the LandAirSea GPS Tracking Key Pro couldn't be easier. There's really nothing to do to it other than installing the batteries and putting it in the vehicle that you want to track. There are no settings to worry about, no time zone to set, etc.
For half the review period, I placed the module on the dash of the car I happened to be driving at the time. The other half of the time, I placed it in the glove box. Either location worked fine. For the most part, I just put it in these locations and forgot about it. The motion detector inside the device automatically turns the GPS on when movement is detected and turns the device off after a minute or two of inactivity.
Every second speed, address of stop, duration of stop, time en route, arrival address and direction of vehicle is recorded with 2.5 meters accuracy. When you want to view the data, you must retrieve the Tracking Key Pro and connect it to your Windows computer (at this time there isn't a Mac compatible application) via the included USB cable.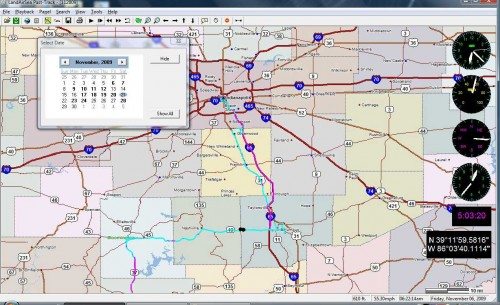 Software included with the module downloads the data from the device and can be viewed in three ways: a trip route display over animated digital street map, route display on satellite imagery with Google Earth interface or a daily text log.
The image above (click it to view a larger version) is the animated street map view. The gauges on the Right side can be customized to show time of day, speed, direction, coordinates, etc. A popup calendar allows you to choose the specific day to see data. The trip routes are highlighted on the map and can even be animated to show a little car driving them.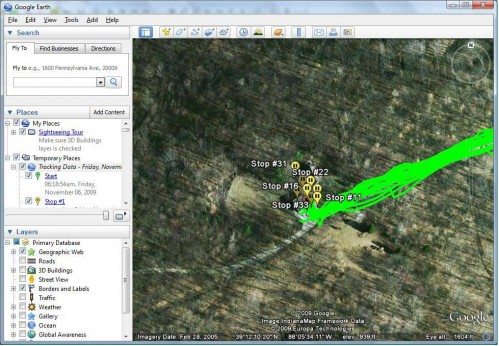 If you'd rather see a 3D satellite view of the trip, you can load the data into Google Earth as shown above.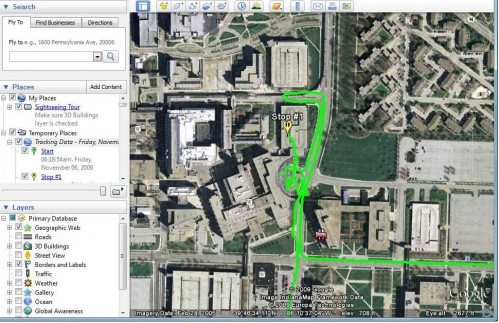 No special conversion of the data is required, just use the Google Earth load option and it will launch the application (of course you will need to have Google Earth installed first).
Last but not least, you can export trip data into an HTML report that has links for each stop to Google Maps. Here's an example report:
I found the accuracy of the GPS data to be really good, but not always perfect. Some of the addresses that it listed in the reports were not exactly right, but that's understandable given that I live on a heavily tree lined road and by the time the GPS signal is locked, I've already driven several blocks down the road.
The best part about the LandAirSea GPS Tracking Key Pro is the ease of use. It really couldn't be simpler to use. Just install some batteries and put it in your car and you're done. I also like that it's very power efficient. I'm still on the same set of batteries after using the device for a over a month. That makes it a very good option for parents that would like to keep an eye on their kid's driving habits or spouses that want to key an eye on their significant other.
Product Information
Price:
$269.99
Manufacturer:
LandAirSea
Pros:

Easy to use
Can hide in glove box or under hood
Water resistant
Creates reports with stops, speed, etc.

Cons: