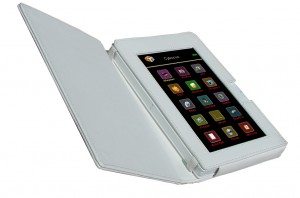 The Sungale Cyberus ID700WTA "Smart Info Engine" claims to be the 1st and only universal portable media player device that offers a large 7″ (800 x 480) LCD color screen and a user friendly touch-screen interface that allows instant one-touch access to read eBooks, watch movies and streaming video, upload, view and manipulate digital photos, listen to music, and take advantage of Wi-Fi applications such as current weather report by zip code, RSS feeds for news updates, real-time stock quotes, and more. Hmmm, I thought the iPhone and iPod Touch could do all those things? Oh yeah, they don't have a 7″ display. The Cyberus will be available from Amazon for $279. I think I"ll stick with my iPhone.
Sungale Unveils Cyberus Smart Info Engine with
Universal Portable Media Device
Unique personal device is the only universal portable media device with
WiFi applications, streaming video capabilities and convenient touch screen
Chino, CA — Sungale, a premier manufacturer of consumer digital electronics products, today announced the latest addition to their CyberusTM line of products, the new Cyberus ID700WTA "Smart Info Engine". The ID700WTA is the first and only universal portable media device that offers access to real time internet information and applications by automatically linking wirelessly to users' home routers. With a large 7" LCD color screen, the Smart Info Engine provides an eBook reader, photo display, card reader, and streaming audio and video player, plus clock, calendar and alarm functions.
The CyberusTM Smart Info Engine features a user friendly touch-screen interface that allows instant one-touch access to real time internet information without using a computer. You can get online news, weather reports, stock prices and charts, maps and traffic routes, access YouTube, IP Radio and Picasa and receive Gmail. The Smart Info Engine also allows you to read eBooks, watch movies and streaming video, upload, view and manipulate digital photos, listen to music and much more.
"Today's media-savvy consumers expect the most up-to-date digital technology, and we strive to keep Sungale's products on the cutting edge to meet and exceed our customers' expectations," said Gary Bennett, Sungale VP of Sales & Marketing. "The Smart Info Engine is truly a next-generation device that combines eBook reader capabilities with the most comprehensive set of digital media features available in a single product. It is designed to deliver the rich entertainment experience we believe our customers deserve."
"Our goal is to cement our leadership position in the consumer electronics industry by making the latest IT technologies available directly to consumers. We overcame some very tough technical challenges during the development of the Cyberus series, especially automatically linking to the internet to allow users without IT knowledge to derive the full benefit of Cyberus devices," added Ningjun Sun, Sungale President & CEO.  "We now want to make the Cyberus Smart Info Engine accessible to the widest possible consumer audience, so we're offering it at a far more competitive price than any other high-tech high end product in this category."
About the Smart Info Engine
The Smart Info Engine handles most video, audio and photo formats such as AVI, MPEG4, DIVIX, XIVID, WMA, JPG, BMP, TIFF, PNG etc including ebook file formats TXT and PDF.
Lightweight and portable, the Smart Info Engine boasts up to four hours of battery life for convenient access to digital entertainment anywhere. Unlike the small black and white screens of most eBook readers, the Smart Info Engine delivers visually rich full color 7" LCD displays. The ultra-high resolution 800 RGB x 480 pixels color screen ensures that PDF pages, photos, and video images are sharp, crisp and clear.
In addition to the eBook reader, music and video players, the full complement of WiFi applications for the device includes: Weather, News from Yahoo or Google, YouTube, Traffic: Driving Directions by Zip, IP Radio, Picasa, Stock, Gmail Alerts, Notepad, Calendar, Clock and  Alarm.
The device comes with a stylish leather case in a choice of black, brown and white, headphones, AC Adapter, user "Quick Guide" and comprehensive user manual.
The Smart Info Engine has a manufacturer's suggested retail price (MSRP) or $279 USD.  It is available from national consumer electronics retail chains, online stores such as Amazon.com and directly from Sungale's website.
About Sungale
Sungale is a premier manufacturer of Consumer Electronics, with many years of experience as an OEM supplier and leading supplier of digital photo frame and other state-of-the-art digital products. Sungale is committed to actively keeping pace with today's rapid innovations in the field of Consumer Electronics. Through their devotion to cutting-edge technology, exceedingly stringent quality control system and dedication to customer satisfaction, Sungale's products are known for their superior durability, applicability and affordability. Recent additions to the company's product line include a Digital Photo Frame, Digital Photo Album, Wi-Fi DPF, E-Book Reader, GPS, IP Radio, Bluetooth series and Security products, a full line of Personal Media Players, and more. Sungale has its headquarters in Chino, CA and production facilities in Shenzhen, China. For more information visit the company's website at www.sungale.com
Support The Gadgeteer
:
We may earn a small affiliate commission from purchases made from buying through links on our site. As an Amazon Associate I earn from qualifying purchases. Learn more.