We use affiliate links. If you buy something through the links on this page, we may earn a commission at no cost to you. Learn more.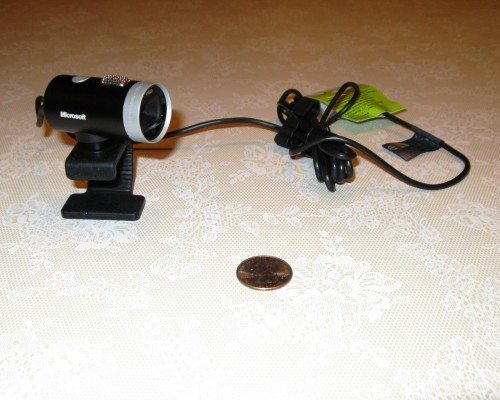 I've had the pleasure of getting to play with the new Microsoft LifeCam Cinema and I am impressed.  I haven't tried any other HD webcams but compared to my previous webcam, the Microsoft LifeCam Cinema is far superior.  To make this review simple, I compared the QuickCam Pro 9000 that I purchased in March 2009 with the new Microsoft LifeCam Cinema.  What a difference!  The picture quality is much clearer.  Check out the videos and see for yourself (you can even see the dust on my floor). 🙂
LifeCam-1 (.WMV file)
QuickCam-1 (.WMV file)
I didn't know my old webcam was so horrible!  I initially thought the poor image quality might be due to the low lighting in the hallway, so I recorded two more comparison videos just to make sure.
LifeCam-2 (.WMV file)
QuickCam-2 (.WMV file)
The Microsoft LifeCam is clearly the winner here.  (Notice the files are 20 times larger than the QuickCam Pro 9000 however).  The QuickCam Pro 9000 is an older camera so this may not be a fair comparison but the box does say that it has high definition video (up to 1600×1200), whereas the LifeCam has 720p HD widescreen video (1280×720 video resolution).
Installation of the LifeCam Cinema was easy, I just inserted the CD into the appropriate drive, followed the directions and plugged in the camera.  Operating the camera is simple too (except I almost went nuts trying to locate the dashboard only to discover that it was minimized and right in front of my face).  The design is sleek and simple and it's not much bigger than a D cell battery.  The sound quality is good.  It has a digital noise-cancelling microphone to help improve speech.  The webcam also has a Windows Live Call Button on the top of the unit to access Windows Live Messenger.  (I use Skype so I didn't try this button.)  The webcam works fine with Skype, the picture quality wasn't fabulous but that's due to Skype, not the camera.  I even surfed the net while on Skype to see if my computer would freeze due to the power requirements of the LifeCam but I didn't have any problems.  (My PC has a little more than the minimum system requirements.)
Overall, this is a good webcam with a sleek design for a reasonable price.   I recommend it.  Just make sure you have the minimum system requirements; I have listed them below.
System Requirements: Windows® 7/Windows Vista®/Windows XP (with Service Pack 2 or higher) Intel Dual-Core 1.6 GHz or higher and 1 GB of RAM (recommended: Intel Dual-Core 3.0 GHz or higher and 2 GB of RAM) 1.5 GB free space CD-ROM USB 2.0
Product Information
Price:
$79.95
Manufacturer:
Microsoft
Pros:

Easy to use
Superior image quality
Reasonable price

Cons:

Requires a Intel Dual-core 1.6 GHz or higher
Can't zoom in some HD modes