We use affiliate links. If you buy something through the links on this page, we may earn a commission at no cost to you. Learn more.
Confidential documents, surfing The Gadgeteer while at work, and porn.  What do these all have in common?  They're all things that you're likely to want to hide from prying eyes.  If you are doing any of these (or similar) activities in public using your laptop, you have a few options: One of those dorky shields that goes around the screen, lowering your screen brightness and hoping others can't see, THIS or using a 3M Privacy Filter.
Personally when surfing porn–er, when working on confidential documents–fine, browsing Facebook when I should be working, I prefer to use the 3M Privacy Filter.  So the big question of course is, how well does it work?
Well hang on there, first you have to order it.  The 3Mskins.com website is your first stop where you need to choose your device.  Here's where I had my first problem.  I have a brand spanking new (and awesome) laptop for work–the HP EliteBook 8530w (which is a 15.4″ widescreen model).  Well, that model isn't listed there.  The HP EliteBook 8530p is listed, and from the HP specs they *should* be the same, so I ordered that one.  Well, when I got it, it didn't quite fit.  Height was fine, but the width was off by maybe 1/8 of an inch.
The Privacy Filter is designed to pop into the recessed portion of your device so that it lays flush with the frame around the laptop screen.  With this one being a bit too big it wouldn't stay in place and if I tried to force it in it would ripple and distort the image.  So, I had to cut less than 1/8″ off.  Cutting so close to the edge made it really tough to get a straight line.  If I had a metal ruler and an X-acto knife, it probably would have been easier, but I used my fancy new Black and Decker Power Scissors (review coming soon) and got a mostly straight edge.  There's still a slight gap where my line was crooked on the right side when I use the Privacy Filter, but it's not the end of the world.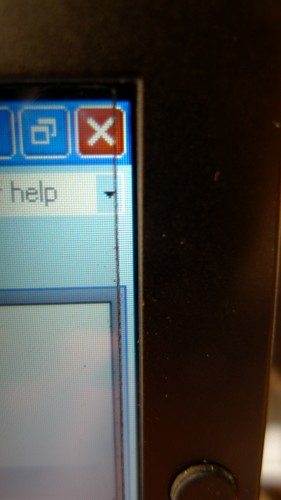 What actually holds the screen in place is a series of clear plastic tabs that you stick on the sides of your screen.  They look tacky on a purdy new laptop, and the edges block something every now and then.  Short of gluing it to your laptop, there's no other way to attach it unfortunately.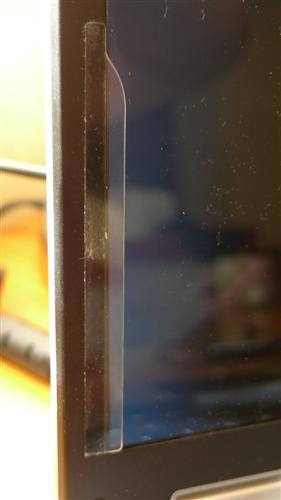 So, now let's talk about how well it works.  The first thing you'll notice is that your laptop screen is dimmer.  Here's what The Gadgeteer looks like with the Privacy Filter on half of the screen.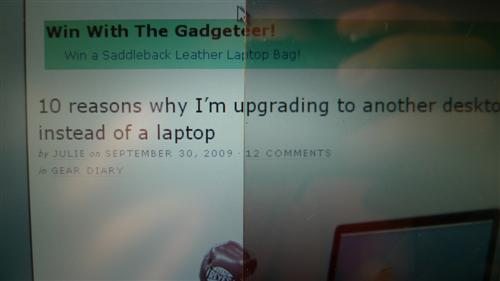 I do find that when I use this I squint a lot more and have to get closer to the screen.  Also, things look generally fuzzier to me on the screen.
So, does it stop your airline seatmate or Starbucks gawker from seeing your screen?  Depending on the angle of your eavesdropper, the answer ranges from "Mostly" to "Absolutely".  Honestly if you're in Coach, your seatmate is basically sitting in your lap, so nothing you do will stop them from being able to see your screen.  If you have  a window seat, the isle seat won't be able to see what you're working on.  Here's what it looks like while moving around the screen:
Never miss one of our posts again. Sent MON, WED, and FRI with the latest gadget reviews and news!
Bottom line, if you have concerns about prying eyes seeing your laptop, it's probably $30 to $40 well spent.  The person really needs to be right next to or behind you to see what's on your screen.  However, if your laptop screen is already fairly dim, this may make it almost impossible to see anything on it even for you.  It is the best option currently on the market.
Product Information
Price:
$29.95 to $39.95 depending on size
Manufacturer:
3M
Pros:

Hides your screen for everyone but those right behind or next to you.

Cons:

Plastic holding tabs look tacky and can block edge of laptop screen.
Some laptops not supported without cutting Privacy Filter by hand.
Reduces laptop screen brightness and makes things look fuzzier.