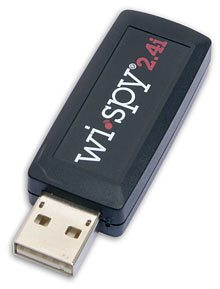 When I bought my first wireless router, I was a pioneer in a the vast and largely-empty 2.4GHz radio band.  Times have changed though, and my neighborhood is now a war zone of wireless access points battling for control of their chosen channel.  It's become so crowded that I occasionally have to revisit and tweak my wireless setup to make sure that I'm getting the best bandwidth I can.  The WiSpy 2.4i Spectrum Analyzer looks like it would be a fine tool for making this process that much easier.
This little device plugs into the USB port on your Windows XP (or greater)  PC or Mac running OS X 10.5, and does all the work of analyzing all 2.4GHz traffic and noise (including microwave ovens, cordless phones, bluetooth, etc.), providing you with a chart of which channels to use and which to avoid.
The WiSpy 2.4i Spectrum Analyzer is available now at both ThinkGeek and MetaGeek for $99.