We use affiliate links. If you buy something through the links on this page, we may earn a commission at no cost to you. Learn more.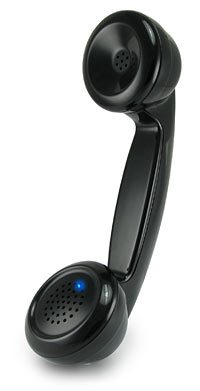 Throughout my career I have focused upon features,  benefits and the value proposition to recommend tech products to my customers.  The ThinkGeek Bluetooth Retro Handset from  is a device that has limited features, very few benefits and is not cost effective,  BUT I like it anyway.  If you're curious how I came to this conclusion, read on:The device is essentially a cellphone bluetooth headset packaged in a 50's era phone handset.  You all remember those, don't you?  For the younger folks,  in the old days, your hardwired telephone was supplied by the the company that provided you service.  In most cases this would have been one of the Bell companies, which were part of AT&T.  For the hardware, AT&T had a division called Western Electric.  When you required telephone service at your residence, the local Bell company would install your telephone made by Western Electric and bill you every month for the service.  AT&T would provide the long distance service.  You had to use the equipment provided by the phone company.  It was illegal to hook non phone company devices to their system.
I fondly remember my first phone because I could call my friends without having my parents listening in.  The handset looked exactly like the Bluetooth retro handset, except of course with a base that contained the rotary dial and the whole thing was made out of bakelite.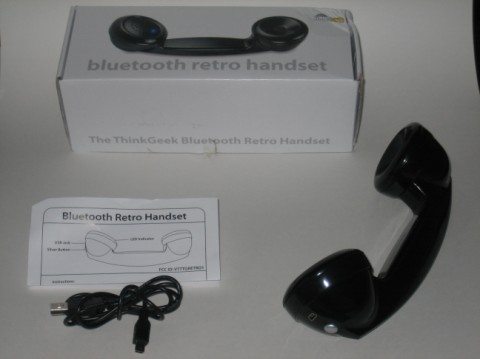 Specifications:
Battery charges via USB connection
Make and receive calls
Approximately 30 ft range
Works with Bluetooth V1.0, 1.1, 1.2
Blue LED indicates function mode
Comes with: Handset, USB cable, Instructions
The instructions are very limited and it really doesn't take much to pair the handset with the cellphone.  I used a Nokia 6103 for this evaluation and setup was a cinch.  Before I began I did let it charge overnight using the supplied USB cable.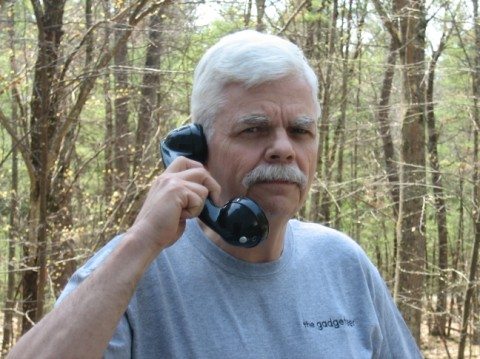 You'll notice that the unit doesn't lend itself to handsfree operation.
Operation is exactly like any bluetooth headset.  It has one multifunction button which acts as the on/off swtich and the answer and end call button.  The blue led in the mouthpiece flashes to indicate connection to the phone.  When charging the led is on solid and turns off when the device is fully charged.
To answer a call, you press the silver button and talk.  The sound quality is better than I get from the  cell phone speaker and ergonomically I much prefer the Retro phone because the speaker part encompasses my ear and seems to limit some of the ambient noise.  The mouthpiece is positioned perfect and people I call comment that the quality is good.
Making a call is a little more problematic, as is the case with any bluetooth headset.  You can dial from the cell phone itself or do as I do and use the voice tags feature of the cell phone.  One of the surprises of this device is that I was able to get more reliable  hits on the voice tags than when using the phone itself.  It still wasn't 100%, but it was passable.
The specs state a 30 ft range and I was able to exceed that without a problem.  None of the limited documentation nor the web site indicated battery times.  I determined after several days use that with minimal calling I would have to recharge every 24 hrs.  It never died on me during a call, but then again I don't talk that much.  When all is said and done, the device has rather ordinary utility and could be bested by any modern bluetooth headset on the market today,  but the reason I like it and would buy again is that it is an attention getter and smile generator!
To a person, everyone who saw me use the handset  and asked about it, walked away with a smile on their face.  Even my skeptical 30 something daughter said it was "cool".  People could not believe it was real, so I had them call my cell phone to prove it worked.  (This has the benefit of getting the person's cell number).  I brought it to work, took it to places that serve adult beverages and even carry it when I'm riding my motorcycle.  It is a unique conversation piece that will guarantee attention.
From a practical standpoint it is difficult to carry it on your person and probably would be better suited for the ladies.  They can carry it in their handbag.  Just think how interesting it would be to pull this handset out of your bag when out with a group of friends.
For those of you that like to remain plugged in, there is a version of the handset that comes with a cord that connects to your cell phone, but I don't think it's as interesting as this.  I know what I'll be giving for Christmas this year.

Product Information
| | |
| --- | --- |
| Price: | $29.99 |
| Manufacturer: | ThinkGeek |
| Requirements: | |
| Pros: | |
| Cons: | Ran my cellphone bill up! |