We use affiliate links. If you buy something through the links on this page, we may earn a commission at no cost to you. Learn more.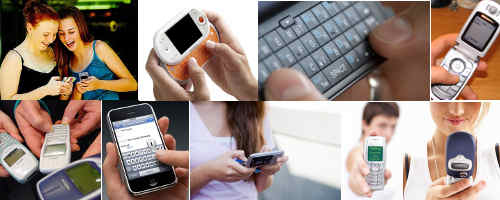 I'm an avid reader of the Consumerist. I also talk to Julie online a lot, which means that I'm frequently sending her links during the day to interesting articles I find. We got into a discussion about texting, after I sent her an article on a girl in Colorado who racked up a $4,756.25 Verizon bill from texting one month. She sent roughly 10,000 messages…and received just as many! That's a lot of texting, even for a teenager. Last month, I also saw an article on the Consumerist about a California teenager who managed to send and receive over 14,000 text messages one month on an AT&T plan. Fortunately, her parents had an unlimited messaging plan on her phone.
But when you don't want to pay for unlimited messaging, what can you do about a kid whose thumbs move faster than Road Runner's mad dash away from Wile E. Coyote?
I've been both an AT&T and a Verizon customer, and I know just how much text messages can cost. With AT&T, unlimited texting is an extra $20 a month. It's $30 a month if you have a family plan and want to add unlimited texting to every line on the plan. Verizon's plan isn't quite as good – $20 a month will get you 5,000 messages, plus unlimited messages to other Verizon mobile numbers. Back when I was on Verizon with my former employer's corporate discount, I ponied up the extra $10 a month for 500 messages, plus unlimited mobile-to-mobile – which worked for me, since I only really texted people with Verizon numbers.
When I got my iPhone and switched to AT&T, I decided it wasn't worth the money – especially since I got email directly to my phone. So I called up AT&T, had texting completely blocked from my number, and told everyone to text me at an email address I set up just for my iPhone. That was three months ago, and it's been working out well.
Kids, however, aren't so accommodating to Mom and Dad's tight wallet. More and more I see tweens and teens at the mall with BlackBerries and iPhones and SideKicks, madly texting away.
Then again, teenagers don't really need cell phones. By FCC regulations, any cell phone (even ones that aren't activated) must be capable of calling 911, so that kills the "I need it for emergencies, Mom!" excuse. There's also the whole concept of what life was like before cell phones…and, like the teenager in Colorado, your kid's grades might be impacted by their constant calling and texting while at school.
I decided to do a little searching to see if there were any alternatives, especially for younger kids (like the 10-13 "tween" types). What options are out there for satiating a teenager's desire to be forever connected to her BFF, even at 4 AM? High-count text message plans on top of a line on your family plan will cost, at minimum, $30 a month. Text-only plans usually end up costing more over the long run. So what can you do?
Surprisingly, I found a few different options.
Never miss one of our posts again. Sent MON, WED, and FRI with the latest gadget reviews and news!
Rip Roar im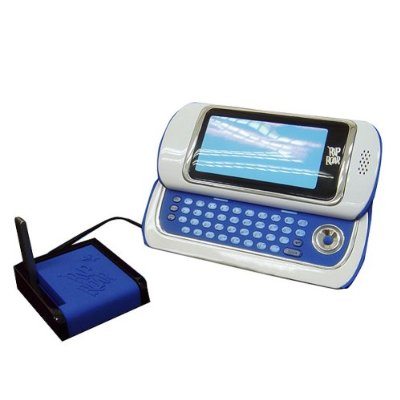 The Rip Roar im is a small device with a monochrome LCD and a slide-out QWERTY keyboard. It works over the 900MHz wireless band (like older cordless phones) and allows you to use your existing accounts with AOL, Yahoo!, and MSN. It connects wirelessly to a USB transmitter you connect to any Internet-connected computer. While it's not a cellular device, it will get the kids off the computer, and they can contact their friends no matter where they are at home. Its MSRP is $79.99, but Target.com carries it for a mere $20 – not too shabby.
Zipit Wireless Messenger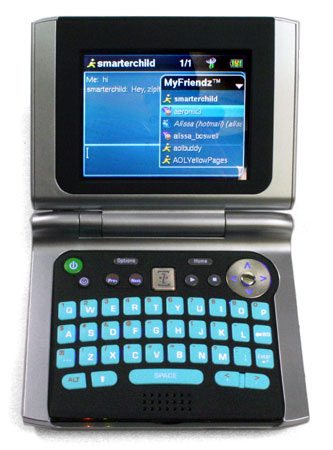 The Zipit Wireless Messenger is a wifi-enabled device, available at both Target and Best Buy (according to the manufacturer's website). At $49.99 MSRP, it costs a bit more, but it comes with a slew of awesome, teen-friendly features. Equipped with a mini-SD slot and full-color LCD, the Zipit can play MP3s and display digital pictures. It can even play Internet radio stations over its 802.11g-compliant wireless connection. The device itself flips open and has a QWERTY keyboard. There's one caveat – initial purchase requires activation of a one-year service plan at $9.99 a month, which provides texting access in addition to IM access on AOL, Yahoo!, and MSN. After the year is up, you can use the Zipit for IM at no monthly fee.
Unlike the Rip Roar im, the Zipit works on any wireless network or hotspot, so your teen can take it with them and use it anywhere with an open hotspot. As more and more locations provide free wireless, this device can be pretty useful while minimizing your monthly expenses. It also allows parents to limit how much it can be used, and parents can keep track of who their kids are talking to. When you're dealing with a thirteen-year-old, this can really bring some peace-of-mind to parents.
And, for the geeks out there, it even runs Linux! Who knew?
GirlGear IM-Me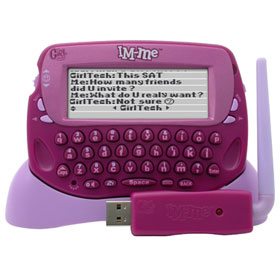 For the younger set, you might consider the  GirlGear IM-Me. It's a girly pink-and-purple device with an MSRP of $44.99 – but it's available on Amazon.com for only $13.49. This toy is definitely geared at younger kids between the ages of about eight and twelve. It, like the Rip Roar im, works over the 900MHz band, but it provides several parental controls that allow you to know who your kid is talking to at any time. The IM-Me uses its own instant messaging protocol, so it won't work with AOL, Yahoo!, MSN, or any other existing IM service. A trial application is available to allow you to chat via a computer with someone using an IM-Me – although the manufacturer's site isn't particularly clear about what it means by "free trial", I'm guessing that it's a time-limited deal in order to convince you to buy more IM-Me devices. The IM-Me device comes with a USB transmitter, a docking cradle, and has a QWERTY keyboard and backlit monochrome LCD. This is definitely not a device for teenagers, but it's a great way to let your younger daughter have a way to communicate with her friends that doesn't cost you any extra money on your already bulky cell phone plan.
Of course, at the end of the day, one has to wonder just how critical it is for kids these days to be always-connected. I'm no stranger to the addicting qualities of being perpetually tethered to cyberspace, believe me. On the flip side, I was raised in a financially conservative family, where we didn't have cable TV, let alone cell phones. I got my first phone when I was a senior in high school – and it was prepaid because I couldn't sign a contract yet!
If you're having trouble getting your teenaged kids to tone down their cell usage, it might be time to start pushing them to get a job and pay for their own service – or, at least, the texting add-on to their line of the family's cell plan. If you just want your child to have a phone for emergencies, consider T-Mobile's prepaid plans. I ended up getting a T-Mobile phone for my mother. The phone was $69.99, and for $100, I got her a year of minutes. She only has to pay as little as $20 a year to keep her existing minutes renewed. Since she hardly ever uses her phone, it works out perfectly – and it's a very cost-effective way to provide a phone to your kids if it's that important to you that they have one.
None of the devices I found work on a cellular network – for that functionality, you're stuck continuing to pay for a normal cell phone with a messaging add-on. However, if your kid just wants a way to message their friends while at home, the products I found might just be the ticket.