We use affiliate links. If you buy something through the links on this page, we may earn a commission at no cost to you. Learn more.
My Dell laptop backpack has seen better days. There are several places where the material has frayed and it seems like it gets worse with each passing day. That is why I jumped at the opportunity to review a new bag.
Mobile Edge has put together a line of Alienware branded bags. This review covers the Mobile Edge Alienware Odyssey Messenger Bag. Although my current bag is a backpack, I actually prefer the messenger style of bag in terms of look, accessibility and comfort.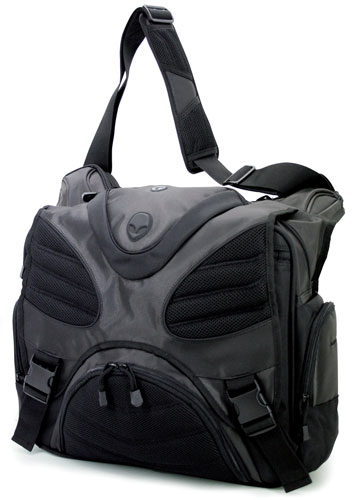 Specifications
SafetyCellâ"¢ computer protection compartment
Roomy interior with padded pockets for CDs, PDA, phone, and files
Made of ballistic nylon (Material: 840 Denier Nylon) for durability
Media pocket with pass-through port for headphone cable
Ergonomic adjustable shoulder strap
Exterior pocket for easy access to travel documents
Cool-Meshâ"¢ ventilated back panel
Color: Black Graphite
Lifetime Warranty
Weight 3.4 lbs
Fits Notebooks Up To:Â Â  15.5″ L x 12″ W x 2.3″ H, screens up to 17″ (diagonally)
Exterior Dimensions:Â Â  18″ x 16″ x 6″
My first impression of the bag is that it is designed with a target audience of teens, college students, and general non-professionals. I have struggled with a good description of what drove this impression. Maybe it is the Alienware logo, an alien's face, which is approximately 2-inches in length and located on the front-face of the Odyssey Messenger Bag.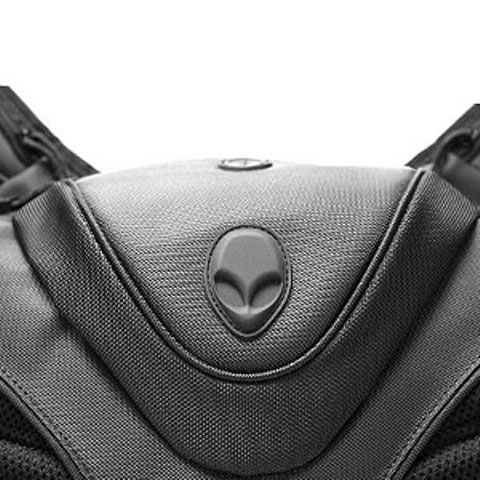 The bag looks and feels very durable. The ballistic nylon is a popular material in bags today and it is easy to understand why, because it is durable and easy to clean. Contrasting the look of the 840 Denier Nylon is a Cool-Mesh material, which is used primarily on the back of the bag but also appears in smaller, ribbed sections on the front-face.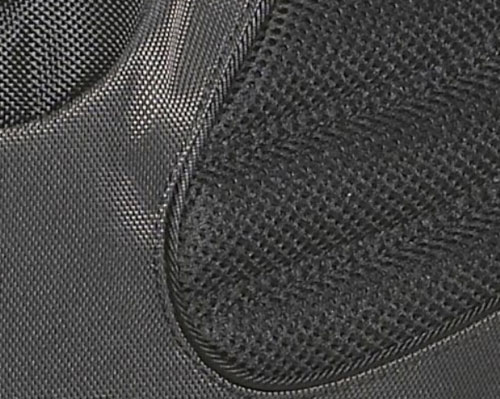 The subtle difference in shades of black and graphite adds to the depth of the bag.
The Alienware Odyssey Messenger Bag has the standard front flap design secured by two adjustable, hard plastic slide-in buckles. I prefer messengers that use a single strap, just because I hate having to open two buckles to unsecure the flap.

The zippered, dedicated media pocket is on the top of the flap and has a pass-through port for headphones. While another external zippered pocket at the bottom is great for those items you need readily available like plane tickets, passport or a company photo badge and it includes three elastic bands for pens, a keyring on a removable clip and a mesh pouch so things do not fall out when you pocket is unzipped.
Each side of the bag has zippered pockets with Alienware stitched in the material. These pockets are great for accessories like power cables, presentation remotes, or even cell phones and keys.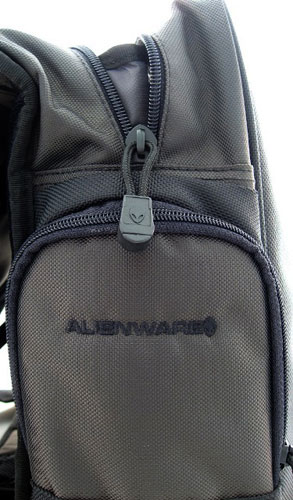 A left to right zipper pocket runs the entire width of the back panel. This pocket would be great for a notebook or a file.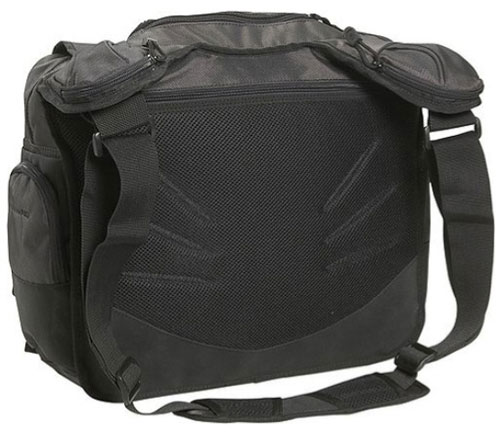 The back of the bag is primarily covered with Cool-Meshâ"¢ material that combined with the contours allows airflow to keep the heat down.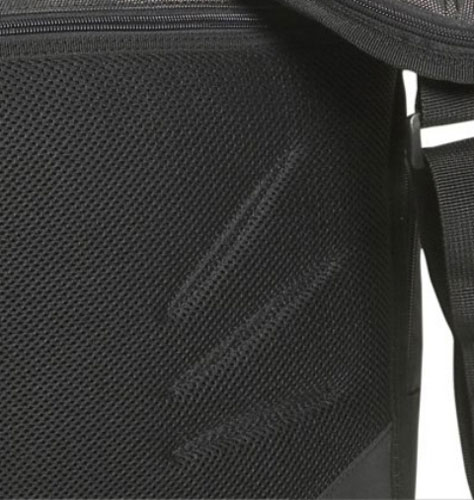 The shoulder strap and, more specifically the pad is less then impressive. The pad is not very comfortable and it feels like it lacks sufficient padding.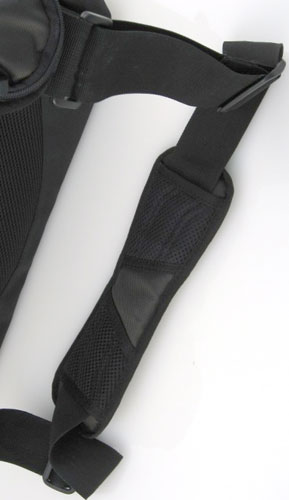 There are two more small pockets located at the base of the shoulder strap. These pockets are ideal for small things like jumpdrives, keys, lip balm, change and my iPod shuffle.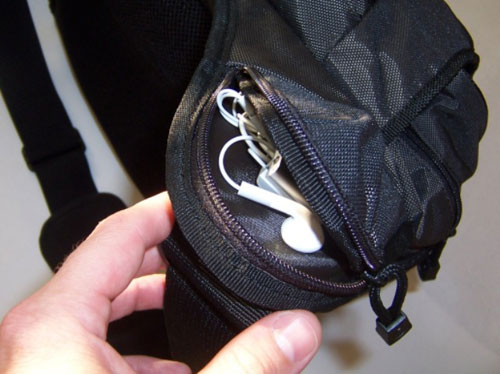 I really am disappointed that the bag design lacks a handle. I like having the option to not use the shoulder strap all the times.
Plastic buckles and metal zippers with approximately inch long lanyard extenders make up the external hardware. Nothing fancy but functional. Normally I would be concerned about the durability of plastic for hardware, but the bag has a lifetime warranty, so if it breaks the warranty is there to replace it.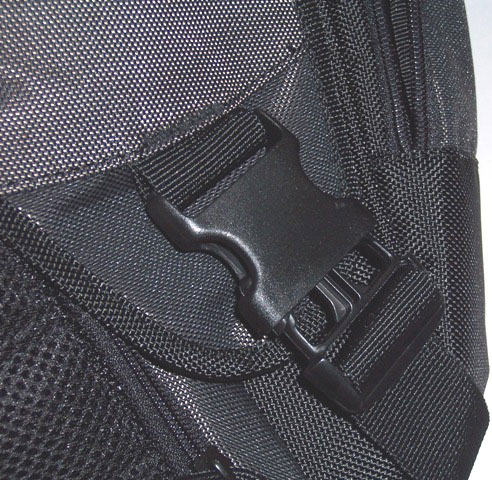 Pulling back the flap, I move to the Alienware Odyssey Messenger Bag's interior. The first compartment has two side-by-side mesh pockets that run the width of the compartment but do not go all the way to the bottom. It can be closed via a zipper.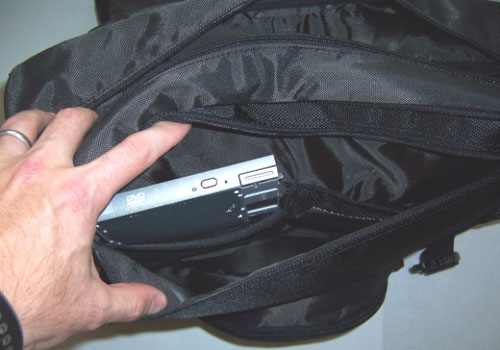 The main interior section is also zipper shut and is partitioned into halves. The first has two long 4-inch wide Velcro-flapped pockets. The pockets are expandable and great for holding those long miscellaneous items, like markers, laser pointer pens, cords and large graphical calculators.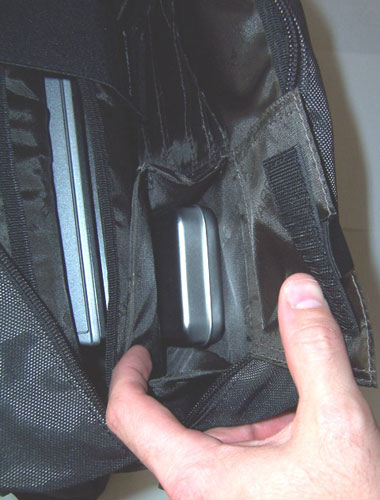 These two pockets are separated by 8 open pouches. You could use these receptacles for business cards, calculators or, if you are like me, your old Palm V.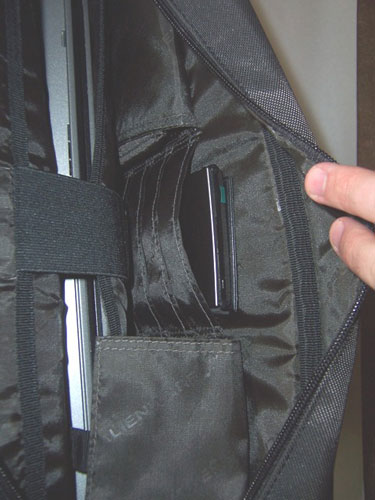 The computer section is designed to hold a laptop with dimension not exceeding 15.5″ L x 12″ W x 2.3″ H. The SafetyCellâ"¢ computer protection compartment utilizes what I estimate to be ½ inch padding on all sides and a Velcro strap for security.
The interior is fully branded in a subtle manner with "Alienware" on the material visible when exposed to light. A more obvious brand is the alien face stitched with white thread in the padded wall separating the two partitions of the main compartment. At first, it caught me completely off-guard but I got use to it. At
least it is not on the outside.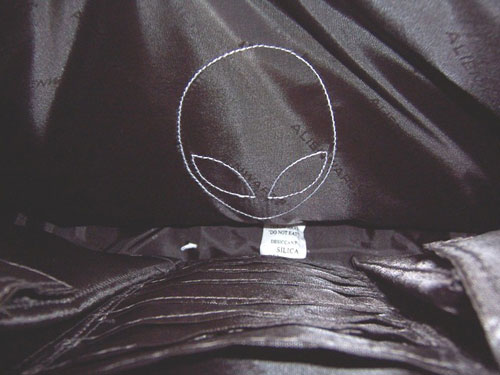 I think the interior is roomy enough for a notepad or two, maybe even a text book with the laptop.
In conclusion, I found the bag's many pockets great for holding a lot of stuff and organizing it quite nicely. The material is very durable and stays clean very well.
The lifetime warranty is a great added plus. I think it says a lot about a manufacturer when they are willing to stand behind their product by offering a warranty.
I am disappointed that the design engineers failed to see the need in a handle and that they did not use more padding in the shoulder strap. My biggest turn-off with the Alienware Odyssey Messenger Bag was the amount of branding displayed on the product. I have never been a huge fan of serving as a mobile advertisement for corporations and that is what I feel like with this bag. Of course, the Alienware fans might love to promote their favorite brand.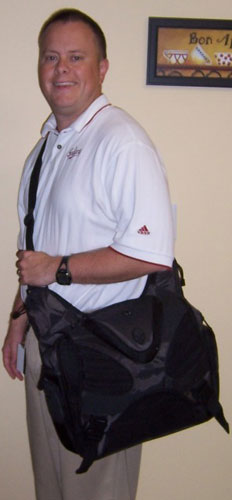 All-in-all, I still would have a hard time not recommending the bag. It terms of storing items for transportation, which is the main function of any case, this product delivers.
Product Information
Price:
89.99
Manufacturer:
Mobile Edge
Pros:

Lifetime warranty
Many pockets (ranging in size) to allow for easy organization
Durable material that stays clean

Cons:

No handle
Too much Alienware branding
Shoulder strap lacks sufficient padding