We use affiliate links. If you buy something through the links on this page, we may earn a commission at no cost to you. Learn more.
I have been debating on buying a Macbook Air since they were announced. Fortunately I found a good deal on a barely used one that included the SuperDrive and two cases. One of these slipper cases was the Airmail by manilamac, which I was so impressed with I immediately gave it to my six year old. The other was the Neoprene Sleeve for the Macbook Air by Incase, which I was so taken aback by its simple perfection, in terms of form and function, I decided then and there I was going to do a review on it.
I admit I lean towards the fancy higher-end cases and rarely look at non-leather or non-aluminum protection for my tech-toys. However, I am glad this sleeve, more or less, fell into my lap.

As its name states, the Incase Neoprene Sleeve for the Macbook Air is specifically designed for the World's sleekest laptop. It fits like a fine pair of gloves, adding little weight or bulk.

One might even call it a tight fit. But I like how the case embraces the Air, firmly surrounding every inch of the laptop.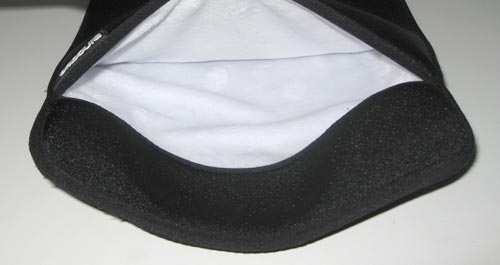 The sleeve is very well made, the exterior is constructed of a durable neoprene and the interior is lined with a very soft plush faux-fur. The slip entry/closure system is ideal for the Air's aluminum casing, slipping in and out with ease. Once you have slipped the Macbook in, just pull the top corners over the edges of the Air. And while this sleeve will not protect your Air from a fall or crushing weight, it will protect it from scratches and marring.

As I stated in the beginning of this review, I am very impressed with Incase's Neoprene Sleeve for the Macbook Air. I agree with their website, this sleeve is 'the lightweight and low-key solution for discreetly carrying the MacBook Air'.
Product Information
Price:
34.95
Manufacturer:
Incase
Requirements:
Pros:

Quality construction and materials
Excellent design
Provides great scratch and bump protection
Lightweight
Adds little bulk
Cost effective protection

Cons: