We use affiliate links. If you buy something through the links on this page, we may earn a commission at no cost to you. Learn more.
One of the perpetually unresolved debates among web users and observers alike is, "Who among the big three – Yahoo Mail, Windows Live Hotmail and Gmail – has the best email service?"
Well, there's no such debate as far as mobile web users are concerned – Gmail has the best mobile email client by far.
Sure, you can access your gmail account by loading up gmail.com on your mobile phone's browser (just like you do on your desktop browser) – but mind you, we're talking about the somewhat-oddly-named "gmail for mobile application" – a free downloadable email client for your gmail account. We'll just call it GMA to keep things simple.
Let's start…
Point your phone's browser to http://gmail.com/app to download and install GMA on your mobile.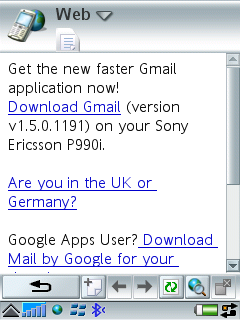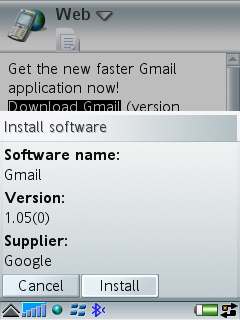 The process is simple and straight-forward. Within seconds, you see a message asking whether you want to start the application.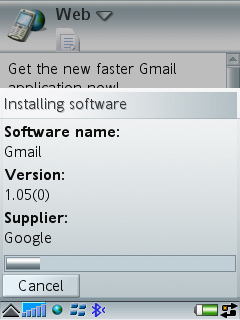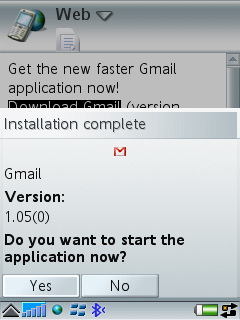 When you start GMA, you're greeted by a "Java" splash-screen, reminding you that you're using a Java MIDP software.
Immediately thereafter, you reach the familiar login screen. Please note that you cannot signup for a new gmail.com account from GMA – for that, you have to go to gmail.com from your desktop's browser.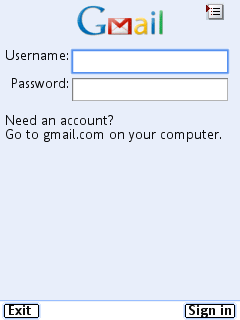 Once you login, you're taken to your inbox.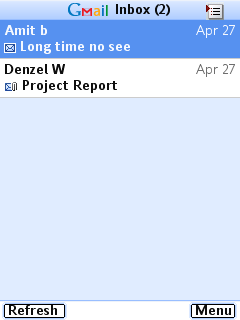 One of the first things you'll realize is that the look-and-feel of GMA is very similar to that on your desktop browser. – Complete with that trademark google clean-cut interface, that unmistakably friendly color scheme and the background-loading-of-the-second-email-while-you-read-the-first-one.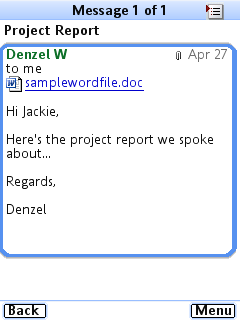 GMA even loads regular attachments like word files and images.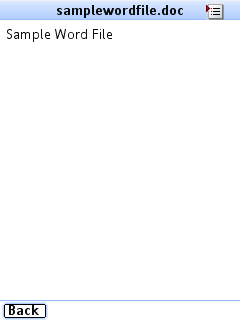 GMA supports the most frequently used gmail commands.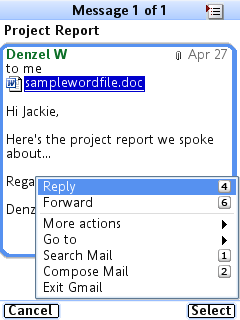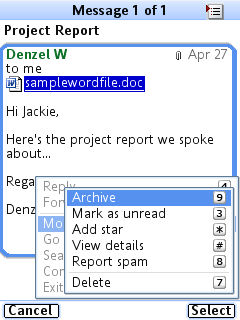 It even has mobile keypad shortcuts (just like keyboard shortcuts for gmail in your desktop's browser).
#1 is the shortcut for search (works superbly)
#2 for compose
#3 for mark as unread
#4 for reply
#5 for reply all
#6 for forward
#7 for delete
#8 for report spam
#9 for archive
#0 for refresh inbox
* key for star/unstar
# key for view message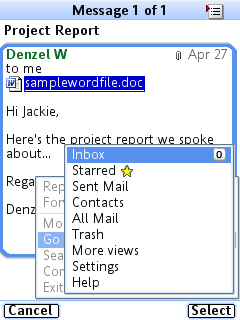 Sadly, you cannot label messages in the current version.
Reading and replying to emails is easy.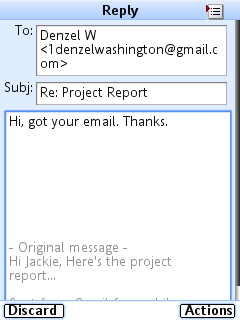 But we found a slight annoyance while composing a new email.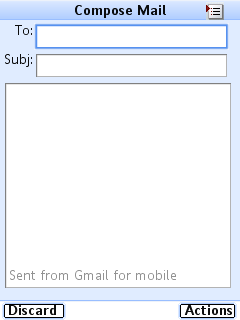 GMA does not allow entering email addresses in the "To:" field. When you click on "To", instead of a text box, your contact list with your most frequently used contact loads.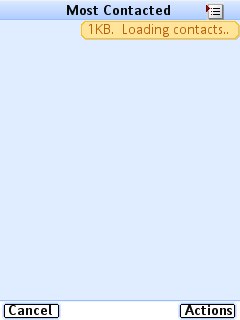 If you wish to send an email to a not-so-frequently-used contact, you've got to choose "all contacts" from the menu. If you wish to send it to a new contact, you've got to choose "add new email address".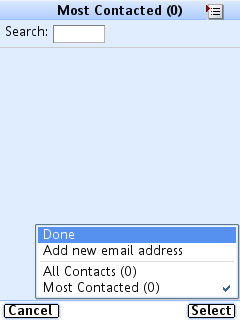 The "Go To" menu can be customized to load messages with specific labels.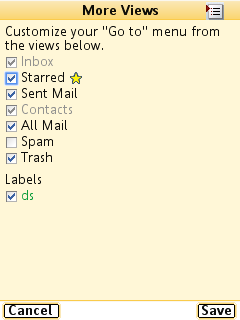 The settings menu has a few interesting and self-explanatory options. If you're on an inexpensive data plan, we suggest you keep the "Preload unread mail to open faster" option checked. Yup, this is the same background loading feature that gmail first impressed all of us with 3 or 4 years ago.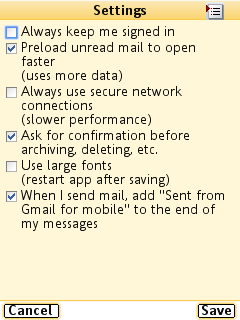 There's also an option to add a "sent from gmail for mobile" signature at the end of all messages, but this signature itself cannot be edited.
The engineers at google managed to fit in a help screen as well.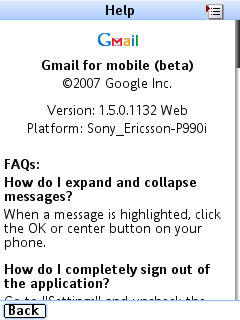 So, that's gmail for mobile application for you, then. It's a simple but powerful application that lets you do almost everything you need do with your gmail account.
Don't you feel like taking it for a spin, right away?
Then, go ahead and load http://gmail.com/app on your mobile.
Product Information
Price:
Manufacturer:
Google
Pros:

Easy to get, easy to keep
One word - Fast!
The search is superb (but then, with Google, what else do you expect?)
The keypad shortcuts are very handy
Reads attachments

Cons:

Can't sign up for a new account from the software
Can't label messages
Sending emails to "new" email IDs is a bit painful