We use affiliate links. If you buy something through the links on this page, we may earn a commission at no cost to you. Learn more.
I've never quite seen the purpose behind owning a photo printer. These days, you can print 4×6 copies of your digital pictures for around twelve cents a picture, by way of online services like Snapfish and Wal-Mart Online. However, for some people, the immediate satisfaction of printing photos at home is entirely worth the added expense of ink cartridges and high-quality photo printer paper. One of Epson's latest all-in-one photo printer offerings, the RX595, should satisfy even the most particular of these print-at-home types.
This printer is advanced and full-featured, so I've split this review into sections covering each of the RX595's major functions. Below is a table of contents, so you can jump to whatever interests you most about this model.
What's in the box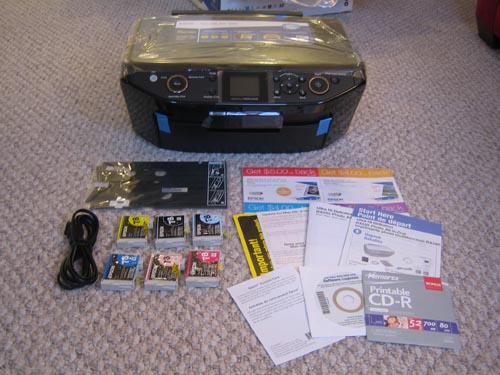 Epson sent us a retail box containing the RX595 and all its accoutrements, as well as an extra set of high-capacity ink cartridges (a whopping $90 value) and some various Epson-branded photo and document paper types for sampling. They also sent…printable CD-Rs. One of the coolest things about this printer is its ability to print directly on compatible CDs and DVDs. More on that in a bit.
The retail package itself contains:
The printer itself
Standard power cable (the kind that comes with a TiVo, VCR, DVD player, etc.)
CD/DVD print tray
Six standard-capacity ink cartridges (black, magenta, light magenta, cyan, light cyan, and yellow)
Printed materials (user manual, warnings, warranty card, etc.)
Drivers CD-ROM
Sample print materials – 8.5×11″ glossy photo paper and one Memorex printable CD-R
Coupons for rebates on Epson printer papers and optical discs
There are a few things worth noting here about the box contents. First off, Epson actually included a drivers CD! This is rare these days – peripheral manufacturers tend to just require users to download updated drivers off the Internet. It's nice to be immediately ready to go, right out of the box, with no Internet connection necessary. This printer, like every other printer on the market today, does not include a USB cable. This drives me crazy. It costs pennies to manufacture a standard A-B USB cable. Why in the world has it become the de facto standard to not include basic connectivity in the box? I mean, at least a DVD player comes with cheap a cheap composite A/V cable. Would it have killed Epson to include a USB cable in the box? Not only that, but USB cables at retail stores are unbelievably expensive – a coworker was lamenting to me the other day about discovering that Circuit City's USB cables started at thirty dollars for a 3′ cable.
I also mentioned that this printer comes with some coupons. This seems great at first – lots of $4.00 rebates on Epson photo paper, document paper, and printable CD-Rs and DVD-Rs. Reading the fine print, however, reveals that the user is entitled to use one coupon. Submitting a coupon requires the original box UPC, a copy of the purchase receipt, and the coupon form. This is unfortunate – I'd be far more apt to buy expensive Epson paper for my new Epson printer if I could use all the coupons, rather than being forced to choose one.
The inclusion of some photo paper and the CD-R is nice – this way, I can at least try printing some photos before heading out to buy more paper.
Without even opening the box, the specs show that this thing really packs a punch. It's an all-in-one inkjet system, which means that on top of printing photos, it can also scan and copy documents, as well as print and copy photos directly from memory cards (with MMC/SD, MemoryStick, xD, and CompactFlash support) and PictBridge-compatible digital cameras.
The physical printer isn't as big as I expected it to be. It's definitely bigger than your run-of-the-mill inkjet printer,
but it's not overbearing in its size. The buttons are well laid out and require no manual to get the gist of the interface. Everything closes up nice and tidy when the printer isn't in use – the paper entry point has a lid that flips shut, and the space under the scanner bed where your photos and documents appear closes up as well. The scanner lid is highly-polished piano black. While this looks nice and all, it's a magnet for three things – fingerprints, dust, and scratches. The bookshelf on which the RX595 now resides is directly beneath a window in my apartment, so my cat uses the printer as a launchpad to get up into that window. I've already found a few hairline scratches on the lid of the scanner bed, and now keep a dish towel over the thing when I'm not using it. The cat doesn't seem to mind. She's now claimed the RX595 as her resting place while watching me work on my home computer.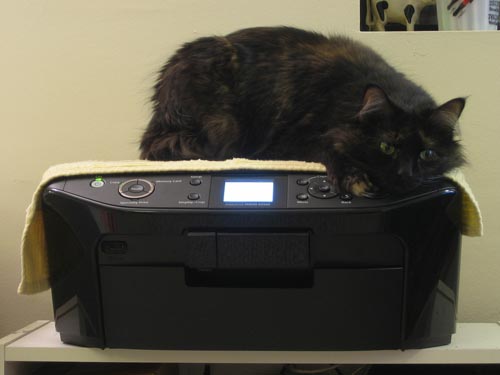 The printer feature itself is quite high-tech. It uses a "high-definition" ink cartridge system with six cartridges. Rather than stop with your typical black, cyan, magenta, and yellow inks, the RX595 adds light magenta and light cyan into the mix. I don't know enough about printing and imaging to know why exactly this is so great, so I'll just have to take Epson's word for it. It does, however, mean that ink is expensive. A pack of standard-capacity cartridges will set you back $65, while a pack of the high-capacity cartridges brings that price up to $90. I've already found generic cartridges online for a fraction of this price, which is good news for those of you who print photos frequently.
The scanner is pretty standard – it's capable of up to 1200dpi native, and 9600dpi interpolated. I don't really pay attention to anything that involves interpolation with images – this means that the hardware or software tries to intelligently upscale an image, and it never looks as good as the original. Although my old Visioneer OneTouch 8900 is capable of 2400×4800 scans, I generally scan stuff in at around 300dpi, which the RX595 does quite easily.
Along with scanning images directly to your computer (into photo editing software, for example), the RX595 also has a photocopying feature. This allows you to print up to 100 copies of a scanned document without a computer. This could be handy for someone needing to quickly make a hardcopy duplicate of something, without having to deal with scanning in an image and saving it to PDF or an image format. You can also copy images directly onto printable CDs and DVDs.
The RX595 also has some basic onboard photo editing features, including cropping, color correction, and red-eye reduction. This is great if you just want to toss in a memory card and print off a photo with minimal fuss.
Getting the printer up and running is a fairly painless task – install the software, connect a USB cable between the printer and your computer, turn the printer on, and let Windows do its automatic hardware detection and installation dog and pony show. The "turn the printer on" part has a tiny caveat – this thing takes a few minutes to power on. It has to turn on and charge the ink before it's ready to print, which is kind of annoying. I tend to turn off all my computer stuff when I'm not using it, in order to conserve electricity. My HP LaserJet 2100tn is considerably faster from hitting the power button to being ready to print, so the delay is taking some getting used to.
The printer's physical layout is actually pretty handy – the power cable actually connects inside a cavity at the rear of the printer, so it doesn't stick out at all from the back of the printer. The USB cable plugs in underneath the scanner bed – again, this prevents any wasted space behind the printer due to cables sticking out.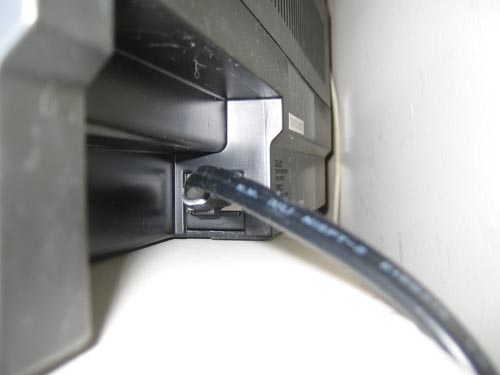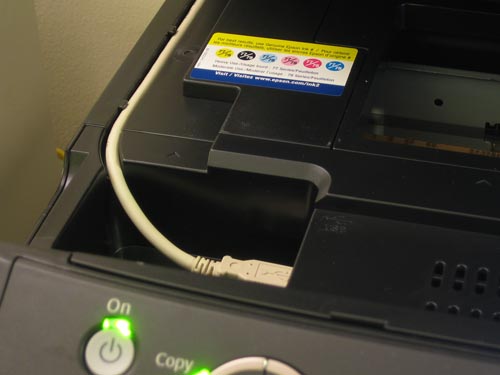 Installing the printer cartridges is also relatively painless. You have to go through the menus on the RX595's 2″ LCD, and tell it that you want to change the cartridges.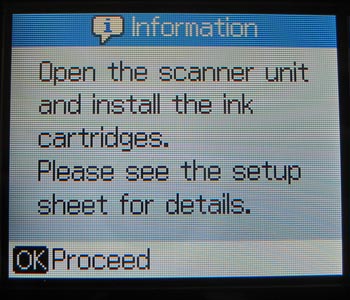 It takes a few seconds for the cartridge bay to slide out, ready to be opened up for installation. It's difficult to mess up the cartridge installation – the bays are color-coded, and you can feel and hear each cartridge snap securely into its bay.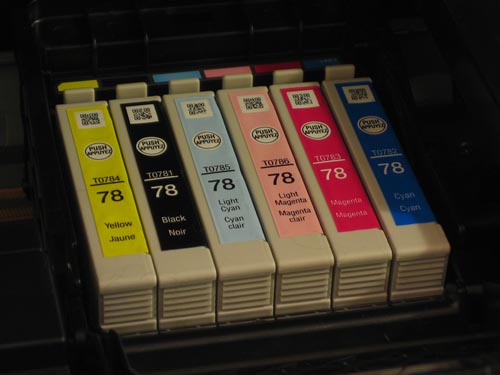 Once you've installed the replacement cartridges, the printer has to charge the new cartriges, which takes a few moments. The RX595's display keeps you posted on what's going on, so you know when it's ready for printing again.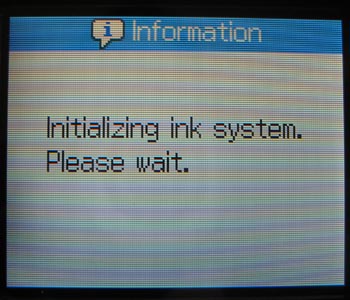 Personally, I'm rather partial to the display on this printer. The RX595 is complex enough that it's really helpful to know what it's doing, and switching modes to copy or scan is a lot easier with a display, rather than just pressing buttons and hoping for the best.
Your main reason for buying something like this is probably for printing photos. The RX595 performs beautifully in this area. I've had experience with my ex's Epson photo printer and, while the quality was quite good, it was s-l-o-w. Printing high-resolution digital pictures as 4×6 standard quality borderless prints is unbelievably fast – in a matter of seconds, you have in your hands a great-looking picture, ready for framing or sharing. The prints themselves look beautiful and dry instantly – no smudging here! I can definitely attest that Epson's photo papers are worth the premium price. I've used photo papers from other manufacturers, including Staples and Kodak, and Epson's premium glossy photo paper trumps everything else I've tried. Borderless prints are truly borderless and look completely professional.
So far, I've done my photo printing from Google's digital picture application, Picasa. I'm a huge fan of the application, and only deal with pictures in Photoshop if I need to actually edit them or otherwise manipulate them. Printing in Picasa is very easy. After clicking the "Print Photos" button in the application, you're able to select what size photos you want to print.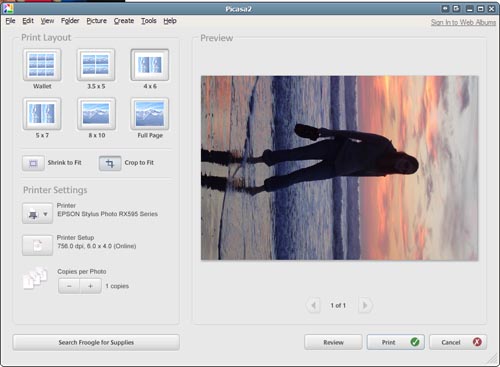 If you're printing a 4×6 photo on 4×6 borderless paper, selecting the options to do so is a simple task. Epson even includes the ability to select which Epson-brand photo paper you're using, so it can adjust itself accordingly for glossy vs. matte, etc.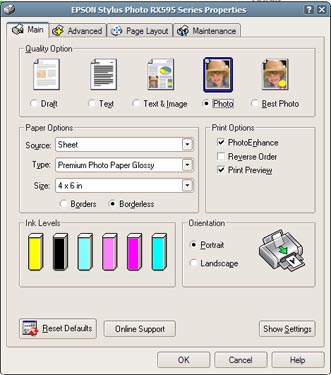 You can also configure advanced settings directly from the Epson software, including automatic color correction. There's also a very handy print preview option so you can see the color correction before actually printing a photo. In this particular case, I'm printing a photo on one of the sample Epson Glossy Photo 8.5×11″ sheets that were included with the printer.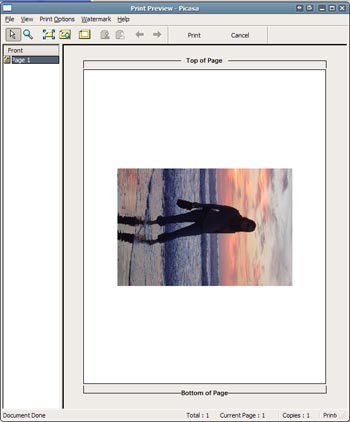 I really like the preview option for printing photos. Both ink and paper for this printer add up fast, so it's really nice to be able to make explicitly certain I'm ready to print before I waste any materials on mistakes. Overall, printing photos is fast, easy, and a completely painless experience.
In addition to its superb printing abilities, the RX595 is also handy for printing documents. I wouldn't personally use it for such a purpose, since I have the aforementioned LaserJet 2100tn, which is much faster (and considerably cheaper!) for printing black and white documents. However, for testing purposes, I checked out three different papers – the Epson Premium Bright White sample that was sent with the RX595, a sheet of standard Boise X-9 multipurpose copier paper ganked from my office, and a sheet of Office Depot multipurpose copier/laser printer paper.
The Epson Premium paper doesn't seem to be worth the extra cost. In fact, careful examination of the printouts and the high-res scans of the samples showed that text on the Epson paper feathered a bit. Overall, the RX595's document printing abilities are perfectly fine, but I'm rather spoiled from my LaserJet. There is just no denying that text looks better from a laser printer. Fortunately, the RX595 is first and foremost a photo printer – and it accomplishes that purpose beautifully.
For your perusal, I've scanned in some sample text from all three paper samples, as well as a scan from the LaserJet for comparison. Click the image to see a high-resolution version of the sample.

Epson also included samples of its Premium Matte Presentation paper, which is apparently good for "non-glare photos, craft projects, and signage" – at least, that's what Epson's product page says. So, I fired up Microsoft Publisher 2003 and threw together a quad-fold greeting card with a photo, some text, and a logo-type image I found via Google Images. Printed with the "text and images" preset in the Epson software, the result was mediocre. Text looked good, but the photo I used didn't look too swell. There was no feathering around the text that I saw with printing a plain document, but I doubt you'll be buying this specialty paper unless you have a real need for it.
Now we get to the fun part – printing CDs and DVDs. The RX595 includes a nifty little tray that slides into the paper output area below the scanner bed. Pop in a printable CD or DVD, slide the tray in, and go to town. I found it best to create my labels in Photoshop (I scanned in a CD and used that as my template) and print them using the included software. The end result looks fantastic – extremely crisp, clear, and professional. The Memorex printable CD-Rs that Epson sent have a nice, finished feel to the label surface – smooth and matte (not glossy), and not at all like paper.
I'm a bit of a Harry Potter fan, and recently got the soundtracks to the five movies that have already been released. My car has an MP3-CD player, so I made a nice MP3 CD of the soundtracks and created a label in Photoshop. It's not my best graphic design work…I just made it to print a test CD for this review.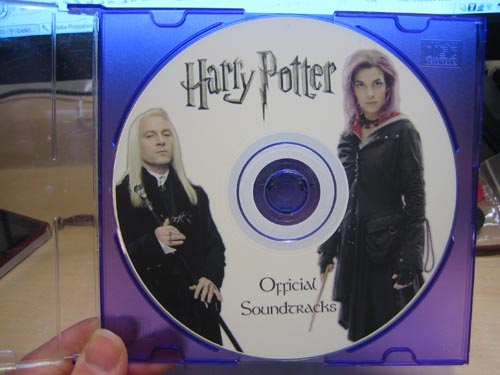 This is by far the coolest feature of this printer. When I was in high school, I used to make CD mixes for my friends as gifts, with songs that had some significance to our friendship. I always drew pictures on my CD-Rs with Sharpies,
but this is a much more high-tech way of making a custom, personal gift for someone. Epson recommends burning data before printing the label, but I had no issues printing the CD before putting any data on it.
Epson continues to achieve high marks in their inkjet photo printing technology. They provide high quality inks and
papers for maximum print quality. If you're looking for a full-size home photo printer, Epson is definitely the way to go. I know that Canon and HP have some good offerings, but I've had great success with Epson's printers, inks, and papers in the past, and the RX595 is proving to follow that reputation quite nicely. This isn't the best printer for plain text documents, but I've yet to see an inkjet printer that performs as well at document printing as laser technology.
I found a Visioneer OneTouch 8900USB scanner at Big Lots for $50 in 2003, and have been using it since. I find scanners to be pretty handy at home. My main bank doesn't have any physical branch locations, so I like being able to scan and archive checks before mailing them. I'm a big fan of mail-in rebates, and it's great to be able to keep copies of receipts, rebate forms, and UPCs in case my rebates get lost in the mail. I was interested to see how the RX595's scanner would compare to my 8900, which I have found to be very high quality.
Epson certainly didn't let me down. The scanner has a 1200dpi optical resolution with the ability to scan at 48-bit color depth. If those terms mean nothing to you, it translates into this: this thing will suit nicely for scanning photos, documents, your kid's drawings on the back of paper restaurant placemats, and pretty much anything else you can think of. Compared to my Visioneer 8900, the RX595 is fantastic to use. The motor that moves the scanner lamp is very quiet, and there is no delay for the bulb to warm up or the scanner to "stabilize" before actually scanning an image or object.
I do all my scanning directly into Photoshop – I like having control over my scans once they're on my computer. The Epson scan software can be accessed externally (via the Start Menu or a desktop shortcut), or it can be launched from within a photo application with the installed TWAIN driver, which will allow you to scan directly into your chosen application as a new image.
Epson's software provides three modes of operation – Full Auto, Home, and Professional. Full Auto allows for worry-free, idiot-proof scanning. Just drop your document on the scanner bed, close the lid, and click the Scan button. The RX595 can intelligently determine what you're scanning and automatically adjust its settings accordingly. I found this to work pretty well. Even in the Full Auto mode, you can specify a few things about how it saves images to your computer – file names, locations, and image formats. You can even save directly to PDF without needing to have Adobe Acrobat installed.
The Home software mode provides some more options for more adventurous users. You can select a document type, change the DPI of the scan, and enable a few automatic photo adjustments (color balance, dust removal, etc.) This mode also allows you to preview your scan before you actually scan your document or image, so you can make sure it's exactly what you want. The Professional mode has yet more options, but overall I don't think they're particularly useful in most cases – I'd rather do all my color and image manipulation within an application, rather than on the image itself as it's being scanned in.
Overall, I'm pretty impressed with the RX595's scanning capabilities. It's easily replaced my old 8900. There aren't any features of my old scanner that are missing on the RX595, so it's a win in my book.
Along with scanning, the RX595 can make up to 100 copies of an image or document without any computer intervention. The printer powers on directly to Copy mode, so copying is as easy as a real commercial photocopier – put a document on the scanner bed, close the lid, and press the big green Start button. If you want to get fancy, you can specify what kind of document you're copying (document, graphic, or photo), how many copies you want, and whether you want black-and-white or color copies.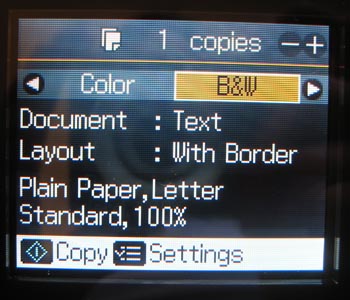 In fact, copying a photo provides many of the same options as printing a photo in Windows. You can select paper size, border and copy options (e.g. if you want to print a page of wallet-size copies of a photo), and what type of Epson photo paper you're printing on.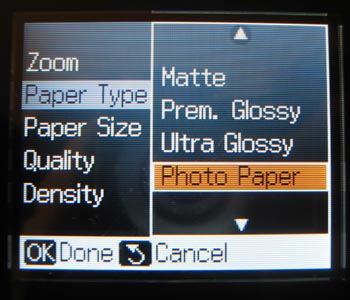 I can actually see where this might be handy. It's a bit of a waste of the expensive ink to make hard copies of documents frequently, but I've found myself in a few situations where it would have been nice to be near a photocopier. Not only that, but the ability to copy without a computer makes this feature that much faster and convenient.
Amazingly enough, printing, scanning and copying aren't the only things the RX595 can do. It's got a few more tricks up its sleeves, by way of the integrated memory card reader. When you insert a memory card, the printer automatically switches into Memory Card mode, which provides some handy on-screen functions for working with photos on a camera's card. You can print all the photos on the card right to 4×6 prints, print photos from a certian date…you can even have the RX595 print an index sheet of the photos on a memory card, so you know which ones you want to print.
Not only that, but you scan images directly to a memory card! This is another feature that can be handy when you have someone over and need to copy something on-the-fly. Just stick a memory card in the RX595's reader, and scan away. It can save scans as PDFs or JPGs, and automatically alter the compression based on the document type.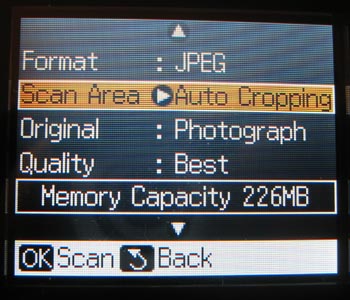 Again, the RX595 is nice enough to tell you what it's doing, so you don't accidentally interrupt it in the middle of something important, like contemplating the meaning of life or trying to translate Russian.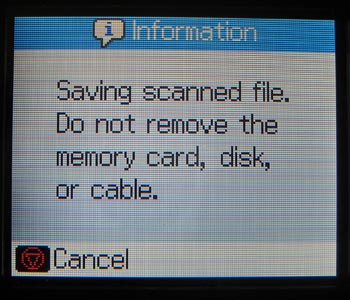 This printer also provides some other specialty features, like onboard photo color restoration and printing a photo directly onto a printable CD or DVD without computer intervention. However, these are the kinds of things I prefer to have granular control over in Photoshop.
All in all, the Epson RX595 Ultra High-Definition All-In-One Photo Printer (try saying that five times fast!) is an impressive piece of equipment. It makes a great all-purpose print center for crafts, photos, documents, and all things graphical. The ability to print on CDs and DVDs is ingenious and truly fantastic, if you ask me. The onboard LCD makes configuration a breeze, and the included software is intuitive and easy-to-use.
I do wish that the scanner lid wasn't that trendy, ultra-glossy piano black. It picks up fingerprints and cat-scratches too easily, and it's an unnecessary finishing touch on the printer – this thing isn't an iPod or a cell phone! My only real complaint, though, is the obvious one – the ink cartridges are ridiculously expensive. You can buy each color individually, but you save money buy buying the entire six-pack at once. Even then, $65 just for ink is a little high. I've read in some online reviews that turning the printer on wastes a decent amount of ink, but there's not really a way to measure or confirm that claim. Regardless, the high cost of ink makes this something that I'll use for special occasions and times when I really want to print a CD or DVD, but I'll still be doing all my document printing on my LaserJet 2100tn.