We use affiliate links. If you buy something through the links on this page, we may earn a commission at no cost to you. Learn more.
My guess is your list of personal gadgets rival Julie's. With your coveted collection, you probably have a charger for each item and an issue with storing the chargers. If you're like me, you have a countertop full of phones and charges taking up much-needed counter space. Or, you have trouble remembering to charge your phone. Here to streamline the charging of your devices is the Power Station Organizer by ReSource. The nice folks at X-Treme Geek sent one to me to review.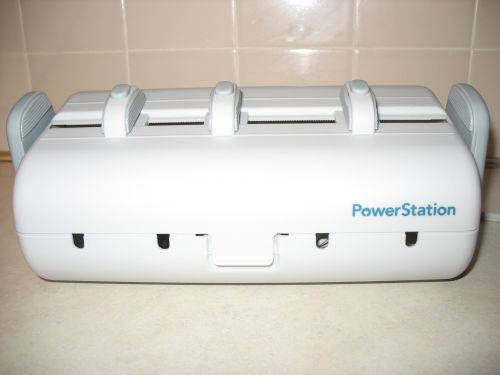 The device allows you to recharge up to three electronic devices. It can be used for cell phones, MP3 players, handheld games, and personal data devices. All you have to do is use the power strip inside of the case.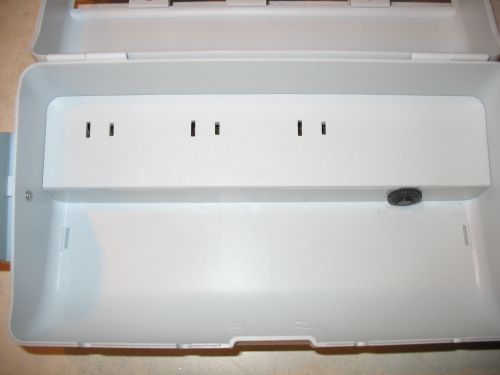 There are three plug-ins and ample room to tuck your power cords neatly inside. At my house, we use the kitchen countertop to hold our landline and charge our wireless phones. By using the countertop, our counter space is quickly reduced with the cords running across it. Plus, I get stuck trying to find a plug for my mixer, blender, or camera batteries.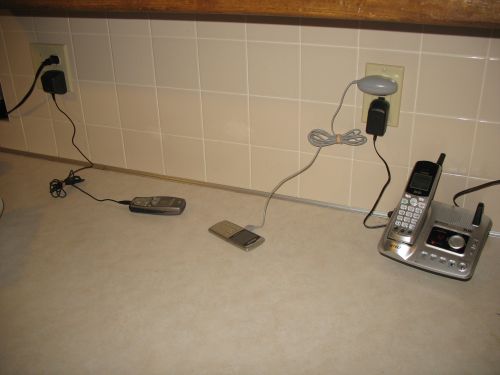 Before receiving the Power Station, I would forget to charge my phone. That would just leave me stranded in the car a day later with a dead phone. Definitely not fun with three toddlers and a dead van battery—hey, do they make chargers for a car? I need to review that, too.
Since X-Treme Geek sent the Power Station to me in January, I have not had one time with a dead phone. It has been wonderful! The set up with the encased power cords makes my life easier and my house clean…okay, just the countertop is clean.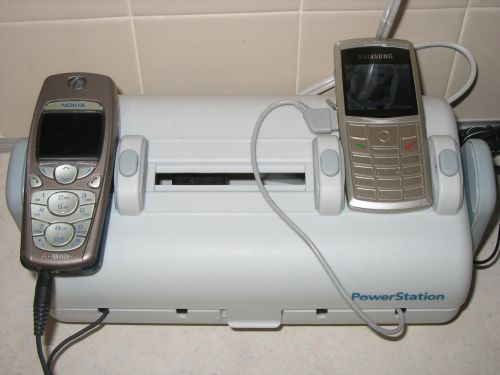 Never miss one of our posts again. Sent MON, WED, and FRI with the latest gadget reviews and news!
Let's take a look at why this device was successful for me. The Power Station is ultimately a lunch box for your power cords. When you lift the lid, there is a power strip for three charging devices. Once the device is plugged in, the cord is bundled and stored in the case.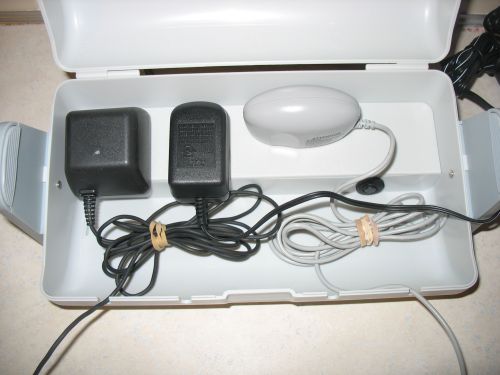 The cord extends out of a slot and runs up to your device. There are four slots allowing you to position the cord according to where you positioned your device.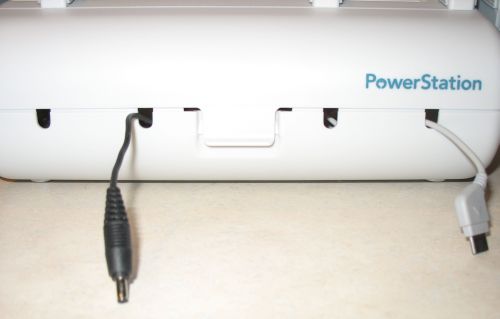 When you close the lid, there are now three spots for your gadgets. The slick dividers are adjustable, providing a space that is a perfect fit your gadget. Here is a picture from ReSource showing the dividers moving. It also shows the additional color choice of black: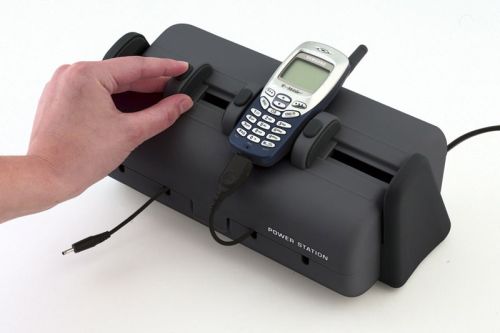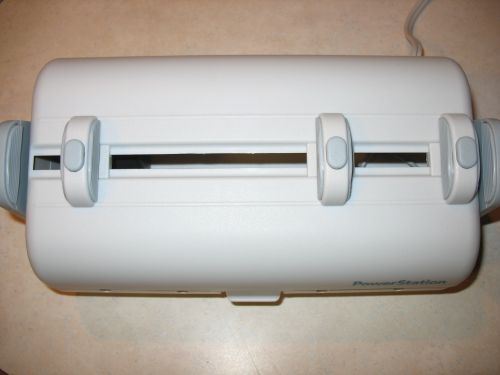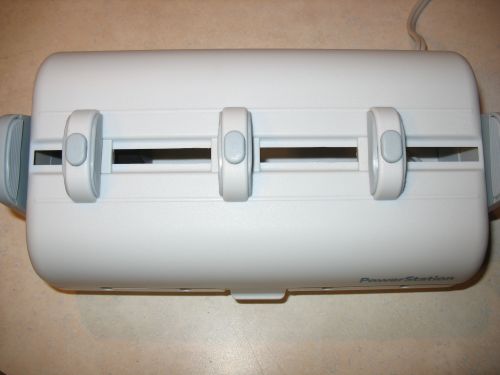 In this picture, you'll note the charger for my cell phone didn't fit easily.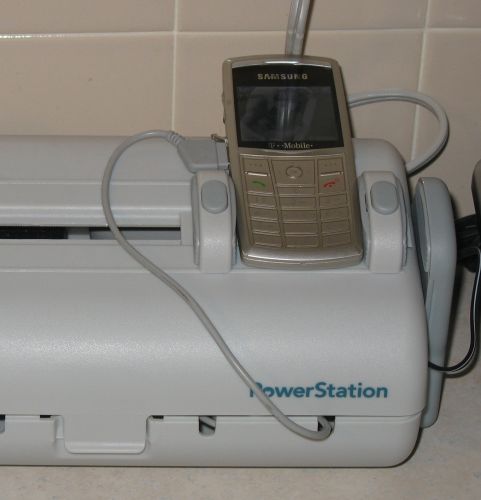 By simply turning my device and repositioning the dividers, my phone was nicely cradled and the cord was not crimped. This position would allow you to easily charge game players, iPods, and larger PDAs.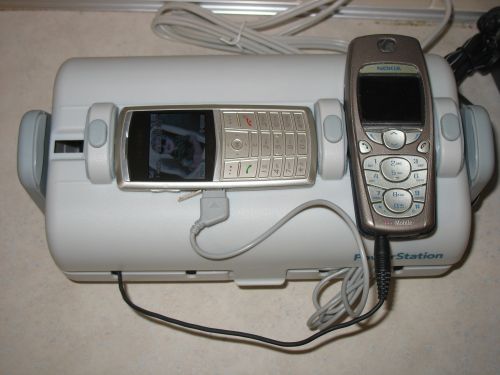 There is an optional gadget that goes with the Power Station. They did not send these to me, but I will at least mention them. If you have an oversized charger, there is a short extension cord to fit inside the case. Here is a picture taken from their website: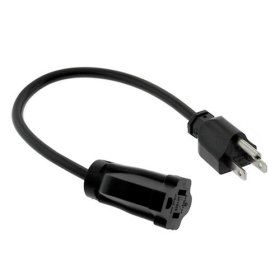 Besides just being an easy addition, there are safety features to the device. The ReSource Power Station includes a circuit breaker to safeguard against overheating. If it overheats, just simply allow the unit to cool and press the reset button.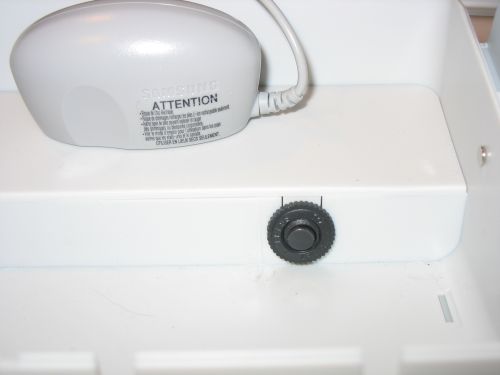 To prevent the overheating, the strip should not be overloaded with more than 5 amps. In addition to the safety guards, there is a 90-day limited warranty against defects in the material and workmanship.
Overall, I enjoyed testing the Power Station by ReSource. There were immediate benefits by having my power cords neatly stored in the device. Plus, I had no problem ensuring my cell phones were charged. The only cons I noted was the color and design of the Power Station. It is perfect for an office environment, but the design does not fit with home décor. At the same time, I am overlooking the design and will continue to use ReSource's Power Station to charge my electronic devices.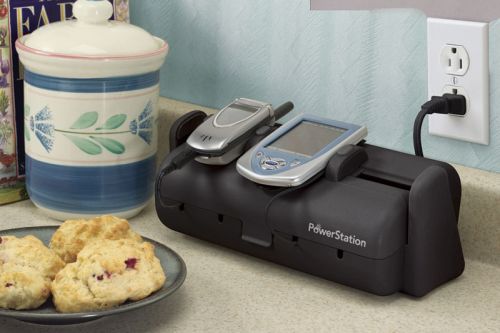 Product Information
Price:
19.95
Manufacturer:
ReSource
Retailer:
X-tremeGeek
Pros:

Portable charging station
Comes in two colors (gray and black)
Built-in circuit breaker
Compatible with cell phones, PDAs, MP3 players, etc.
3 AC outlets included
Adjustable dividers to hold devices
Durable
Practical

Cons:

Not a decorative item
Did not include extension cord for oversized items