We use affiliate links. If you buy something through the links on this page, we may earn a commission at no cost to you. Learn more.
As I read Julie's review of the Timbuk2 messenger bag, I couldn't help but think of my own choice in gear-hauling. The '2' is a fine bag and the design possibilities are unlimited. I looked at such bags while I was shopping for a new hauler. I knew I didn't want just a backpack or rucksack; they get tangled on furniture as you walk by and they are too big for everyday carry. I need room for a book, a sweater and a water bottle, not a sleeping bag and a tent.
The Timbuk2 line is great for what it is. However, it is 'a sack on a strap'- you put stuff in the sack and it hangs off the strap! That's about it. If your shoulder gets sore, you can switch it to the other shoulder. A heavy load will end up feeling like a buzzsaw at your neck after a few hours.
The colors are unlimited and lovely- but I'm slightly color-blind, so colors are less important to me than some other folks.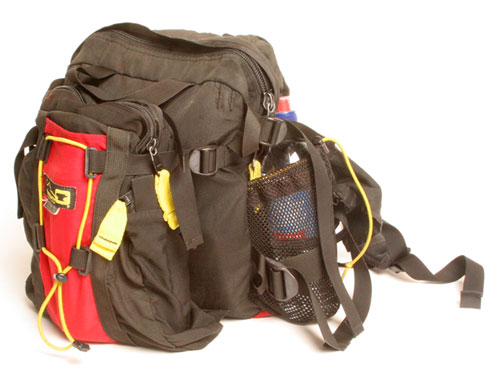 I looked at (literally) sixty bags before I went for the Mountainsmith Day lumbar pack (actually, a discontinued variant of the Day, the Backcountry Office; most of the specs and details are the same) and have had the same one for a decade. I don't work for them in any way- I just love these bags.
What are the things I like?
The most important factor was the carrying system. Mountainsmith's Delta Compression System allows you to cinch a light to medium load right into the small of your back, near your center of gravity. When you move, it does not flop or swing- it moves with you. Sometimes I forget I'm wearing the bag (and in this mode of carrying, you do wear the bag) until I sit down. I further outfitted the bag with Mountainsmith's Strappettes, shoulder straps that attach to the Delta system. I can now carry twenty lbs. or more, and the load is split between my hips and my shoulders.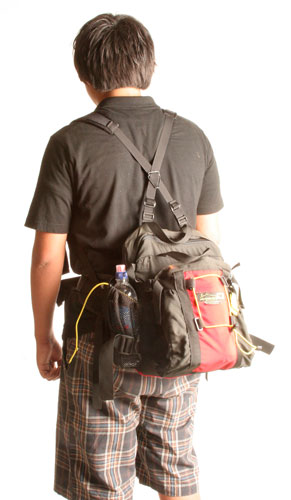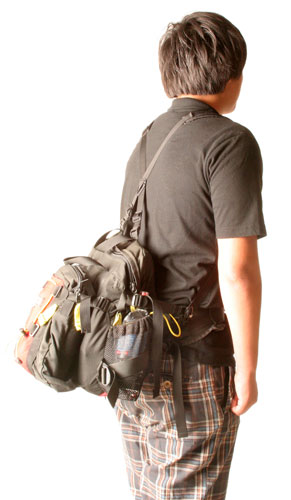 In Italy over the holidays, my girlfriend had to constantly think about the souvenirs and snacks she would buy- was she willing to carry it all around in her messenger? Once she realized how much I could carry in comfort…I was a very good sport about it. In a hurry, I could use one of the Strappettes to improvise a 'messenger-bag' style method of carrying. There are even grab handles for suitcase style carrying.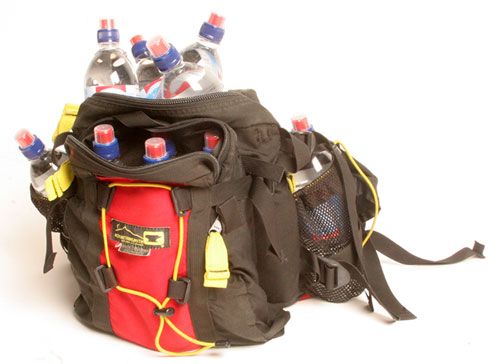 Another great feature is the 'stuffability' of the bag. The secondary pocket forms a U-shaped pocket supported by more compression straps, creating a quick hole for a sweater. The bungee cord on this pocket allows another place to stash something when your hands are busy. As a last resort, the water-bottle holsters on either side are a quick place to stash a phone or camera (my holsters are mesh, the newer pack's are solid nylon). The bag itself has a compression system unrelated to the suspension, cutting down the bag to the size of your load at the base. This is very helpful when you're carrying a laptop and you don't want it to shift. Dividers and a small, zippered sunglass/ticket pocket add to the possibilities. With 854 cubic inches of space, sometimes it just all fits.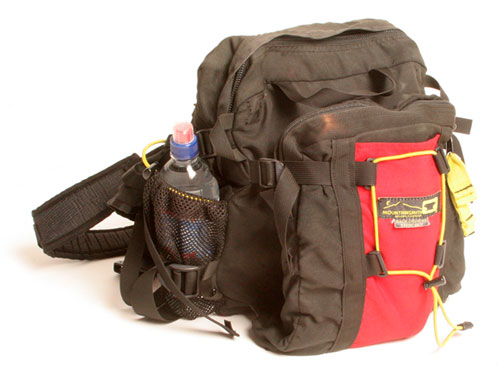 I like the look of the bag. It is a serious-looking bag! My girlfriend has complained about how the shoulder straps, waistbelt and bungee-cord can be alarming as you pass people in a crowded airplane- but she sure didn't mention this when I was carrying a statuette of Michelangelo's 'David' and 2 kg. of bread sticks…. In the plain black-on-black that I carry, it can be fairly unobtrusive…except for the yellow Mountainsmith tag and the bungee-cord. Isn't that what boning knives are for? Not to mention that the tag is reflective, offering an added touch of safety at night. A new bungee cord is less than a buck! If you're considering the Timbuk2, the color combinations probably won't shock you, but they have 35 choices available. The inside of the bag is bright yellow, allowing you to see the contents better at a glance.
Drawbacks- there are a few
If you are carrying the bag without shoulder straps, you'd better keep the load under 20 lbs. or your stomach will regret it. However, carrying 20 in a messenger bag is so painful, the comparison isn't fair.
You really should carry a spare 2-inch buckle for the waistbelt – buy one when you buy the pack!- because if it blows, you have a very nice…lunch-sack. In ten years, I've swapped out the buckle twice, never had one break.
When you use the Delta system, you quickly learn to take off and put on the bag the same way every time: loosen the Delta straps, then undo the waistbelt. If you do it another way, the bag won't ride correctly.
For those of you used to the 'messenger bag swing' to get at stuff, you'll get pretty quick at adjusting- like any new gear. Unless Vogue does a 'Survivor' edition, this bag will never be a fashion-plate.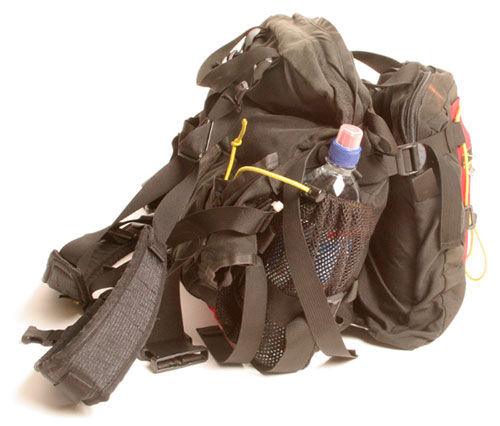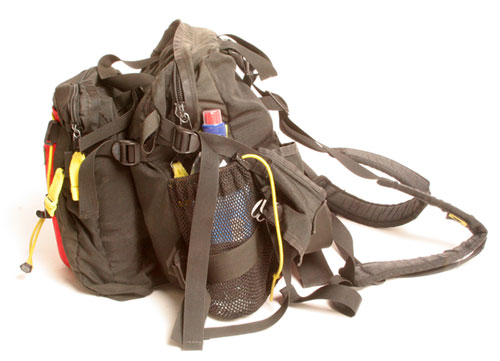 At $80, the Mountainsmith is in line with the Timbuk2 (between $65 and $105, depending on size, although your tester was- yikes!- $196!) and they wear like iron. I picked up my Strappettes for $10 on Ebay. My bag has been all over the world and has carried everything from bricks to a live kitten (there was a fire. 'Nuff said). The other bags sit in my closet- this is the one that gets picked almost every time. The only reason I'm thinking about a replacement is because Mountainsmith has introduced a new line of bags: same sizes, same shapes, but with recycled fabrics. That's pretty noble (although using my bag until it dies is the best form of protecting the environment, IMHO).
Product Information
Price:
80.0
Manufacturer:
Mountainsmith
Pros:

Bomber construction at a fair price
420d nylon, wears like iron
Loads feel half as heavy as they are (when adjusted properly) and stay put when you move
Four ways to carry the load: hips, shoulders, hips and shoulders or messenger
Three main compartments with 'stuffable' pockets
Compresses and expands significantly
Looks appropriate for men and women
Great customer service from an old-school outdoor gear company
Recycled fabrics available

Cons:

If it isn't adjusted properly to your body and the load, you won't get the benefits of the design
Proper adjustment can take a few seconds-
'Dangling Strap Syndrome' if you're not careful
Might be a little 'serious-looking' for a young professional