We use affiliate links. If you buy something through the links on this page, we may earn a commission at no cost to you. Learn more.
I remember this episode of "Roseanne" from years ago. The Connors were sitting at the breakfast able and Dan was yelling at Roseanne. The reason being, she was double dipping into the butter and leaving food crumbs in the bowl. I remember laughing and going, "I know, I hate it when someone does that!" May sound strange, but hey, I get annoyed by seeing someone's food crumbs in my butter. Here to possibly save "Dan" and me from the crumbs is the One Click Butter Cutter.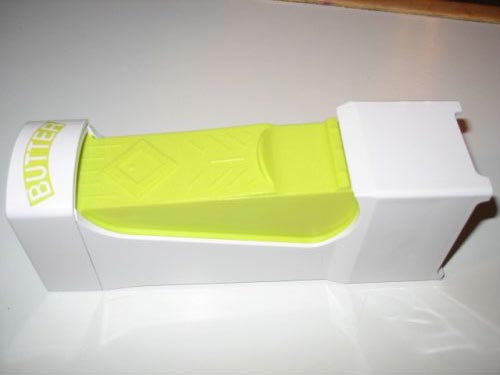 Product Specifications:
Stands approximately 8″ tall, 2″ long, and 3″ wide
Opening measures 1 3/8″ x 1 3/8″ and accommodates butter up to 5″ long
Available in green, red, blue, gray, yellow, and American Flag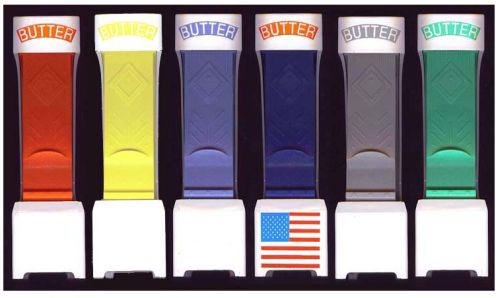 Ten years ago, Inventions for Market came up with a concept to combine a butter holder and knife into one device. After years at the drawing board, they came up with a simple way to slice butter and not have the butter exposed. In addition, it comes in a handy container that stores upright in the fridge. Pictures do not quite do this justice, so I have a little video to share:
http://www.oneclickbuttercutter.com/one_click_butter_cutter_demonstr.htm
If you noticed, he was able to easily insert the butter, click the handle, and eject a pat of butter. He would also shake and tip it backwards to make the butter fall. Looks pretty simple, right? Well, I used the device for approximately 6 weeks and did not always think so.
For starters, just inserting the butter was a tough task—and it has nothing to do with my naturally blonde hair.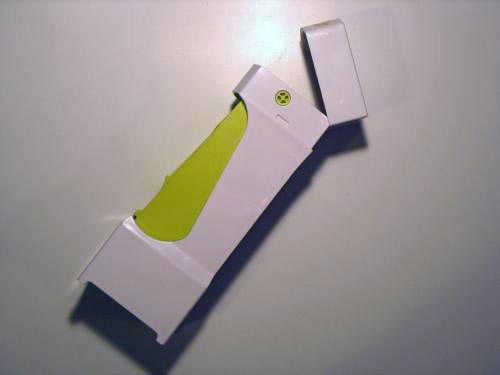 The directions state you just remove the top cap and flip over the cutter. Then lightly tap the device and an inner piece should easily fall out of the cutter.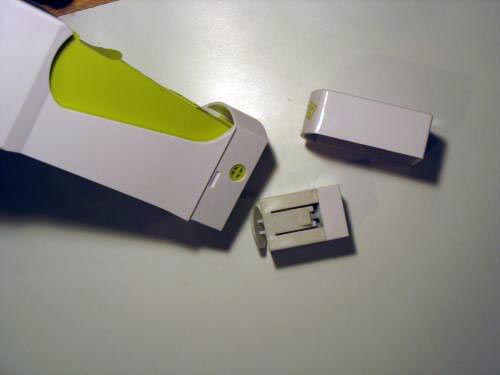 Since our home is a part-time Bed & Breakfast for visiting family and friends, we went through at least four sticks of butter. Each time I changed a stick of butter, I had a rough time getting the inner piece out. It would take a lot of shaking and manual pushing to remove it. It was not just me, either. I let other guests try it out, as well as my trusty sidekick Ronnie. All of us noticed it was difficult to remove the insert. But, I was able to make it work and use the One Click Butter Cutter.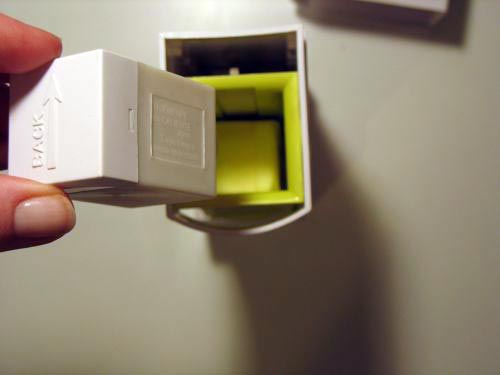 From there, I could start slicing the butter by gripping the device and squeezing. I found I had to use both hands to even slice the butter, though. The same was found with three women visiting my home. It just was not easy to push the handle. The three men testing noticed the cutter stuck when slicing, but could squeeze the device with one hand. Regardless of gender, all had to shake the device after slicing the butter. It was the only way to get the butter into the pan, on the bread, etc. Even then, we just hoped the pat would fall into the intended food. Occasionally, it landed onto the table or wrong side dish.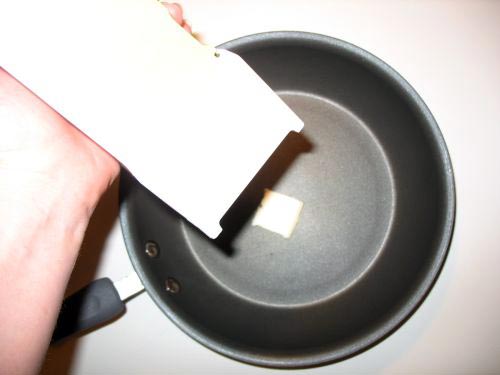 As I mentioned, I used the device for 6 weeks. I began working on my written review last week. Always the procrastinator, I delayed finishing my review so my family and I could enjoy the beautiful weather. In doing so, I was able to discover something new about the cutter…it broke! After all the testing, the little plastic insert snapped right off. My husband was cooking (yes, he's awesome like that), squeezed the handle, and the last pat of butter ejected. In addition to the pat was the inner plastic device. Here are pictures of the device before and after: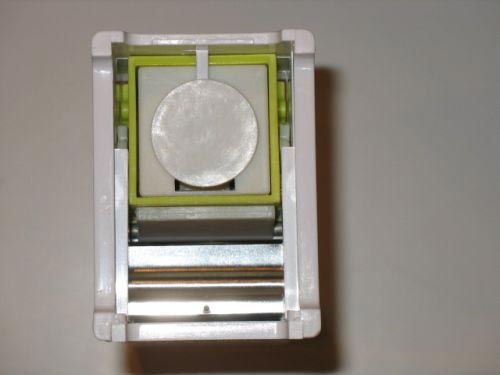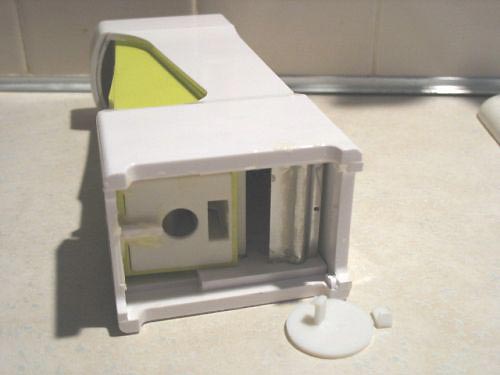 I looked online and parts are not available for ordering. However, there was an impressive clause listed online:
"Because of the high quality of construction and materials we provide a 100% money back guarantee.
If the One Click Butter Cutter arrives broken or breaks during normal usage we will refund your purchase price in full, including shipping and handling costs. Either of these two possibilities are very unlikely.
For record keeping reasons our guarantee is for only 6 months but you can be assured that your One Click Butter Cutter will last many years."
Since this was a free review item, I will not ask them to honor the guarantee.
Overall, I really like the concept of the One Click Butter Cutter, but wish it had not broken. It answered my neurotic desire to have no crumbs in my butter. I also found me using the device nearly every time I cooked. It was easy to quickly grab it out of the fridge, squeeze it, then return it to the fridge. But, with it being difficult to load the butter and eject the slice, I would have to recommend using an old-fashioned butter dish and knife. There just seem to be less complications with them.
Product Information
Price:
19.95
Manufacturer:
Inventions For Market
Retailer:
Inventions For Market
Requirements:

Elgin shaped butter (.75" inches long and 1.25" inches wide)

Pros:

Design allows upright storage in refrigerator door
No more crumbs in your butter
Slices perfect serving
Offers 100% guarantee if broken within 6 months

Cons:

Inner piece is made of flimsy plastic and hard to remove
Difficult to use cutter, especially by those with arthritis or small hands
Cannot order additional parts
Does not easily eject pat of butter