We use affiliate links. If you buy something through the links on this page, we may earn a commission at no cost to you. Learn more.
Cory at Spire USA contacted me a few weeks ago and asked if I would be interested in reviewing their latest product : The Torq – a laptop backpack. Although I currently use a backpack bag for all my camera gear – the Crumpler Karachi Outpost backpack – and I only have one back, I thought I would give it a try. What could it hurt (aside from my back)?
At first glance I thought this bag probably wouldn't work for me. Aside from my aforementioned concern about having only one back, this bag looked too small to house all the stuff I carry with me on a daily basis. When I took it out of the box it was compressed flat. This was misleading.
The bag/backpack actually has three full length vertical pockets – each with considerable space. The center pocket comes with a variably sized laptop sleeve. You select one of eight boot sizes to fit your laptop when you order the Torq.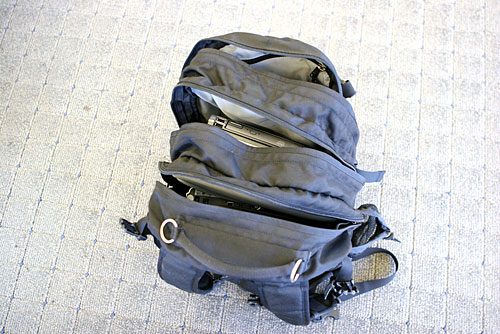 I typically carry two laptops and I found that both fit easily into the center pocket. I put the Toshiba I own inside the laptop sleeve and slide the Dell machine provided by my employer right in there next to it.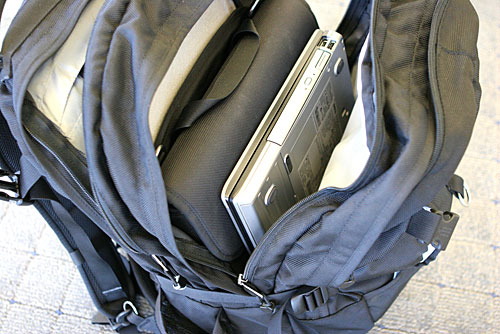 In the front-most vertical pocket I carry the two laptop power bricks and a mouse. There is plenty of room in there for more stuff!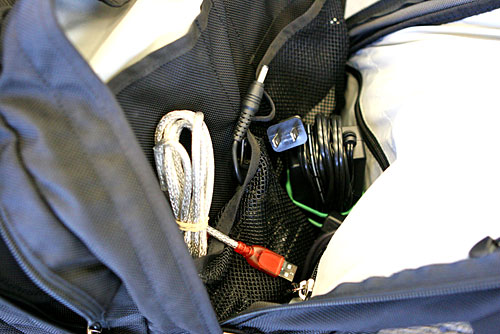 The front vertical compartment also has a nice selection of mesh, nylon, and zippered pockets to help you organize your equipment.
In the rear-most vertical pocket, I carry my 6×8 Wacom tablet, a mouse pad, and a fair stack of papers, CDROMs, etc. Again, there is room for a lot more stuff here.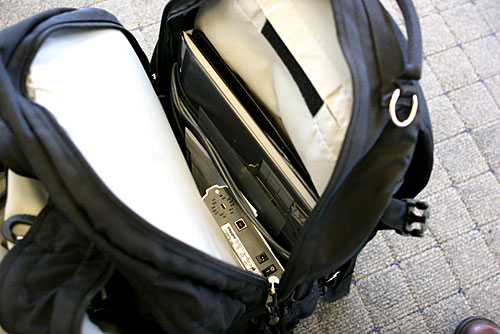 There is also a roomy front pocket which will expand to carry smaller items like card readers, office supplies, etc.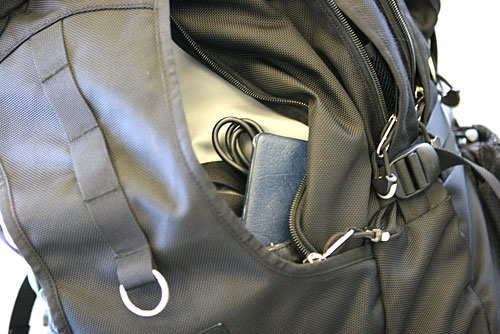 After you get everything packed into this expandable pack, you can bind everything together with the dual sets of straps on the sides. Each side has a permanent adjustable strap located about a third of the way up.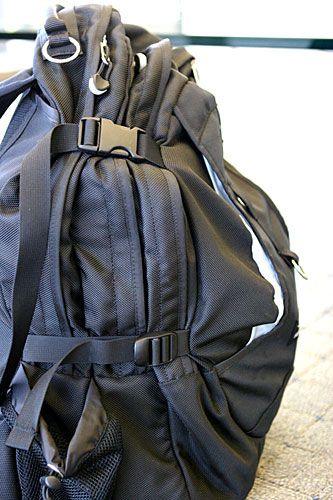 Each side also has another set of adjustable straps with quick disconnects located about a third of the way down from the top.
Spire has done a good job creating a flexible design which allows you to expand to contain your gear while still keeping everything tight inside so it doesn't shift around when you are moving. I think I could reasonably double the amount of gear I am currently carrying, but this is not necessarily a good thing.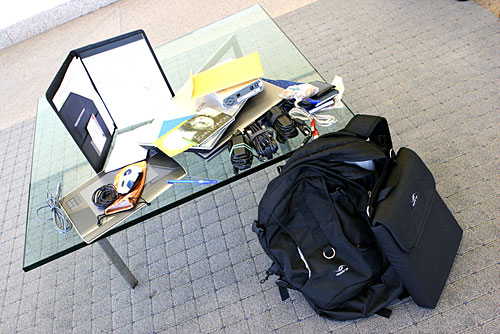 Let us talk about straps. The Torq comes with four different strap systems. You can choose which way you prefer carry the bag and stow away the unneeded straps in the pockets provided for this purpose.
The removable laptop sleeve is held in place inside the Torq by a Velcro pad on the back of the sleeve mating to the solid Velcro backside of the center vertical pocket. You can just pull it out and attach the included nylon strap to the two D-rings located at the top of the sleeve.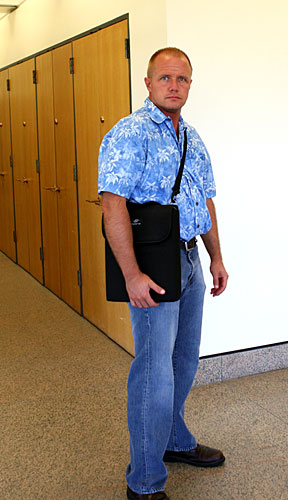 Of course the Torq comes with standard padded backpack straps. These straps are fastened at the bottom with quick disconnects. This allows you to quickly stow the straps away inside the gap between the bag and the rear padding.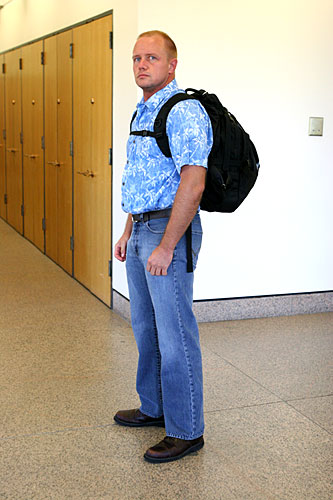 The standard backpack straps are easily adjustable. They also come with a sternum strap which is adjustable vertically as well as for tension. Each has a small horizontal nylon strap and one has a medium sized D-ring where you could hang small items.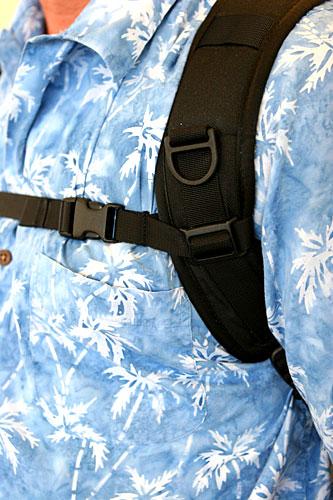 Spire has also included a padded waist strap with a large quick disconnect buckle which can be used to take some of the load off of your shoulders. This strap can also be stowed in the gap between the pack and the rear padding when not in use.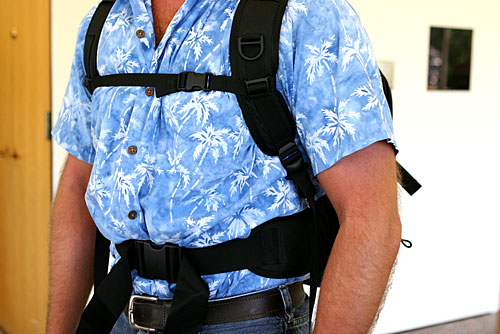 Finally, the Torq comes with a fairly wide, padded shoulder strap which can be connected to the bag in a number of ways. The bag has metal O-rings located at all four corners. I prefer to connect my shoulder strap to the two O-rings at the top of the bag. You could carry the bag on its side – or even upside down if you are feeling wild and crazy!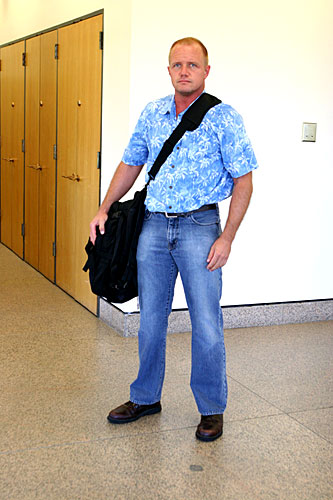 Note – carrying a fully loaded Torq backpack upside down is not recommended by either the author of this review or The Gadgeteer. Please do so at your own risk.
This shoulder strap allows me to carry my Crumpler Karachi Outpost backpack simultaneously with the Torq with minimal discomfort – said discomfort having more to do with the overall weight of my gear than any design issue with either bag. The amount of gear I carry around with me is really ridiculous and seems to grow over time. I am like the old woman in the Labyrinth who has accumulated a lifetime of junk on her back.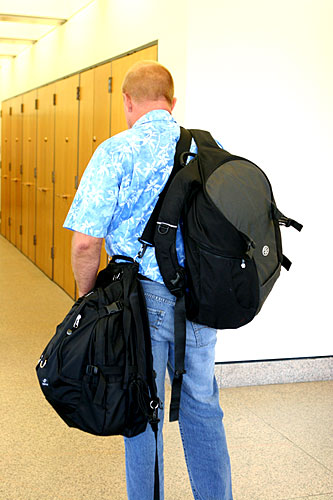 This is not your problem and I apologize for bringing it up.
The bag also includes two nylon mesh side pockets with synch straps. These are suitable for water bottles, cell phones, etc. I use one of mine for my PDA. At the top you will also find a round, hard rubber, nylon covered grab handle.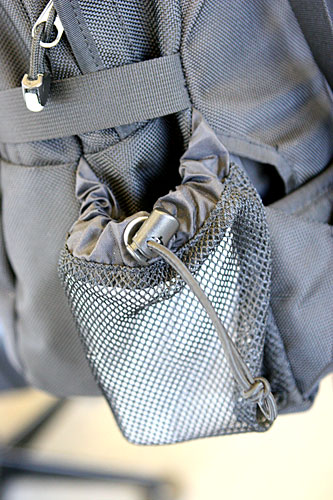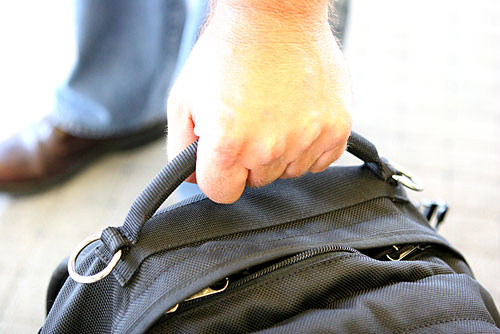 Now it is time for specifications. The backpack's external material is primarily 1680 Denier Ballistic Nylon. The interior pockets are lined primarily with 210 Denier light gray nylon. The bag weighs appx. 2.9 pounds and has overall dimensions of 19.5″ x 14.5″ x 9″ unexpanded (49.5cm x 37cm x 23cm). As mentioned earlier, the laptop sleeve, included in the price of the bag, is variable — based on the size of your laptop.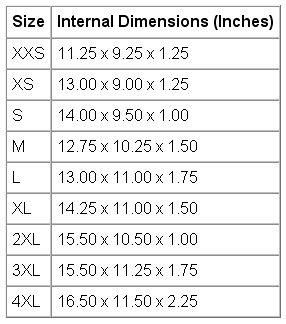 You can purchase the Torq for $170 in one of the following color schemes: Arctic Gray/Black, Chili Red/Black, Midnight Blue/Black, Stealth Black (as shown in review pics). I prefer the 'stealth' plain color schemes as I am not trying to draw the attentions of any would-be thieves out to run away with my gear.