We use affiliate links. If you buy something through the links on this page, we may earn a commission at no cost to you. Learn more.
Let's start with a quick quiz:
1. Do you use the Internet Movie Database site a lot?
2. Are you often involved in conversations that include questions like "What was the name of that movie? You know, the one with Norm Macdonald in it?"
3. Do you often wonder what critics thought of some obscure movie you found at the rental place because all the good movies are gone?
4. Do you wish you had a convenient way to track movies you want to buy or rent, or that you already have?
5. Do you wish you knew what the top 50 comedies of all time are (perhaps while stalking the rental place aisles)?
If the answer to any of these is 'yes', you may be a candidate for Landware's "Leonard Maltin's Movie Guide 2007", a nicely packaged database suite for Palm OS and Windows Mobile. The program includes:
– Movie Guide, a brief description of over 21,700 movies. This database includes awards won, formats released on, ratings, and other attributes.
– Film Finder, a way to search the database for director, producer, actors, genre, awards, or attributes.
– Movie Events, a list of DVD releases, film premieres, and film festivals that updates when you hot-sync or update wirelessly.
– Popular Movie Lists, the top dramas, action movies, sci-fi flicks, and more. Even the top 50 movies of each decade!
– Personal Records, a place for you to record your own top 20, movies to rent or buy, and more.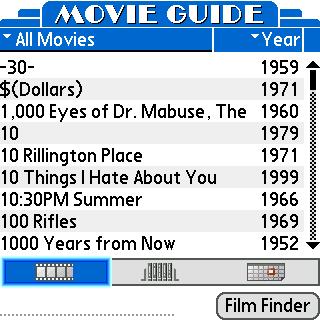 Movie Guide 2007- Main Screen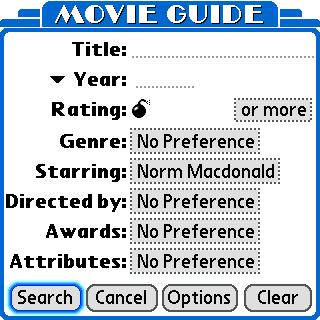 Film Finder feature, actor Norm MacDonald as an example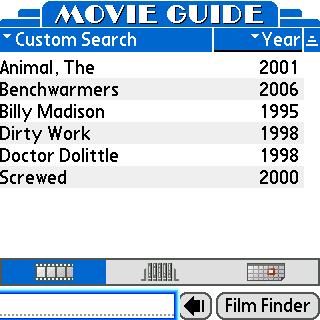 Film Finder- Norm MacDonald's movies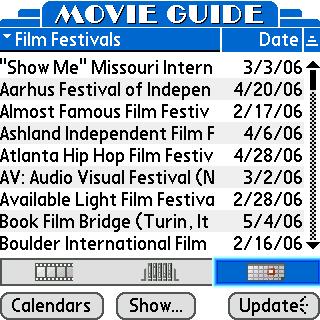 Movie Events feature- film festivals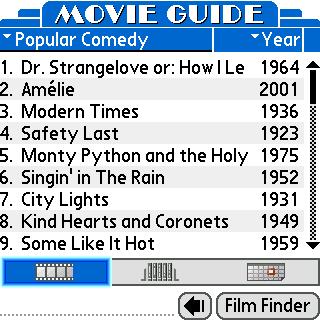 Popular Movie Lists, comedies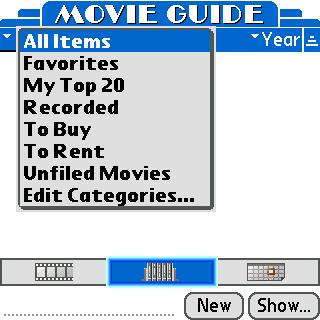 Personal Records options
Each of these features is almost completely integrated. While surfing the list of top children's movies, you can pull up the review of one and then pull up a list of other movies the director made and more. The interface is simple and very intuitive. Considering all it does, it needs very little documentation and what it does have (in the program or on-line) is well-done.
My favorite part of the program is its usefulness in the rather mundane job of finding movies. With the help of this program, we have found some pretty darn good 'unknown' movies to watch- "Kitchen Stories", "The Green Butcher", and more. A real plus when you are cruising the rental store and getting bumpkis otherwise!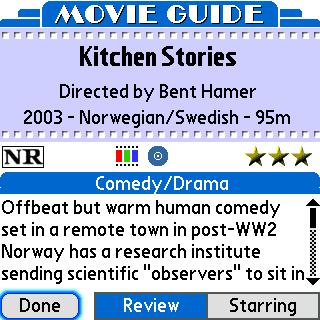 "Kitchen Stories" review
Notice how just from the review screen you learn quite a bit- director, year, nationality, the rating, color or B&W, media availability (the DVD icon), and a star rating. One of the nice things about using one reviewer is that the star ratings tend to be consistent throughout the database.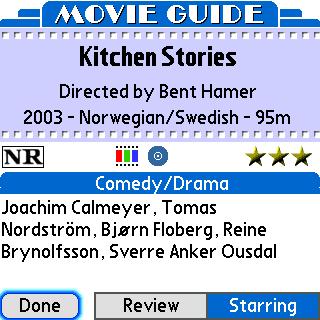 "Kitchen Stories" main cast
I like this program, and have used it for a few years now. For others who have used it for a while, you may wonder about the 2007 version. The biggest difference, of course, is that it adds 460 new movies. It also features a slightly overhauled interface and a few minor tweaks. Is it worth the upgrade? That is up to you, but personally, I generally upgrade every other year- the cost is about the same even if you skip a year or two (upgrades run $14.95 compared to the full version's $19.95).
The program is big- 7 files taking about 5M of space. It does not seem to draw a lot of resources, and you can park two of the bigger files on a memory card to save space. The Palm version can run on anything with enough memory and OS version 3.5 or later. The simple graphics are clear on most screens. A conduit is loaded upon set-up that syncs movie events and updates reviews, but does not add new movies.
This program really doesn't have many shortcomings. I don't always agree with Leonard Maltin's reviews perfectly, but in general I tend to appreciate his viewpoints.
Product Information
Price:
19.95
Manufacturer:
Landware
Requirements:

Palm OS, Pocket PC, Windows Mobile Smartphone

Pros:

Good interface and controls
Genuinely helpful program
Good support

Cons: