We use affiliate links. If you buy something through the links on this page, we may earn a commission at no cost to you. Learn more.
I am simply amazed at how cell phones have evolved from the "portable" bag phone to today's vast selection of featured laden mobile phones. Built in cameras, music players, text messaging and voice dialing are just some of the options available in mix and match feature laden phones. Add to the mix WiFi and Bluetooth, push email, robust calendar and contact management with Internet access plus a large catalog of third party software makes today's smartphone a compelling reason to leave the laptop at home.
The Samsung SGH-i320 Windows Mobile 5.0 Smartphone has all this and more packaged in a well-designed form factor in a thin and compact package. When I first received the Smartphone to review for the Gadgeteer, I was in awe of how every aspect of this Samsung was smartly engineered to achieve its compactness and near perfection.
Hardware Specifications
Processor: Intel ARM920T PXA272 416 MHz
Standard: EDGE, GPRS Class 10 (900/1800/1900 MHz)
Camera: 1.3 Megapixel Camera
Display: 2.2″ 240×320 65K Color TFT
OS: Windows Mobile 5 for Smartphone
Features:
Push Email (Messaging & Security Feature Pack)
QWERTY Keyboard
Video Recording & Messaging (MPEG4 / H.263)
MP3/ AAC / AAC+ / WMA/ WAV / OGG
Dual Speaker / Speakerphone
Bluetooth / USB / Voice Recognition
Document Viewer
Memory
120MB embedded, External Memory (microSD)
Size: 111 x 59 x 11.5mm
Weight: 95g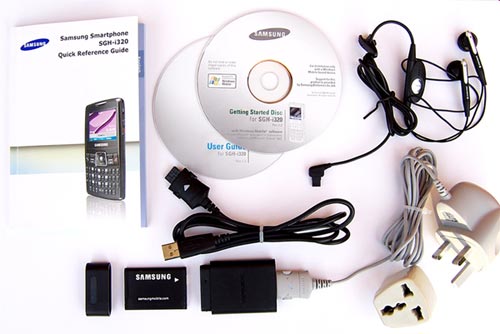 Package Contents
i320 Smartphone
Quick Reference Guide
Microsoft Windows Mobile Getting Started Disc
User Guide on CD (PDF)
Wall charger with travel adaptor
Spare battery with case
Proprietary sync/charge UBS cable
Stereo Headphone connector
The installation of ActiveSync to a Windows XP PC was fairly easy with no flaws or interruptions.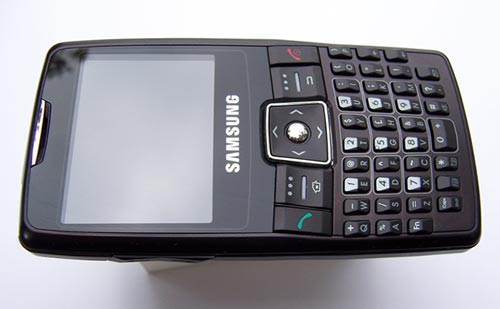 Display: 2.2″ Landscape 240×320 65K Color TFT
While the screen is small, the resolution is very sharp with crisp font rendering. I found that the screen is nearly impossible to read in bright outdoor settings. Remembering what key to press to unlock the device will light up the display from sleep mode to a much more readable active mode; otherwise when the phone is inactive with the screen dimmed out, reading can be difficult in outside settings because of the reflective screen. The small screen with miniature icons requires visual concentration, which is certainly not advisable in a moving vehicle for safety sake. However, there is a launcher feature than solves this problem.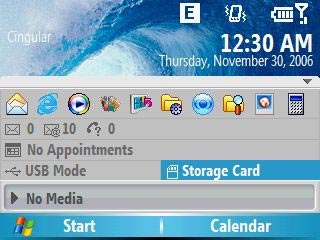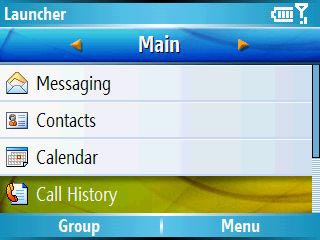 Increasing the font size to large will render user inputted information such as contacts, emails, and call history much more readable.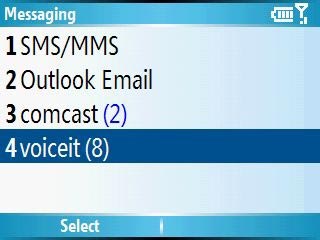 The Samsung uses the Windows Mobile 5 for Smartphone operating system. I've been used to the Palm OS user experience with the Palm Treo 650 (and the occasional use of either the stylus or finger on the touch screen), so it took a small learning curve to operate the various commands and screens using the D-Pad. In short time, the D-Pad makes navigating very easy around the menu tree with a thumb Up, Down, to the Right very easy like the Mac. Point. Click. Double Click.
Features:
Push Email is a big plus if you require a steady diet of email from every fifteen minutes, half hour, hour, two, six hours and once a day. Once the email is pushed, the Samsung sends an alert of your choosing. Of course, you can send and receive anytime, but having the Push Email functionality is a big plus for those who are overly compulsive on checking email. I set my business account to check for email every fifteen minutes and personal less often. Having push Email was freeing for added productivity set it and forget it. The individual alerts will signal incoming Emails. The setup of email accounts mimics Outlook on a desktop PC, so it was quick and easy. Protocols supported are IMAP, POP3 and Microsoft Exchange.
QWERTY Keyboard:
Typing with the keypad proved to be much easier in part to the angled keys; there are handy functional keys for easier input such as a number lock button, a # key to trigger the phone into a silent or vibrate setting as user defined in the general profiles and a messaging key for access to email account(s), Outlook Email and SMS/MMS. The keypad was solid to the touch.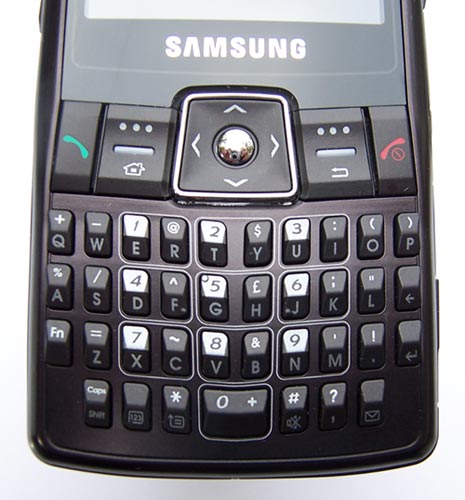 What is impressive is the ease of dialing. There is a outline grouped around the center keys which in effect making dialing easier and less error prone. The adjacent buttons respond to the number inside the circle. Pressing E or R yields a 1, T or Y yields a 2, etc. Pressing the keys activates the bright white backlit keys and large color font in the display screen. The phone also searches the contact list by letters as well.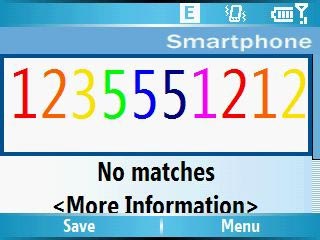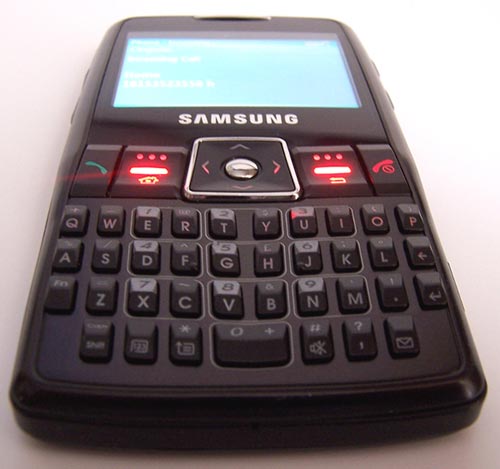 When a call is coming in the soft buttons above the keypad flashes red.
Size:
111 x 59 x 11.5 mm Samsung
112 x 58 x 23 mm Treo 650
89 x 53 x 13.9 mm Motorola RAZR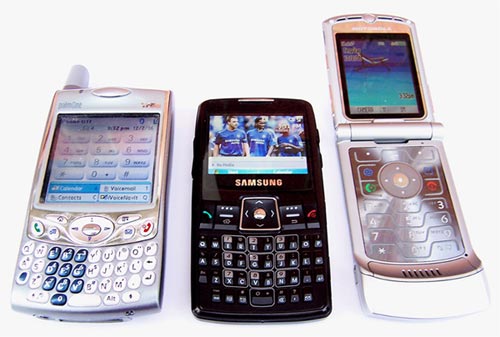 Left to right: Treo 650, Samsung i320, Motorola RAZR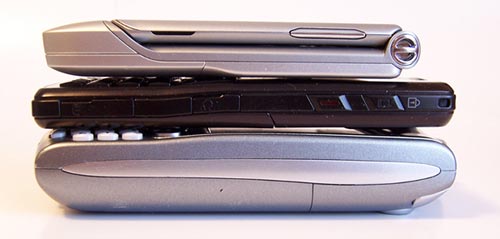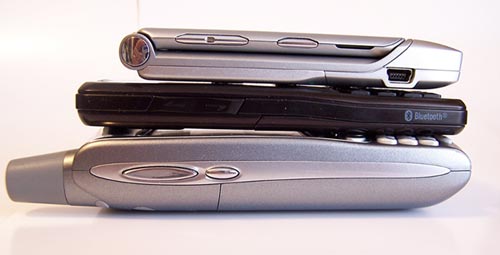 Left to right: Treo 650, Samsung i320, Motorola RAZR
Here are comparison photos next to a Palm Treo 650 and Motorola RAZR for perspective as to size and slimness of the Samsung.
Weight
95 g Samsung
179 g Treo 650
95 g Motorola RAZR
Memory:
The Samsung was no slouch on memory with 128MB ROM standard. After installing the 3rd party application Pocket Express by Handmark, 93MB of storage memory was available on the device itself. With a microSD expansion card slot safely tucked away underneath the battery cover, this device will handle additional third party software with plenty of room to store MP3s, documents and photos. Total Storage: 122.54 MB.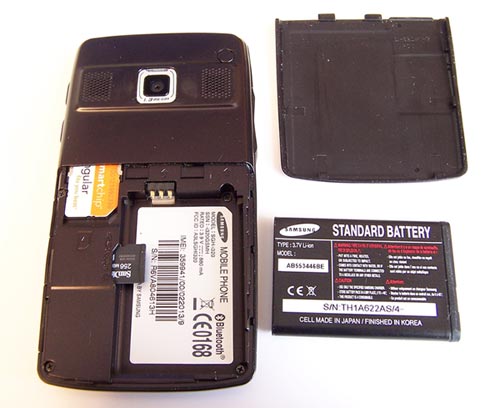 The battery has to be removed to access the microSD card. I actually like the location as there is no opportunity to lose the sd card by accidentally ejecting the card. The battery casing was extremely snug and it took a good grip with both thumbs to slide the case open.
The processor is the Intel ARM920T PXA272 416 MHz. I did not notice any speed issues particularly with downloading email or navigating any of the programs. Available Memory: 26.33 MB; Total Memory: 52.78 MB.
Functionality:
I actually liked the thin design as it fits well in a pants pocket and is light enough to carry in a shirt pocket (with the button fasten.) I fear dropping or misplacing the Samsung because of its lack of bulk. The rounded sides and smooth finish made the phone easy to hold for lengthy phone calls.
The black finish as to be expected picked up lots of smudges, static lint and fingerprints. On the backside there were noticeable wear and scratches on either side of the camera and lower corners. But the screen was encased in reflective glass; there was no evidence of scratches. Because of the flatness of the phone, activating the keylock was a must to prevent accidental calling or triggering of programs.

On the left side there is a rocker arm for earpiece and speaker volume. The volume was adequate in noisy environments. To mute the call ringer when a call comes in, press once. Press and hold to reject the call and send to voicemail.

At the upper right is a multi-purpose button that activates a Quick List menu: Power Off, Wireless Manager, Key Lock, Device Lock and other profile settings.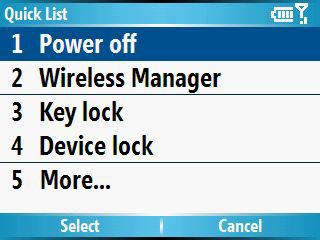 The button underneath can be programmed to launch applications. Press once (in my case for Contacts) and Press Hold to launch the camera.

On the right side at the bottom is a nylon connected hinge door that flips up for access to the sync/charge connection port. The headset jack door is located in the middle. Having these ports covered is a good attention to detail to protect the ports from accidental liquid spills, dust, lint or dirt. The headset jack is non-standard and the sync/charge cable is proprietary, which means never leaving those vital components behind. The fit was not flimsy and finish of the door ports shows good attention to the manufacturing design.
On the backside of the phone there are stereo speakers with SRS WOW TXT technology settings to fine tune playback of MP3/ AAC / AAC+ / WMA/ WAV / OGG files via Windows Media Player. The sound is fair as to be expected for a smartphone.
In between the speakers is a 1.3 Megapixel Camera with a small horizontal flash.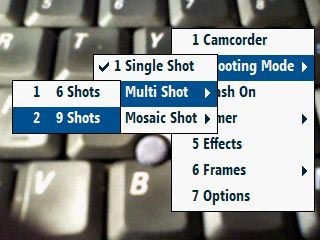 The camera's various modes include a camcorder function; single shot and multishots of 6 or 9; mosaic mode of 2×2 or 3×3; flash on or off, 3 timers settings of 2.2, 3.6 and 4.10 seconds, sepia, black and white and negative in sizes from 320 x 240 or 176 x 144. This is not your standard camera thrown in as afterthought!
My carrier is Cingular, so I was able to transfer the SIM card easily. The device is tri-band GPRS Class 10 (900/1800/1900 MHz) with good signal strength. EDGE data is supported here in the United States with Cingular and T-Mobile; web browsing was very good accessing GMail and general surfing.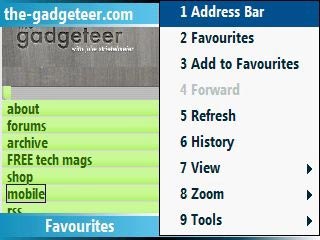 The Bluetooth 1.2 radio paired with ease with my Palm Treo Bluetooth headset. There is no 3G radio or WiFi functionality. But I have a $40.00 a month all you can eat data plan so lack of WiFi was not an issue for me.
There was one hurdle to clear. Setting up Internet access was not easy as the Samsung did not automatically recognize the settings needed to access the Cingular settings. However a quick call to Cingular's Customer Service (with no hold time at 12:30 AM!) yielded the information needed to quickly access the Internet:
Access Point: WAP.CINGULAR
User Name: [email protected]
Password: CINGULAR1
Primary DNS: 0.0.0.0
Secondary DNS: 0.0.0.0
IP Address: (leave blank)
THE SEMI UGLY:
So let's talk about the battery. The Boy Scout motto is applicable… Always Be Prepared! With general web surfing, push email throughout the day and a few phone calls, the battery quickly drains down to about 5 hours of usage based on the strength meter reading. However, I found that that it's actually 7 hours before a recharge is absolutely needed – just like the gas needle on your car that sits on empty! Fortunately, the Samsung will prompt you that the end is near with a warning alert.
What I really like about Samsung is that an extra battery is included in a plastic case that has a recharge insert. Nice touch that all manufacturers should offer regardless of battery life.
A car charger (not included) is a must have accessory to stay powered at all times and to not risk losing the extra battery.
Software:
Samsung packages the phone with applications such as Picsel Viewer (that allows viewing of native Word, Excel, PowerPoint, PDF documents and image files for email attachments), Windows Media Player, World Clock, WAP browser, Smart Converter, D-Day (for birthday/anniversary events), SIM Manager, Stop Watch, Task Manager, File Manager, and the Program Launcher. The customizable Program Launcher makes navigating the Samsung a breeze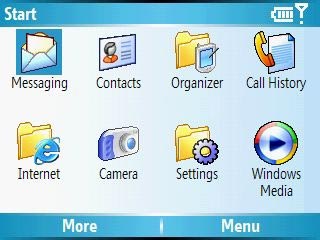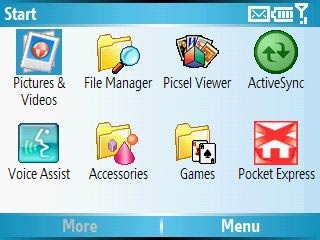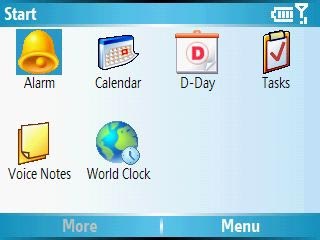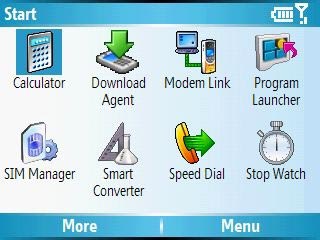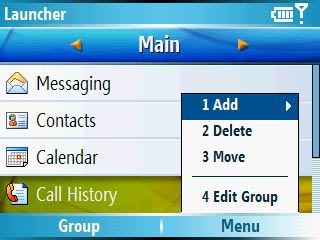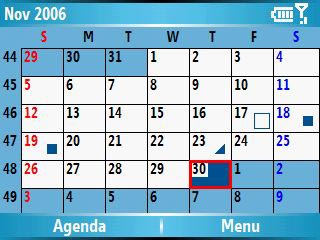 Conclusion: This is my first experience with a Windows Mobile 5 based phone and anyone using this Samsung SGH-i320 will quickly find out that it an exceptional phone with plenty of features. The push Email, solid construction, light weight, memory, reliability and feature sets will give a diehard Palm enthusiast reason to make the switch. I'm impressed as this Samsung SGH-i320 sets a new standard for those wanting to purchase or upgrade to a new smartphone to strongly consider the new form factor in thinness (like the Motorola Q) and functionality. Unfortunately, the SGH-i320 is available in Europe and South East Asia; Cingular US customers will see a similar phone in the introduction of the Samsung Blackjack. If the price is right (for example, around $200 with a 2 year contract) I would not hesitate to make a switch even if the SGH-i320 was available for $499 (via Amazon) USD unlocked. This phone from Samsung is that good.
Product Information
Price:
400.0
Manufacturer:
Samsung
Pros:

Compact form factor
Customizable settings & features
Call quality
Dual speakers
Good camera
Web browsing is a pleasure
Lots of extra software
Excellent phone for converting fans of Palm OS to Windows Mobile OS

Cons:

Fair battery life (offset with extra battery)
Screen hard to see in sunny conditions
Not quad-band, no 3G support
Earpiece volume could be louder