We use affiliate links. If you buy something through the links on this page, we may earn a commission at no cost to you. Learn more.
I'm a sucker for IQ tests and 'brain building' programs, which considering that I am a major idiot (at least according to my very intelligent kids) is probably a waste of time. Recently, I fell in love with the Nintendo DS game 'BrainAge'. This is a real tragedy since I don't have a Nintendo. (Hmmm, this may be a sample of why my kids call me an idiot!)
In my search for a Palm version of BrainAge, I found Filao Software's 'Advanced Brain Trainer' (ABT), which claims on it's website:

"Stimulate all aspects of your mind in a fun and rewarding form of entertainment.
Various and fast-paced mental activities train different aspects of your brain:
memory, focus, reaction time, logic etc… Choose your coach who will analyze your results,
motivate and guide you through your mind's enhancement."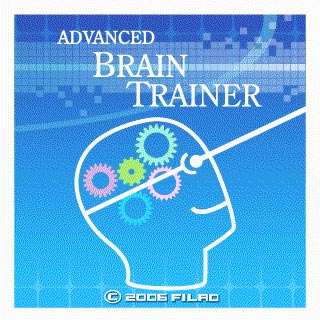 Opening screen
This is not so much a game as a training program, and the ABT takes the responsibility seriously. After a quick language selection screen you are presented with your first coach- Dr. Ann Winters, who prides herself on being rather strict.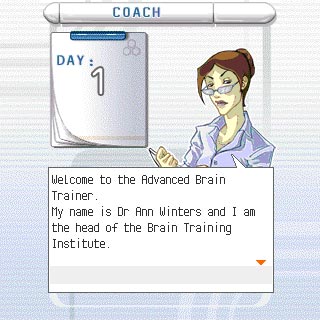 Dr. Ann Winters
Later, you are introduced to the other coach, Dr. Bill Ferson, who claims to be more intuitive.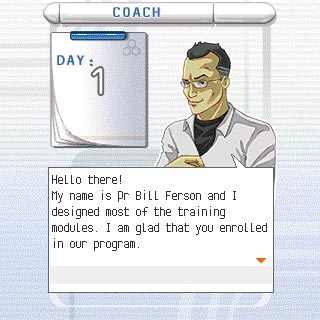 Dr. Bill Ferson
Once you get started, they are going to run you through a series of puzzles- quoted here from the website:
– Speed count
– Drawing over
– Shopping list
– Four Aces
– Parking Check
– Memo square
– Shape counter
– Color Algebra
– Cool Cat
Most of the puzzles use a similar format- three screens show the set-up, the puzzle, and an answer screen. For example: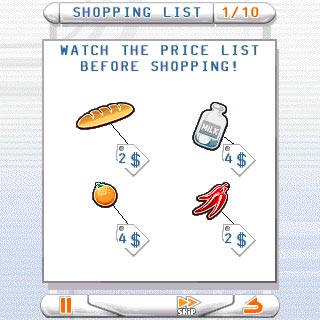 Shopping List- Prices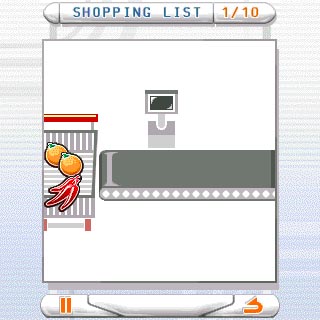 Shopping List- Scanning (Note- some items are not in the shot!)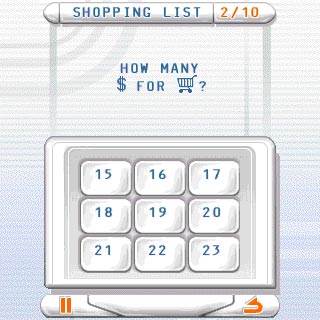 Shopping List- Question
OK, so it looks easy here! In actual play, it is a lot of info to juggle, and the final question may be something about 'how many bananas are in the cart?' In fact, my personal challenge with this program is the rather heavy short-term memory demand. Here are the screens for another game, 'Drawing Over':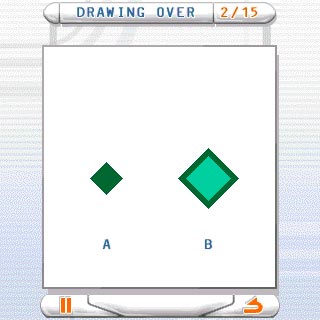 Drawing Over- Shapes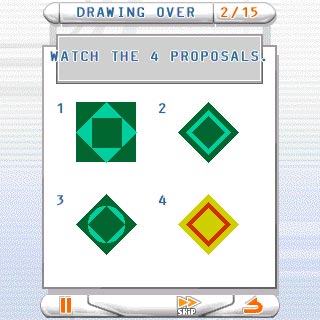 Drawing Over- 'Proposals'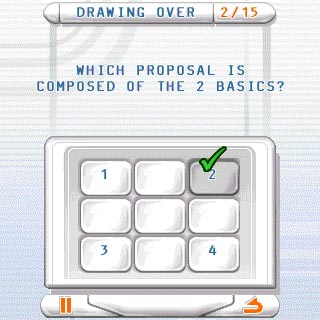 Drawing Over- Answers
After a few puzzles, you get scored: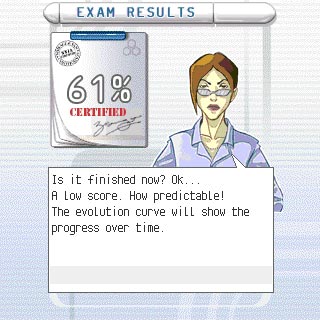 Scoring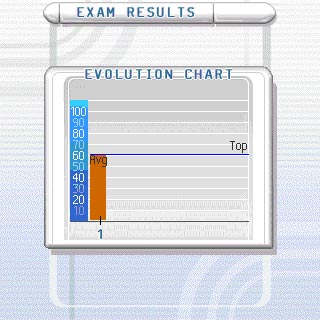 Training Chart
The game expects you to return every day once it is started. Coach Ann will nag you mercilessly for missing, while Coach Bill is very sad and disappointed in you. Once you get going, you can take exams for scores, use the practice mode, or go to the Arcade Mode and see how few errors you can make.
Advanced Brain Trainer is $14.95 from its home site (above) or several other sources, or you can try the demo at Handango. It runs on a variety of platforms and requires Palm OS5. It is not too big of a file at 1.74M, and runs well on my Palm Tx. Ordering from the site offers a 30 day unconditional guarantee and other perks.
I have several problems with this program:
– The text boxes are often awkward, possibly because the company is headquartered in Paris.
– It takes a rather significant investment of time and effort, and nags if you cannot keep up.
– It seems to test short-term memory more heavily than problem-solving skills.
– There is not a quick version you can show friends or challenge other people with.
– The puzzles themselves are not real exciting- they do not motivate me to play by being entertaining.
– I often felt like I should toss out the first few times I played any game because it usually took a while to figure out, there are not a lot of instructions or tutorials here.
All in all, I think I am going to keep looking for a more BrainAge-like game to keep on my Palm.
Product Information
Price:
14.95
Manufacturer:
Filao Software
Retailer:
Filao Software
Requirements:

Palm OS 5.0
1.74M free space

Pros:

Used properly, it probably WILL improve your brain
Good return policy

Cons:

Awkward English
Significant time commitment
Nagging
Not inherently enjoyable to play