We use affiliate links. If you buy something through the links on this page, we may earn a commission at no cost to you. Learn more.
As The Gadgeteer, I feel like I am not doing my job if I don't have the latest and greatest mobile phone in my pocket, but when it comes to my landline phone, it is a 2yr old 2.4GHz boring Panasonic answering machine / handset. Whee… You know me though, I'm always up for trying something new, so when the folks representing Vtech asked if I would like to test some of their phones, I said sure!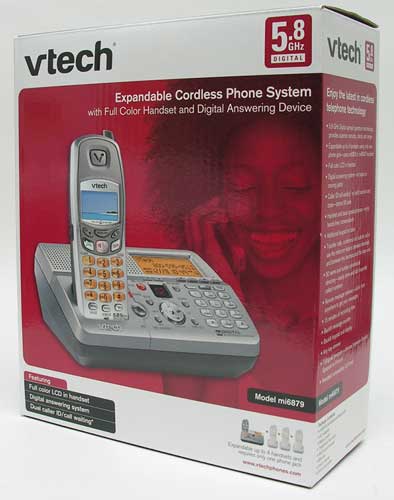 They ended up sending me the mi6879 Expandable Cordless Phone System, with an integrated answering machine. The main gee whiz feature of this device is the full color handset display. More about that in a bit. First let's show the requisite hardware specs.
Hardware Specs
Frequency control: Crystal controlled PLL synthesizer
Transmit frequency: Telephone base: 5725-5850 MHz, Handset: 2400-2483.5 MHz
Receive frequency: Telephone base: 2400-2483.5 MHz, Handset: 5725-5850 MHz
Channels: 95
Size: Handset: 141mm x 49mm x 35mm, Telephone base: 177mm x 120mm x 78mm
Weight: Handset: 141 grams, Telephone base: 385 grams
Power requirements: Handset: 600mAh Ni-MH battery, Telephone base: 9V DC @ 600mA
7.5 hour talk time, up to 3 days standby time
Memory: Directory: 50 memory locations, up to 32 digits, 16 characters per location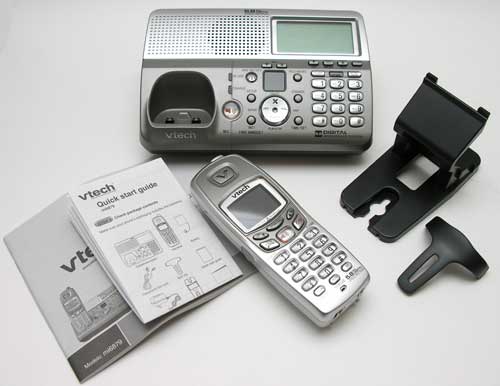 Package Contents
mi6879 handset and base station
AC adapter
Battery pack
Telephone line cord
Wall mount bracket
Belt clip>
User's manual
Quick start guide
The mi6879 is a compact system that doesn't have much of a footprint when situated on a counter or desktop. Wall mounting is also an option with the use of the included bracket.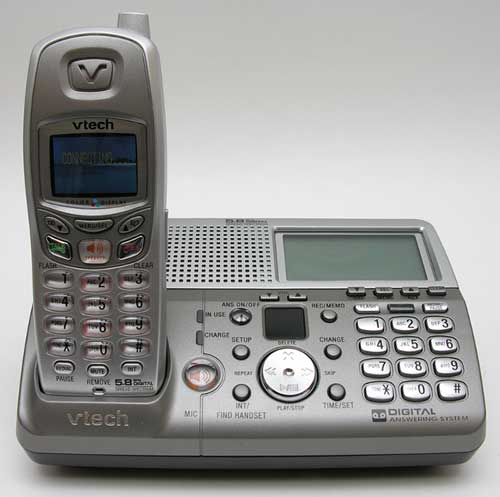 The base unit and handset are constructed of Grey / Silver plastic, so that it can blend in with almost any decor.
You'll notice that the base unit has a full keypad. You can use it as a speaker phone when the handset just happens to be in the other room and you're too busy or lazy (that would be me…) to get up and search for it when a call comes in.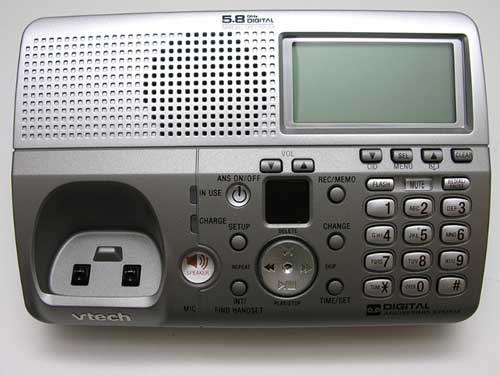 The mi6879 is an expandable system. This means that you can purchase additional handsets (up to 4) and set them in different areas of the house. The best part is that you only need 1 phone jack (which the base unit is plugged into). The other handsets just require an electrical outlet for charging. Handsets compatible with the mi6879 are the mi6803 and mi6807.
The answering machine part of the system is easy to use. There are individual buttons to record the greeting, set the time, etc. No tapes are required to record incoming messages, as it is all digital. The mi6879 can record up to 15 minutes of messages. That seems a bit low to me… I guess I have long winded friends ;o) I'd be afraid that if I was gone on a vacation for a week, that the memory would fill up.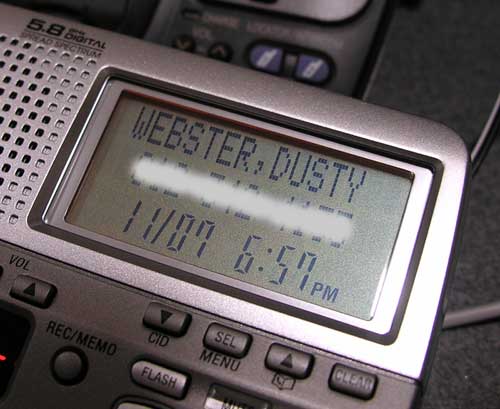 The base unit has a nice large display that is easy to read. Pressing one of the buttons on the front will enable a Orange back light for several seconds.
I was happy to learn that even though the base station does not have a place to install a battery for power backup, that it does have some type of backup feature for power failures. I unplugged the base from the AC outlet for 10 minutes and when I plugged it back in, my greeting, call log, directory, and voice messages were all still there. The only thing that wasn't saved was the current time.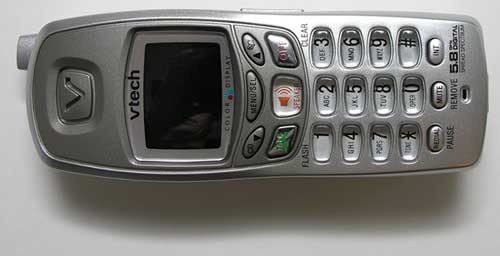 The handset is compact and comfortable to hold in your hand, but almost too small for propping between your ear and shoulder. That said, it is compatible with 2.5mm wired headsets. The antenna is a short stub that does not extend.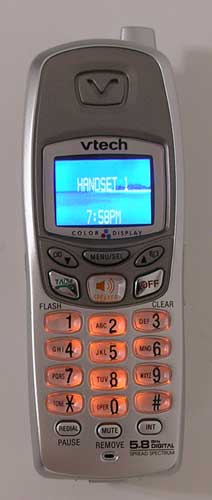 The keypad lights up so that it is easy to see in the dark. The bright color display is also easy to read in most light conditions. Like the base unit, the handset also has a built in speaker phone.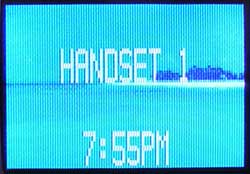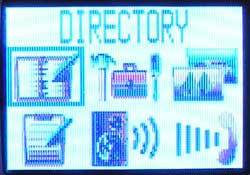 The phone has a menu system that can be activated by pressing the Menu / Select button directly beneath the display. When doing so, you are greeted with an icon view of the 6 menus that include a number directory, phone settings, display options, call log, sound options and and ringer volume.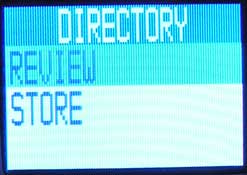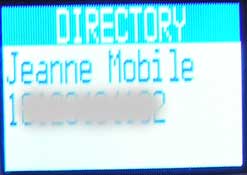 The directory feature is very basic. You can review the numbers stored in the directory (50 records total) or create new ones. New entries can have up to 32 digits with up to a 16 character name associated with them. The names are entered using the keypad and multiple button presses to obtain the desired letter. For example, to input the letter R, you would need to press the number 7 three times. This method of entering names isn't exactly friendly, but it is better than nothing. One feature that I was surprised to find lacking is a speed dial option. As far as I can tell from reading the manual, you can not assign a number key to press for automatic dialing of specific numbers. I thought almost all phones these days had that feature…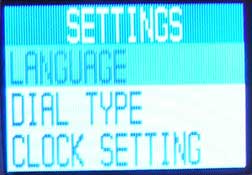 The phone settings menu allows you to change the language (English, French and Spanish are your options), dial type (pulse or tone), set the clock, clear the voice mail indicator.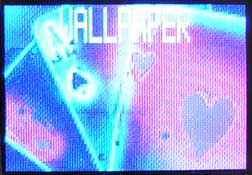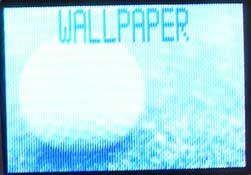 The display dialog allows you to change the contrast level and change the wallpaper. The included wallpapers are pretty lame. The images above look much worse than they do real life, but even so, they aren't that exciting. You can change the wallpaper to cards, a golf ball, beach scene, flowers and a night scene. It's too bad that there isn't a method to add your own wallpaper.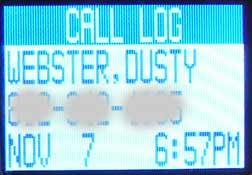 The call log gives you the ability to scroll through the calls that have come into the phone. From this screen, you can add the callers to your directory if you desire. The directory is automatically shared between the base station and handset. So if you make a change on one, it will be reflected on the other.
The mi6879 has 10 ring tones, and they are all annoying. Again, it's too bad that there isn't some way to customize them.
I like the style and feel of the phone, but as far as anything else goes, it's been somewhat disappointing. I guess for $100 I was hoping for a couple nice features that would take advantage of the color display. Not sure what they would be though… Speaking of that, the box states that you can use the preset images as wallpapers or personalize the 50 number phone directory. That's all well and good, but the user manual doesn't go on to explain how to do this, and the on phone menus don't hint at it either.
My advice is to skip this particular model and look for something with a better feature set. I'm actually more interested in the i5871, which has a 65K color display that allows for animated caller ID pictures and recordable ring tones. The only thing is, it costs $50 more than this one. But with those fun features, it might be worth it!
Product Information
Price:
99.95
Manufacturer:
VTech
Retailer:
VTech
Pros:

Color handset display
Base unit can support up to 4 additional handsets while only requiring 1 phone jack
Base unit can be used as a stand alone speaker phone

Cons:

No speed dial features
No battery clock backup
Ring tons are annoying